Iain Duncan Smith Keeps Avoiding Questions About A Child Tax Credit "Rape Clause"
Alison Thewliss MP has asked eight times whether women who have children as a result of rape will have to prove it to a government official. She is yet to receive an answer.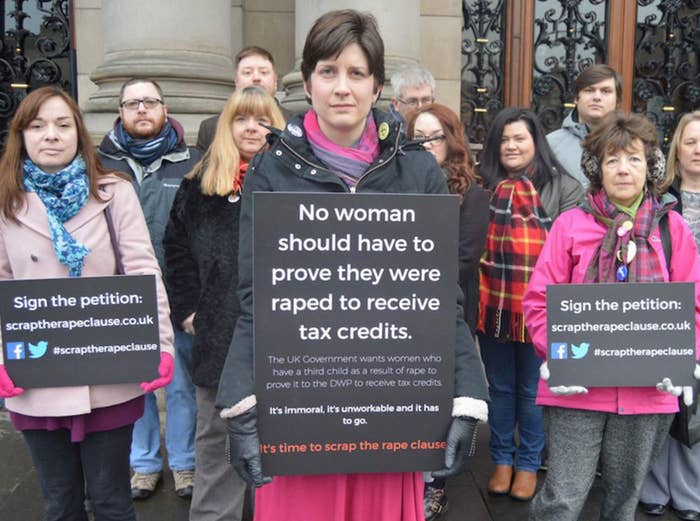 Iain Duncan Smith has repeatedly avoided questions about whether his department's policies will force women who have had a child as a result of rape to prove it to the government.
Alison Thewliss, the SNP MP for Glasgow Central, has asked government ministers eight times whether the policy, which will limit child tax credits to two children, will lead to a "humiliating" conversation with a government official for women who have a third child as a result of rape.
BuzzFeed News reported in July of last year that the policy could impact vulnerable women and, since then, Thewliss has repeatedly raised the issue in the House of Commons. No minister has been able to provide detail of how such a scenario would be avoided.
She has now launched a campaign to pile pressure on the DWP to scrap the "rape clause" and the entire two child tax credit policy: "If you're a woman who has a child as a result of rape, the last thing you'll want to do is go and tell that to a government official," Thewliss told BuzzFeed News.
"It also doesn't take into account that these things happen in abusive relationships. If you're being abused by your partner and that results in a third child, you're not going to go and tell a DWP official about that. The increased payment would be reflected in your benefits so your partner would know you've told them that."
The explanation of the policy, included in George Osborne's budget last year, said the DWP would "develop protections" for women who have a child as a result of rape.
But, eight months later and after several questions in the Commons, no minister has been able to elaborate on what kind of protections will be offered and if women will have to provide evidence of rape to the government.
"I've asked about eight times now," said Thewliss. "Other people have made interventions, asked questions and it's been raised at various different times as well but we've all been getting really, really vague answers.
"They say 'we're working things out' or 'we're consulting on it' although they won't say who they're consulting or how long that will take. It's really disappointing, it's not like they haven't had time to find answers."
Thewliss is pushing for a debate in parliament on the issue, intends to meet DWP ministers to discuss it, and is urging people to sign a petition to "scrap the rape clause".
The charities Survivor's Trust and Rape Crisis said last year that the policy was "highly inappropriate" and doubted whether women who have a child as a result of rape could lose out on money they are entitled to if they aren't willing to disclose sensitive information to a government official.
"This ignores the complexity of disclosure and common feelings of guilt and shame people have. Victims of rape often feel that they will not be believed, and this is a huge barrier to disclosure, with approximately 13% reporting to police," said a Survivor's Trust spokesperson last year.
"Women will suspect that the person they have to tell to get the benefits will not believe them and that they are simply wanting to access benefits. [It's] punishment, not protection."
A government spokesman said the DWP is continuing to work out how the policy will work in practice: "We are currently working through the detail of this policy, and as part of that we will ensure women who have a child as the result of rape are not impacted," said the spokesperson.
"We will be working with stakeholders to ensure that this exemption is delivered in the best way possible."