The only thing anyone remembers this year's Conservative conference in Manchester for is Theresa May's nightmarish speech – the relentless cough, the P45, and her backdrop slogan falling apart letter by letter.
But it's another moment, two nights before the speech, that could maybe one day be looked back on as even more cringeworthy: when the prime minister held Scottish Conservative leader Ruth Davidson's arm aloft and bellowed that together they had "saved the union".
It certainly made sense at the time – the SNP had lost 21 seats in June's general election, the Scottish Conservatives had gained 12, and Nicola Sturgeon had been forced to postpone her headlong dash for a second independence referendum. The SNP was hardly talking about its raison d'être.
But now the SNP feels the game has changed. BuzzFeed News understands the party is pressing ahead with plans for a report that will form the basis for the new case for independence in early February, coinciding with the complicated second phase of Brexit negotiations.
SNP MP Tommy Sheppard said the events of the past week had allowed opposition parties to expose what he called the "clusterfuck" of the UK government's handling of Brexit if things go wrong. May did eventually get her deal on Friday, allowing negotiations to move on to the next phase, but Sheppard predicted that people in Scotland would still grow steadily more keen on what he called their "get-out-of-jail-free card" of independence.
For the Scottish Conservatives, however, this just smacks of naked opportunism.
A senior party source said: "For all the SNP's claims that independence has been boosted this week it was Ruth Davidson who captured the mood of Scotland and indeed the UK; all nations of the UK must enjoy the same rights and opportunities upon Brexit. In clearly articulating this position Ruth was echoing the PM – our union is a precious thing and nothing must be done that puts that union at risk."
Another argument against the Westminster government's problems boosting independence is that it will actually put voters off wanting to embark on a project of such scale.
Moreover, support for independence still lies around the same mark as it did at the time of the referendum in 2014.
Nevertheless, BuzzFeed News has spoken to SNP parliamentarians, staff, and independence activists about how this week's missteps from the UK government – including appearing to offer a special deal for Northern Ireland, admitting no Brexit impact assessments exist, and conceding the UK cabinet still doesn't know what result it wants at the end of negotiations – have led the party to believe that the Scottish independence movement has been given a huge boost.

As soon as reports broke on Monday morning about the UK government considering special circumstances for Northern Ireland, the SNP immediately scented blood. The party's MPs and MSPs, often guarded and reluctant to talk to journalists before consulting their press office, were freely briefing that Scotland was being unfairly treated and that they would be demanding the same concessions as Northern Ireland.
Shortly afterwards, Sturgeon's first public reaction to the reports was to make a case for national self-determination in a tweet, arguing that the Republic of Ireland's strong hand in negotiations with the UK government had demonstrated that independence is the only way to be able to protect "your vital national interests".
SNP MEP Alyn Smith, one of the party's leading voices on Brexit, explained: "We've been sitting waiting for this for months, because in all the meetings we've had gaming this, we've said 'Obviously this is what the solution is going to need to be, but can Mrs May make it work?' On Monday morning she thought she'd done it and by Monday afternoon it transpired she hadn't. Yet another miscalculation, yet another failure of leadership – but, from our side, we were ready."
Smith added that he believed many people in Scotland will be looking at the Republic of Ireland and seeing how powerful a small nation in the EU can be, saying: "Ireland is proving what independence in Europe actually means – solidarity with 26 other member states against the UK. This is the first time in Ireland's independent history where Ireland has the upper hand over London because it is part of a bigger block."
Even once an agreement was reached early on Friday morning that guaranteed no hard border between Northern Ireland and the Republic of Ireland, Sturgeon's initial reaction was again to raise the prospect of independence, saying that the agreement had retired the argument deployed in the 2014 referendum that there would be a hard border between England and Scotland if there was a successful independence vote.
After Sturgeon reacted to Friday's deal by raising the prospect of independence, Davidson tweeted a withering reply urging her to "give it a rest" – a sentiment that resonated with lots of Scottish voters in the general election.

But having landed a blow with Northern Ireland on Monday, the SNP were then gifted a further opportunity to lay into the government's plans when Brexit secretary David Davis admitted in parliament on Wednesday that his department had not in fact created dozens of documents projecting the economic impact of Brexit. SNP MP Pete Wishart was the first to call for Davis to face formal disciplinary action for what Wishart and others across parliament perceived as intentionally misleading the house.

"People are now waking up to the imminent disaster [Brexit] represents," said Sheppard. "We have a situation where the public sleepwalked into the polling station and took a knee-jerk reaction based on ignorance, bigotry, and prejudice in many parts of the country. It's now got to this, I don't know if I can say 'clusterfuck' – put a couple of asterisks in – but it's entirely of the political class's own making, and now they're trying to implement it, it's just apparent what a mad idea it really is.
"That's been clear to us in this place for some time, and I think this week it's become clear to layers of the general public and this can only continue. Unlike other parts of the UK, Scotland has got a get-out-of-jail-free card – if it wants to use it."
BuzzFeed News understands that at a meeting of the SNP's National Council in Perth last weekend, Sturgeon said that she would be launching a report in the new year that will form the basis of the SNP's new case for independence. Created by the party's economic "growth commission", the 400-page report is expected for launch at the start of February, and it intends to provide a robust economic model that the party will attempt to hold up as a contrast to the ongoing uncertainty of the Brexit negotiations.

The SNP want the report, which is now under the process of being peer-reviewed, to be the centrepiece of a rebooted campaign for independence in 2018. Areas where the Yes campaign came unstuck in 2014, such as which currency an independent Scotland would use and the volatility of oil revenues, will be addressed, the SNP hopes.
The report's launch will come during the crucial second phase of the UK government's Brexit negotiations, at which point the SNP believes it will be apparent how little leverage the UK government has and how damaging Brexit could become.
"I'm keen to get us to phase two to make it real for people," said Smith. "Look at the way the City of Culture stuff hit home to people – all the macro numbers are white noise and they've been able to do false equivalence. We think the economics are going to be bad, David Davis says they'll be alright. All the false equivalence breaks down when the EU says 'Let's talk fisheries, let's talk Horizon 2020, let's talk pet passports.'
"The Brexiters have been able to get away with saying, 'We're leaving the EU but we'll still be in Horizon 2020, we'll still be able to bid for City of Culture, we'll still get visa-free access to France.' As we actually get into that sort of stuff, there'll be a change of tone."
Blair Jenkins, a former journalist who ran the official Yes Scotland campaign in 2014, said the events of the past week has made him certain a new vote on independence will be required in "next few years", saying: "Whichever way you voted in 2014, no one could have predicted the speed and extent of the UK government's decline into chaos and confusion. The level of incompetence being demonstrated on a daily basis is unprecedented in my lifetime and I think many No voters feel this too."
He added: "It's very clear that Scotland has a choice to make and there will be another referendum on independence in the next few years."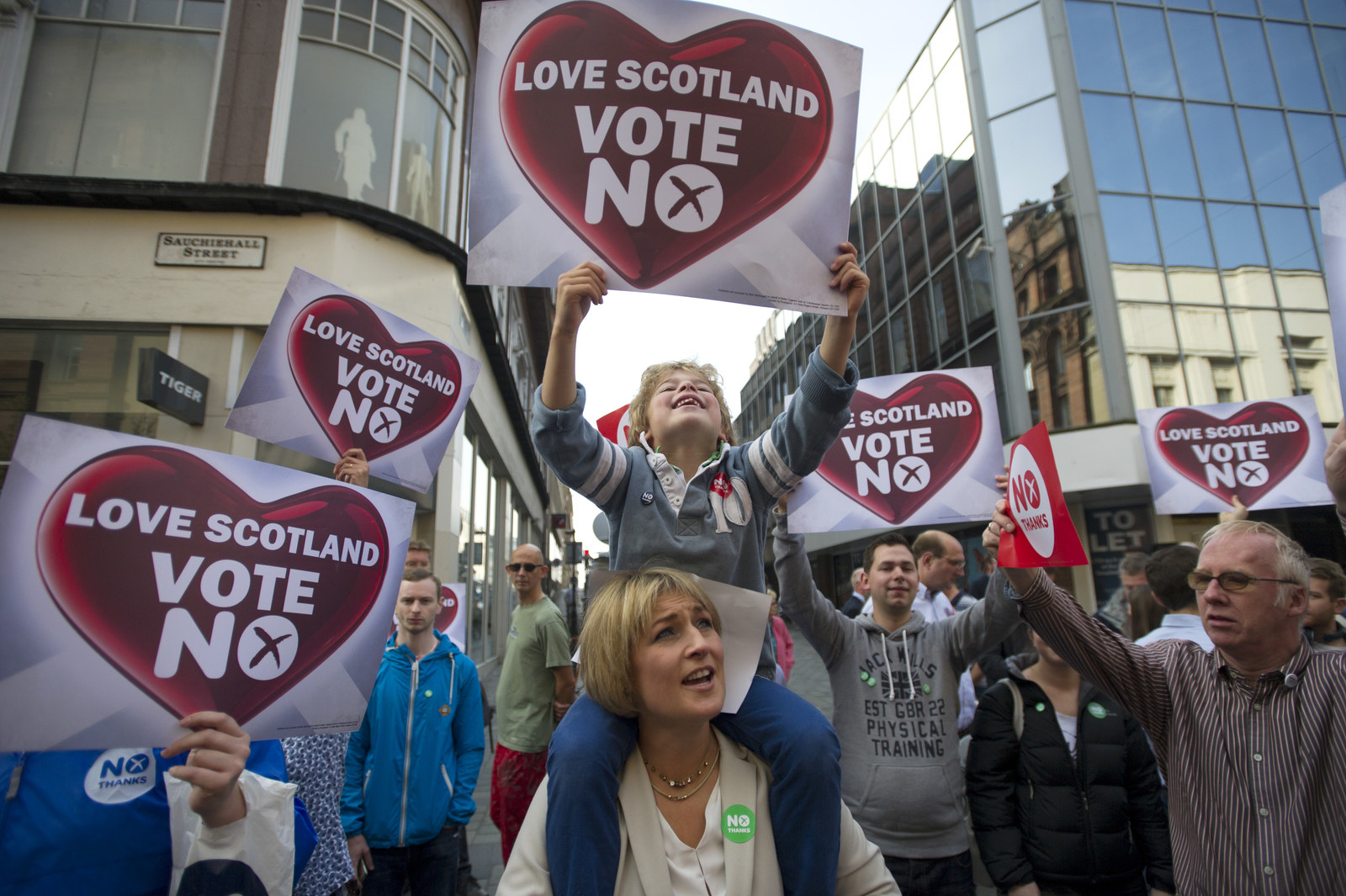 On the pro-union side, the Scottish Conservatives and Scottish Labour appear unconcerned about the apparent shot in the arm the independence cause gained this week or what might happen as the Brexit process unfolds further in 2018 alongside the SNP's renewed economic case.
Blair McDougall, who ran the 2014 Better Together campaign and has since stood as a Labour candidate, told BuzzFeed News: "I think the Tories making such an arse of things and having no plan will make people think twice about embarking on a similar project. It gives the SNP an excuse – but it makes their argument more difficult because the EU isn't there any more as a source of continuity with the rest of the UK."
Support for independence still lies at around 45% – where it did in 2014 – according to a Daily Record poll from last week, and the UK government is unlikely to change its previously stated position on a second independence referendum, that "now is not the time", without a clear change in opinion among the Scottish public.

No one at any senior level of the SNP is advocating an immediate rush into another independence referendum, with many still reeling from the hit the party took at the ballot box in June and genuinely keen to focus on, as one source put it, "saving the UK government from itself" by attempting to work with other parties to push for a softer Brexit that leaves the UK inside the single market and customs union.
However, the events of this week gave a glimpse into the SNP plan for 2018 to hope the UK government trips itself up, to campaign on its new economic case, and – when the timing is right on each of those strands – to strike out and push for another vote on the country's independence.
"If things are going to be as messy as they look, as disastrous for the UK economy as they look... This is just speculation at this stage but if the British state doesn't wake up, it's about to do itself a lot of self-harm, and that can only increase the intellectual and political case for independence," said Sheppard.
"The downside of that though is we know people will need more convincing to take a new step if they can see chaos all around them. At the minute, things are so unclear the pathways out of this are unclear. I wouldn't suggest ramping up the independence argument until we're more clear on where this process is going – but it's there in the background, and people know it's their parachute if they need it."