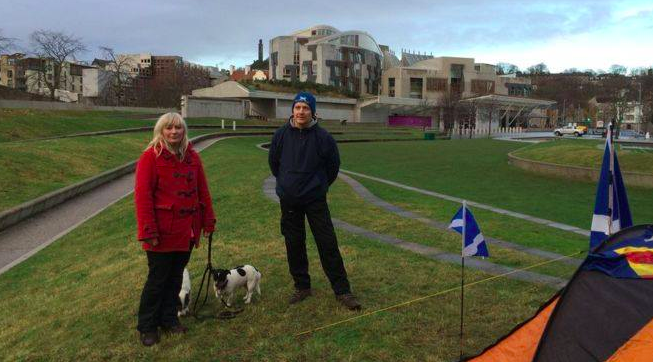 A group of pro-independence Scots who vowed to camp outside of the Scottish parliament until the country became independent have been told to leave.
Last month, the camp was set up in Edinburgh by eight activists who told BuzzFeed News they were "building wee nests" to settle in for winter. They said the camp would be permanently occupied until Scotland left the United Kingdom.
However, a notice served on behalf of the Scottish parliament on Tuesday told the campers they must leave within 48 hours or risk "a remedy through the courts".
The notice said the campers must go because they have "taken up occupation of part of the property without [parliament's] consent", and said allowing a permanent pro-independence camp would be "at odds with the policy of maintaining the political neutrality of the parliamentary estate".
"For these reasons ... you are hereby notified that you are required to remove yourself and all your goods, gear and effects from the property by no later than 5pm on Thursday 10th December 2015," read the notice.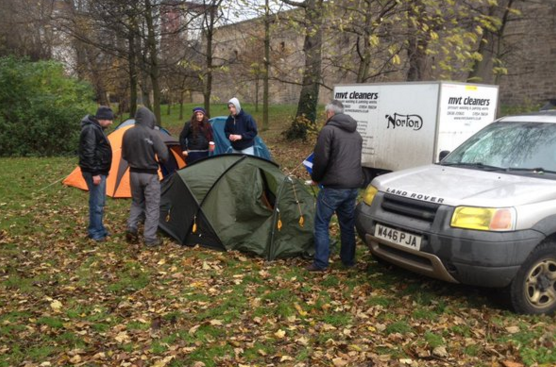 The chief executive of the Scottish parliament, Paul Grice, also wrote a letter to parliament staff saying the scale of the camp has grown too much and that it now has "a caravan, cars, the use of petrol/diesel generators and fire braziers".
"We very much hope the protesters will comply with this request and parliament staff remain open to discussing alternative options with the group to enable them to express their views while ensuring the land remains available for the use of others," wrote Grice.
"However should the protesters refuse to comply within the time period provided, we will seek a remedy through the courts to remove the camp."
But Moira Williams, one of the lead organisers of the camp, told BuzzFeed News she had no intention of leaving before Thursday, and said that regardless of court action, the camp will be there until Scotland is independent.
"Of course we're not leaving, we're perfectly in the law," said Williams. "They're not saying we're breaking the law, and we're not.
"The camp that was up Calton Hill for five years [from 1992–97, calling for a Scottish parliament] used to get hassle as well. We'll be staying until independence."