An 18-year-old student has had this enormous tattoo of Ed Miliband's head tattooed on to her thigh as a show of respect for her "hero".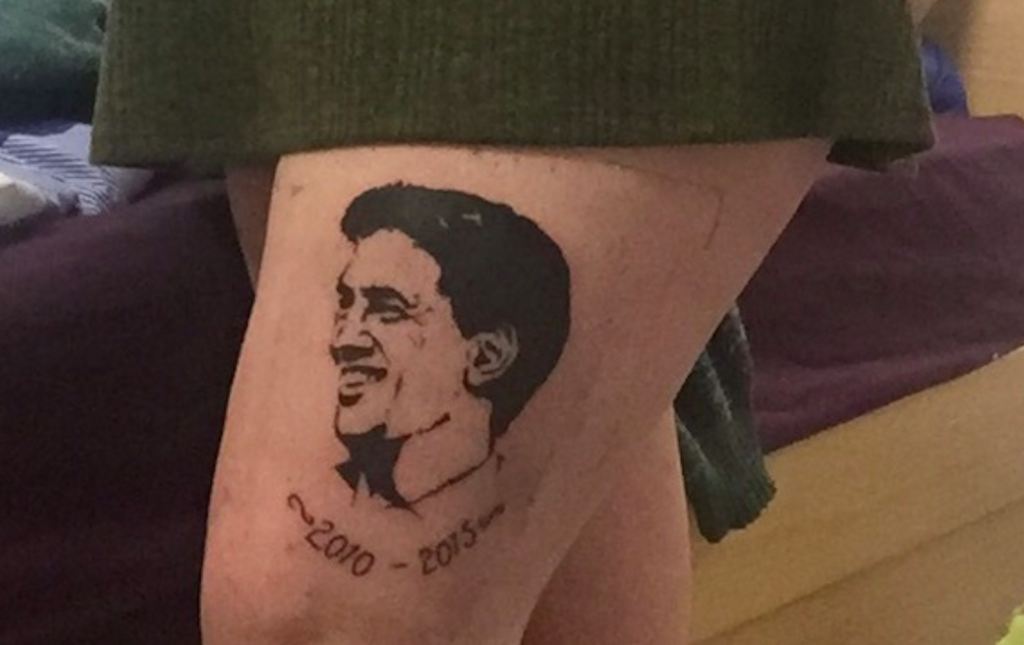 Hannah Stock, who studies optometry at City University London, told BuzzFeed News she missed Miliband's leadership of the Labour party so much that she felt she had no choice but to get a huge tattoo of his head on her thigh alongside the dates of his time as leader.
"I just think he's so great, and, like, I met him just before the election and it kind of all started there," said Stock. "I've been a Labour member for two years but he's such a hero and he's just an inspiration to me. I miss his direction of the Labour party at the moment so I woke up yesterday and thought, 'Why not?'"
The tattoo has had a mixed reaction, said Stock, ranging from her flatmate, who thought it was "cool", to her mother, who burst into tears and refused to speak to her.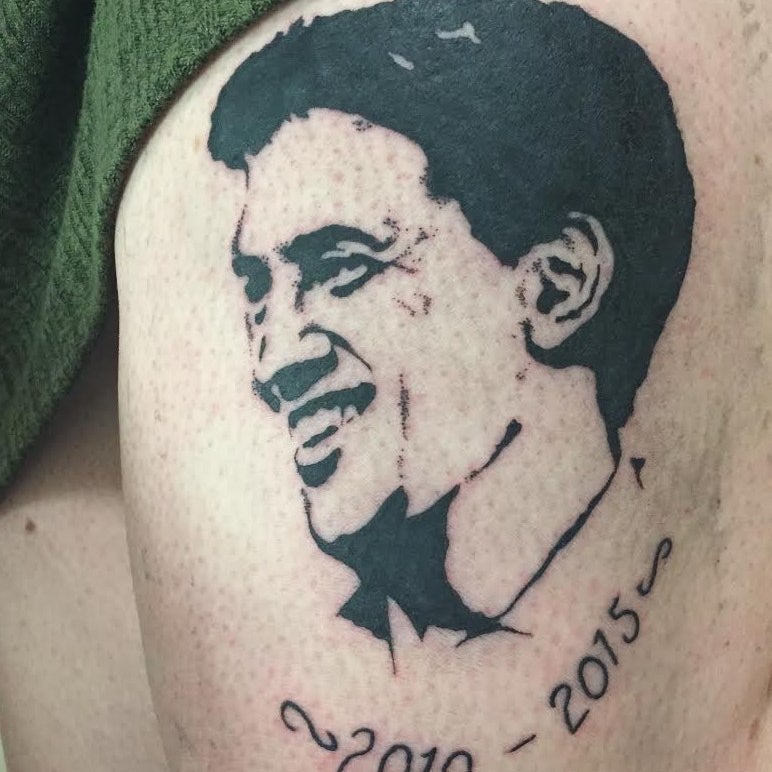 "She wasn't speaking to me for several hours," said the student, who's originally from Bedfordshire. "Last night she was pacing the house, crying, saying she didn't know why I'd done this to myself and she didn't know what she was going to do with me.
"My sister got a brilliant reaction video but unfortunately my mum has now warned me that under no circumstances can I share it with other people, which is a shame."
The tattoo artist who carried out the procedure, who works at Into You in Clerkenwell, was also slightly taken aback by the request to draw a six-inch image of the former Labour leader on to Stock's left thigh: "He seemed quite surprised," she said.
"It's quite a serious tattoo place – people come in and they're covered head to toe in various arty things, and I just went in and said: 'Can you draw Ed Miliband on me, please?' But he liked it, I think, he was laughing – he seemed pleased with his work."
Despite the reaction, Stock is certain she will never regret having Miliband's face emblazoned on to her skin forever.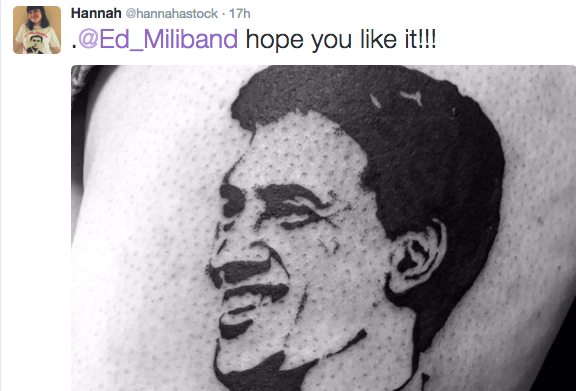 "I'm pretty sure I've done the right thing," she said. "I like it, I think it's cool. I got some odd looks this morning but it does look good so that's the main thing. It would be really embarrassing if you got one and then it was rubbish as well – at least it's a good drawing, if nothing else."
Asked how she would bring up the subject of the tattoo with future boyfriends, Stock said: "I don't know, I asked the boy that I'm a bit involved with yesterday and he said he loved it – we shall see."
She hopes to see Miliband make a triumphant return to the Labour leadership in the future so she can add extra dates to the tattoo, she said, even though the numbers were "like, the second most painful bit".
BuzzFeed News has contacted Miliband for his reaction to the artwork.