A father from Glasgow faces deportation from the UK on Tuesday after an apparent administration error led to a form deadline being missed.
Lord Apetsi, who has lived in the UK for nine years and is the primary carer of two children, is due to be deported to his home country of Ghana tomorrow after his "leave to remain" form was not submitted on time, according to the National Union of Students (NUS).
Pressure is now being piled on the Home Office to overturn the decision – the Scottish government has demanded an "urgent" review into Apetsi's case before his plane leaves from Stansted Airport tomorrow, while several SNP MPs have written to home secretary Theresa May urging her to personally intervene.
Additionally, a protest in support of Apetsi, who was last week elected the asylum-seeker and refugee officer of NUS Scotland, was organised outside the Scotland Office in Edinburgh on Monday afternoon.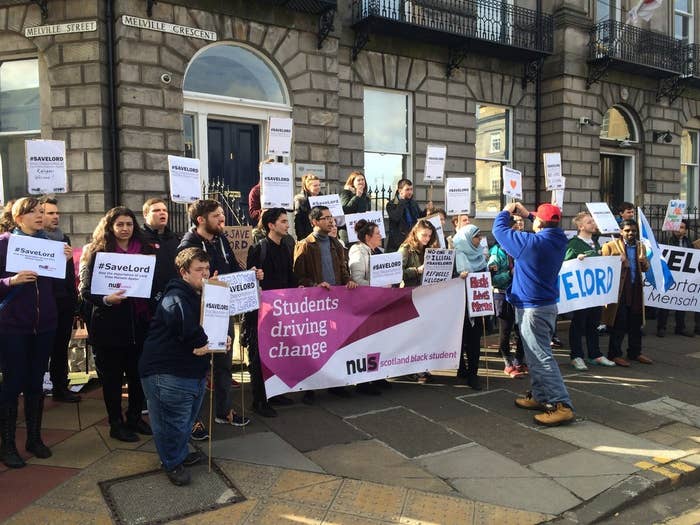 Speaking to a crowd of around 100 protesters, NUS Scotland president Vonnie Sandlan said: "Lord Apetsi is a student at the University of Strathclyde studying to be a counselor. He's the primary carer for two young children in Glasgow, the city he has chosen to call his home, and he has contributed so much to.
"On Saturday, Lord was elected to be refugee officer for NUS Scotland – a position that exists to ensure the challenges that new Scots face are represented. What we didn't know was at that very moment Lord was sat in a detention centre in Lincolnshire, hundreds of miles from his home and two young children, having been detained by the Home Office.
"Lord was not detained through any fault of his own – he was detained because of basic human error. His son and step-son have been separated from their primary carer because someone didn't submit a form on time. This is simply inhumane."
Ahead of the protest on Monday, the Scottish government's social justice secretary, Alex Neil, wrote to the Home Office demanding an "urgent" investigation into Apetsi's case before the scheduled flight to Ghana tomorrow.
"I have been in touch with the Home Office over the weekend about the case of Mr Lord Elias Mensah Apetsi who I understand is due to be removed from the UK very shortly," said Neil.
"The suggestion that he is going to be removed from the UK as a result of the failure of his lawyer to act in time is a concern to Scottish ministers. I would urge the Home Office to review this case as a matter of urgency."
Several SNP MPs have also written to the Home Office demanding action.
Glasgow Central MP Alison Thewliss, who represents the constituency where Apetsi studies, said the UK government was acting "completely out of line".
"It is wrong that his life can be turned upside down, that he can be separated from his children and taken for removal," said Thewliss. "I urge the Home Office to reverse their decision and return Lord immediately to his family and friends in Glasgow."
The Home Office does not comment on individual cases, but a spokesperson said: "All asylum applications are carefully considered on their individual merits, in line with the UK immigration rules."