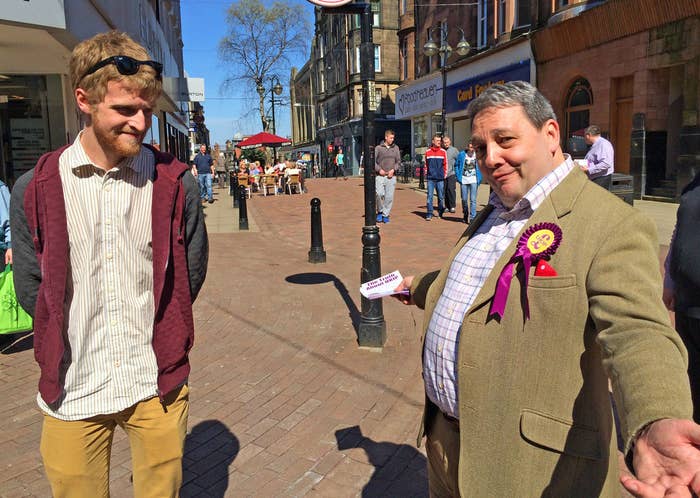 "Ed Miliband is a wanker," David Coburn says as we stroll around the sunny streets of Falkirk, where he's hoping to become an MP. "The guy's a real arsehole – if the country elects him, we're finished."
Calling the leader of the opposition "a wanker" and "a real arsehole" would probably count as a scandal for most politicians, but for Coburn – Scotland's only elected UKIP representative – it will barely raise an eyebrow.
Since being elected as an MEP last May, he has rapidly built a reputation as Scotland's most outspoken politician, most recently hitting headlines for comparing SNP minister Humza Yousaf to convicted terrorist Abu Hamza.
"I do regret that," he says. "It was rude, if anything."
But it's not entirely clear Coburn has learned his lesson. Over the course of the afternoon BuzzFeed News spends with him in the central Scottish town, he calls incumbent local MP Eric Joyce a "galloping drunkard", suggests SNP leader Nicola Sturgeon might lock Coburn in a dungeon in Edinburgh Castle and shoot him, and compares Green party leader Natalie Bennett to Dame Edna Everage.
He appears to be revelling in his burgeoning profile, and it doesn't seem to be turning off voters either. He believes he's in with a genuine chance of winning the Falkirk constituency, and but for a handful of people who approach him to shout at him, he's received surprisingly well on the high street.
"I may not be fabulous," he says, "but I'm certainly more fabulous than the rest of them."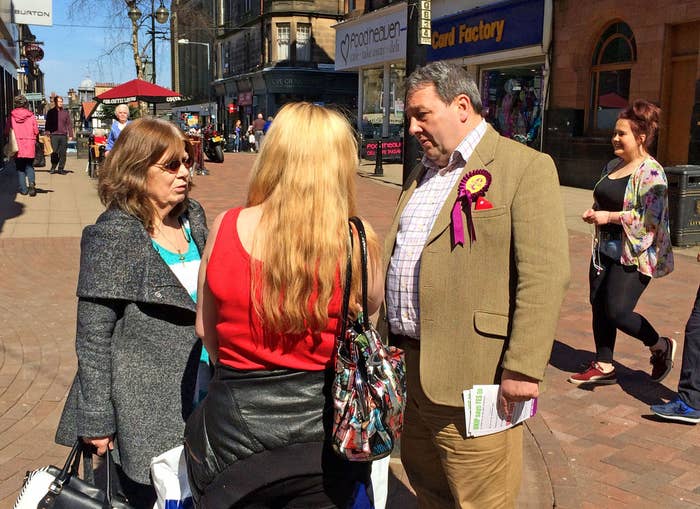 He's chosen to stand in Falkirk not because he has any connection to the area, but because it's "a functioning industrial town which hasn't gone down the swanny like the rest of Scotland", and also because it delivered a strong No vote in the independence referendum.
Coburn dislikes nothing more than the SNP, and sees himself as the leading defender of the union in Scotland. He tells almost every constituent we meet that the battle in Falkirk is a straight fight between him and the SNP.
"I think I'm going to get a very decent majority next month," he says, "and the best bit will be seeing the faces of Alex Salmond and Nicola Sturgeon on 8 May when they realise I'm off to Westminster – what a picture that'll make! Hahaha!"
He says Nicola Sturgeon's "national socialism" is "killing Scotland" – "Sturgeon wants to turn us into some Scandinavian, Swedish, pine-stripped sauna republic," he says – and thinks the only thing that will stop this scenario is a group of inexperienced SNP MPs being sent to Westminster in May.
"The SNP will make such arses of themselves in Westminster – they're useless," says Coburn. "If they have any influence in parliament then that will actually finish them. Look at the [notoriously expensive] Edinburgh tram fiasco, we could have put a Scotsman on Mars for that. We should have sent Alex Salmond to Mars."
He thinks the SNP has a "propensity for authoritarianism" – he claims the SNP may one day "ban Christmas" – and he says UKIP's polling results in Scotland are being damaged because "shy UKIP-ers" are too afraid to speak up against the SNP.
"The SNP are worthy of the Stasi in East Germany," he says. "I find that terrifying."
As a prominent defender of the union, is he worried for his own safety?
"I'm very worried," says Coburn. "Are they going to arrest me and shoot me? I don't know. I'd hope not. Not yet, but what they do with independence is another matter."
But, given the SNP's rise in popularity, does Coburn now see Scottish independence as inevitable?
"I'll tell you what," he says, "if Scotland ever does become independent, the heads of Cameron and Blair should be put on pikes."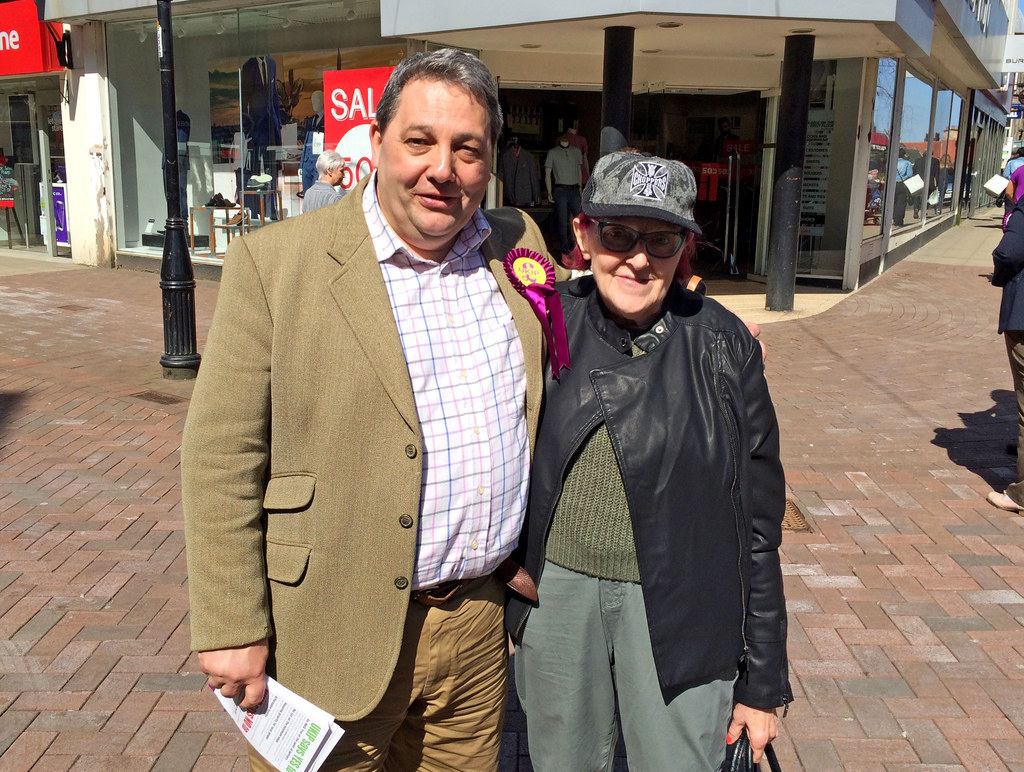 Coburn craves attention, and he's in his element having an excuse to speak to the public with his election leaflets in hand – even though they feature Nigel Farage's face rather than his own.
Roughly half of the people Coburn meets say they will vote or consider voting for him, but none will give BuzzFeed News their name. Some say they fear of being outed as UKIP voters in Scotland, while some seem to have only claimed to vote UKIP in an attempt to stop Coburn from speaking to them.
The other half of the Falkirk public, however, despise Coburn. A 17-year-old schoolboy who wants to remain anonymous politely attacks the MEP for his position on same-sex marriage. Coburn opposes same-sex marriage, despite being, in his words, "a great big screaming poof".
"It's just a trendy thing," Coburn tells the young man about same-sex marriage. "They're just doing it for the photos."
"How I want to live my life, and who I want to marry, is a trendy thing?" the schoolboy says. "That's a shocking thing to say. You're a hypocrite."
It's unrelenting. This is a typical set of exchanges between Coburn and the Falkirk electorate:
A man approaches Coburn to call him "disgusting" and "a racist".
"That's what they teach in schools these days," Coburn laughs dismissively, "SNP brainwashing."
Another tells Coburn to "fuck off" when he attempts to hand over a leaflet.
"Well, he clearly had issues," Coburn says.
Another tells Coburn he's "a joke" and that "we don't need bigots up here".
"The SNP are anti-English bigots," Coburn replies.
Despite receiving a positive reaction from half of the public, it must be quite soul-destroying to be called a bigot day after day on the streets. But Coburn never gives a hint of being taken aback, offended, or upset.
"I love all of this – I have a hide as thick as a rhino's" he says. "At a BBC debate at Bristol University I was against that Green person – what's she called? Dame Edna... Oh! Natalie Bennett! I had a Natalie Bennett moment there, haha, I had a brain freeze!
"Anyway, after her brain had de-iced she appeared there, and the audience was three-quarters Green and one-quarter Lib Dem. I wasn't popular – every time I spoke there was a slow handclap and moaning – but I was speaking up for working-class people and there were none there. Those are the people I'm speaking for in this election, and as you can see they're on my side."
He admits his recent television interview with STV political editor Bernard Ponsonby "gave him the willies" because he was grilled on figures he wasn't entirely sure about.
"They always asked these damned-fool questions, as if you're supposed to remember all these numbers."
UKIP is standing 41 candidates in Scotland in this election (it would have been 49, Coburn says, but for an administration error), more than ever before.
But UKIP leader Nigel Farage is increasingly sounding like an English nationalist, saying his party will "stand up to the wrath of the Scots" and stop "shovelling money over Hadrian's Wall". Is UKIP harder to sell to Scottish voters than to English voters, and is Coburn being hung out to dry by his leader?
"Not really, UKIP is a British thing," says Coburn. "We will stand up against the Scots, but only the ones who are voting SNP. Reasonable, fair-minded Scots don't expect to be getting better benefits than people in the rest of the United Kingdom, and we are the only people who think Scotland can get off its own backside and do well and make money."
UKIP's central campaign message, a pledge to curtail immigration, could also be less effective in Scotland than England as immigration is much lower north of the border. Coburn disagrees.
"Scots have said they're as worried as people in England about immigration, but Miss Sturgeon wants to flood Scotland with immigrants," says the UKIP politician. "What we see down there today is what Scotland could be like tomorrow. It gets to a certain point when people down south will start coming up here.
"The beauty of Scotland is that it's quiet. You have fresh air, room to manoeuvre. Why fill the entire country with people from abroad?"
Coburn is particularly upset about the state of the National Health Service, and thinks there should be more Scottish doctors and nurses treating Scottish patients rather than medical staff from abroad.
"It's immoral to take trained medical staff from third-world countries over here – they should be helping people in their own countries," says Coburn. "Call me old-fashioned but we should be training our own nurses. We're the country of David Livingstone, for god's sake!
"There's a worry as well. You don't know if some of these people are trained or if they understand you. I don't want to have to mark my leg so they know which one to cut off."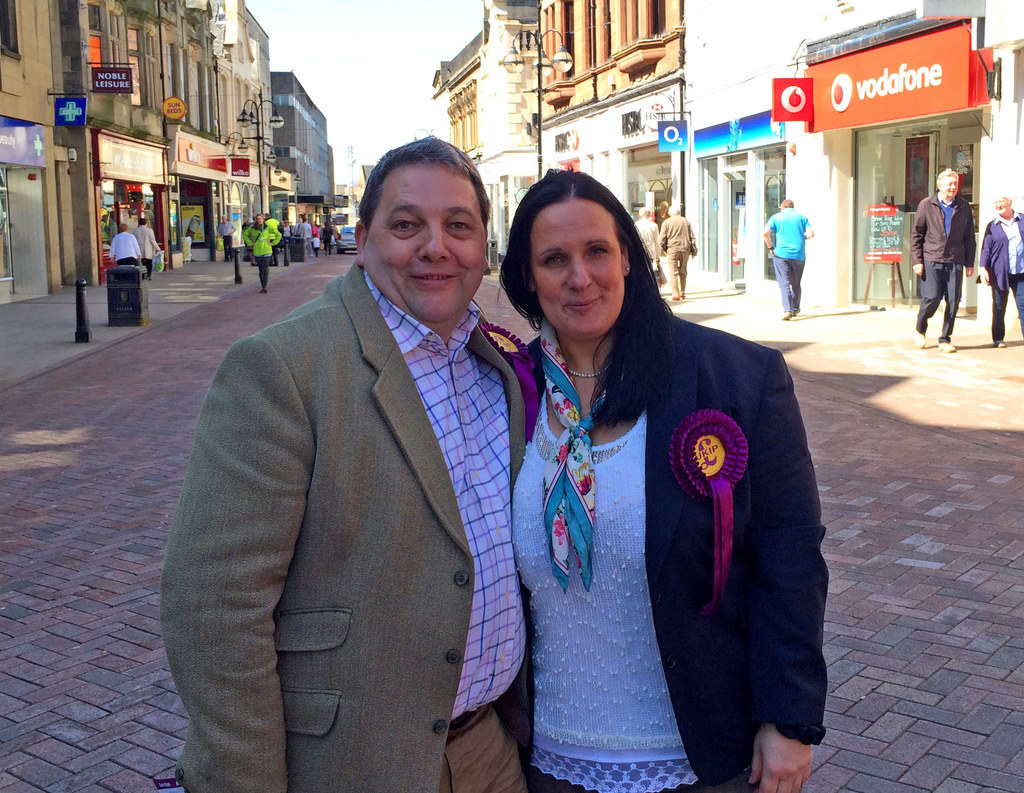 When he's not playing up to his outrageous caricature, Coburn is often good company and a surprisingly complex character.
For example, he says he really wanted to be an archaeologist but his father forbade him from doing so – "young men should study law, my father told me" – and he also speaks fluent French and "conversational Arabic", as he proudly demonstrates to BuzzFeed News.
"I love it when someone says I'm a dummy – I ask them if they want to argue in French and they say they can't speak it," says Coburn. "I have a good laugh to myself."
Also, as a gay man, UKIP – a party not famed for its tolerance – seems like a strange choice. Has he ever experienced intolerance within the party?
"You get the odd one in the party, the odd grump," he says. "People don't have to like homosexuals, they just shouldn't kick me to death over it. But I do know what it's like to be discriminated against. That's why that stuff about Humza Yousaf was nonsense, for example, that wasn't racist at all. I'm the last person who would be racist – I'm gay, for goodness' sake."
However, Coburn, like UKIP as a whole, undeniably has an image problem among some Scots, especially the other party leaders, who take any opportunity to criticise him. Nicola Sturgeon branded him "absolutely disgusting" at a recent televised debate.
Going into the election, Coburn thinks this level of notoriety can only help him and the party in Scotland.
"We've been given an image problem by the establishment," says Coburn. "The Scottish press and Scottish politics is extremely left-wing, and that's why people are flocking to UKIP – I'm the only one speaking the truth."
As things stand, it seems the general election will be a stepping stone for UKIP to perform better at next year's Scottish election. But after an afternoon of leafleting on the streets of Falkirk, Coburn is happy and confident as he leaves for another campaigning event in the west of Scotland.
"Excuse me," he says. "I have to go and prepare for office in Westminster."