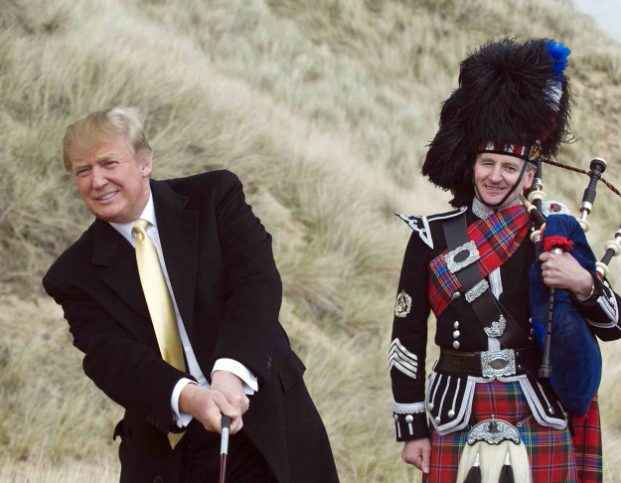 Hundreds of people in Scotland are expected to protest against Donald Trump when he visits the country later this month.
The presumptive Republican nominee is due to touch down in Scotland on 22 June to attend a ribbon-cutting ceremony after a £200 million investment in his Trump Turnberry golf course in the west of the country.
The tycoon already faces the indignity of being snubbed by UK political leaders David Cameron and Nicola Sturgeon, who have no plans to meet him, and now protest organisers say they expect crowds to rally against him on his visit.
Keir McKechnie, an activist for the Stand Up to Racism group, told BuzzFeed News he expects a diverse group of trade unionists, students, and representatives from Scottish mosques to protest against Trump's visit.
"Trump is not welcome in Scotland and his racist toxic poison is not welcome," said McKechnie. "His message of hate is one that we'll challenge and we would not encourage anyone to support him in his presidency.
"Also, although this protest happens to be taking place in Scotland, we want to represent people across the whole of the UK who reject Trump's racism and Islamophobia."
Stand Up to Racism, which held large anti-racism rallies throughout the UK earlier this year, will be putting on buses from Glasgow city centre on the day Trump arrives in Scotland to make sure as many as possible can voice their anger at the presidential nominee.
"I would certainly expect a few hundred," said McKechnie. "There will be trade union bodies, student union groups, mosques, local communities, people in Dumfries and Galloway. We want it to reflect a broad selection of Scottish society."
Another protest, organised by a group calling itself Scotland Against Trump, is fronted by activist Jonathon Shafi, who led the "left-wing alliance" RISE to a poor result in last month's Scottish election.
Shafi told the Commonspace: "There is going to be a big protest to greet Trump when he arrives. People from all walks of life will make sure his Scottish trip does not go without loud opposition to his toxic rhetoric and ultra-rightwing programme."
Trump is expected to spend two days in Scotland before visiting his golf course in Ireland, then return to his US election campaign on 25 June.