David Mundell Says No Brexit Deal Between Sturgeon And May Would "Wreck Scotland"
The secretary of state for Scotland said that if the UK and Scottish governments fail to come to an agreement over Brexit it will significantly damage the country.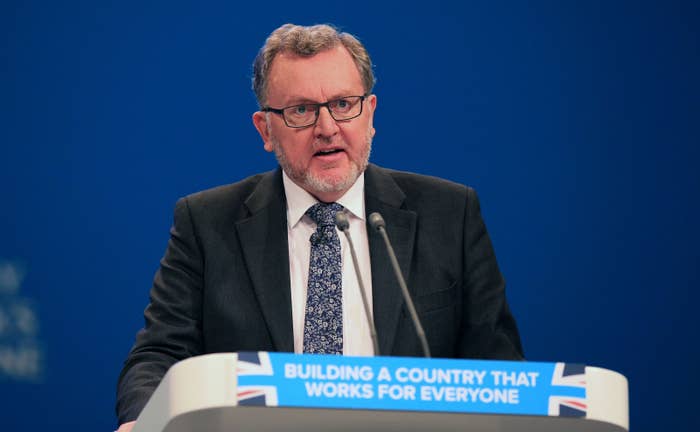 David Mundell, the UK government's secretary of state for Scotland, has said that a failure to reach a Brexit agreement between the Westminster and Holyrood governments would "wreck Scotland".
Speaking to journalists at a late-night fringe event at the Conservative party conference in Manchester, Mundell said that if the UK and Scottish governments fail to come to an agreement over Brexit it will significantly damage the country.
The Scottish government is currently withholding its consent for the UK government's EU withdrawal bill over fears that it would result in a "power grab" and not automatically devolve EU powers to Edinburgh, Belfast, and Cardiff.
Mundell said he was confident a deal would be reached that would satisfy Nicola Sturgeon's government, but warned that if no such deal was reached it would have a significant and damaging impact on the country.
"If there is no deal with the SNP it will wreck Scotland," said Mundell to BuzzFeed News and STV News. "But as I said earlier this week, I'm confident there will be a deal, because it's in Scotland's best interests."

Asked if he was happy for his claim that no deal would "wreck Scotland" to be reported, Mundell joked: "Only if you add that Alex Salmond had 19 sellout shows at the Edinburgh Fringe."
The Scotland secretary was referencing an online spat he had with Salmond earlier in the week, during which the former first minister of Scotland boasted about his sellout run at the Edinburgh festival in August.
Scotland Office minister Ian Duncan told BuzzFeed News: "In the policy area of rural affairs covering farming, fishing, crofting, aquaculture, there have been over 50 meetings between UK and Scottish government officials.
"However the Scottish government officials have made no comments, constructive or otherwise, during these meetings. The silence has been defeating. Scottish stakeholders need both their governments to pull on the same rope in the same direction."
He added: "A deal that works for all sectors in Scotland is not only essential, it is the duty of both governments."
A spokesperson for Michael Russell, the Scottish government's Brexit minister, said: "It's David Mundell and his Tory colleagues who risk wrecking Scotland's economy and destroying jobs with their irresponsible pursuit of an extreme Brexit.
"The key to resolving this situation is for the Tories to get the EU Withdrawal Bill amended to remove the attempted Westminster power grab – the ball is now in the Tory government's court.
"Mr Mundell has a shameful record of falling into line behind his Westminster bosses – not least with his support for the grubby DUP deal. Instead of pandering to the extreme Brexiteers of the Tory right, he needs to start standing up for Scotland."
It was reported on Tuesday that the prime minister had approached Sturgeon to break the deadlock between the two governments over Brexit.