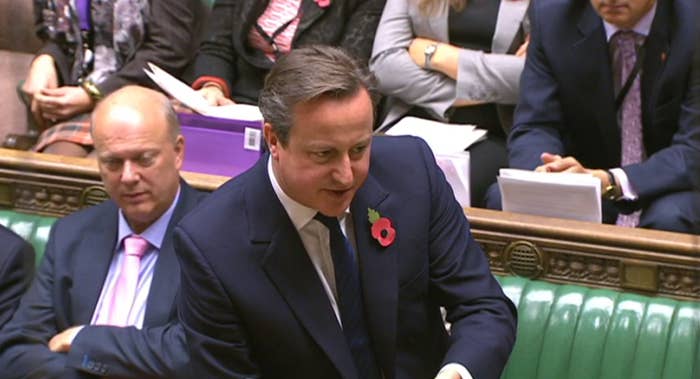 David Cameron "spluttered over [his] cornflakes" when he read reports on Wednesday that the porn filter his government introduced might be made illegal by EU legislation. But the prime minister told MPs he had subsequently been assured that a veto had been arranged so explicit online content could continue to be blocked in the UK.
The Daily Mail reported that the European parliament had pushed through a law which would "outlaw" the Conservatives' opt-in filter, which has blocked porn by default on some internet service providers since 2013.
The filter, which has been overwhelmingly rejected by the vast majority of the UK's internet users, came under threat from EU net neutrality legislation passed on Tuesday that said all internet service providers across Europe have to treat online traffic "without discrimination, restriction, or interference".
During Prime Minister's Questions, Cameron told MPs: "When I read my Daily Mail this morning I spluttered over my cornflakes, because we worked so hard to put in place these filters, but I can reassure [the MP who asked about the filters] that we actually secured an opt-out yesterday so we can keep our family-friendly filters to protect children.
"I can tell the house that we will legislate to put our agreement with internet companies on this issue into the law of the land so our children will be protected."
Asked to go into further detail as to how the filter will bypass EU law, a spokesperson for the Department of Culture, Media and Sport said it intends to bring in new UK legislation before the EU laws come into place in April next year to ensure internet service providers can continue to provide the default porn filter.
"We take great pride in our world leading approach to child online safety and would never accept a position which diminished our ability to protect children online," said the spokesperson.
"We have ensured the text provides the ability for the regulation to be applied in accordance with national rules. So, where existing rules do not provide the protection that ISPs and mobile operators require, we will introduce new measures. This will most likely be through secondary legislation, so they are able to continue to develop and provide tools for families to stay safe online."