David Cameron Says That Only The Conservatives Can Give Voters "The Good Life"
The Conservative manifesto launch was sunshine and lollipops.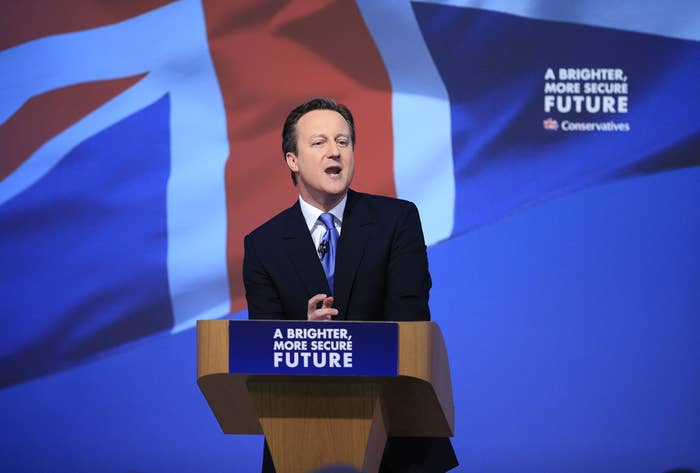 Britain is a "buccaneering, world-beating, can-do country" on track to return to "the good life", David Cameron said on Tuesday as he made his pitch to the nation.
At the Conservative manifesto launch in Swindon, the prime minister set out a number of giveaway policies on inheritance tax, the right to buy housing association homes at a discount, free childcare, and a tax-free minimum wage.
He asked voters to avoid "the horrors" of an SNP/Labour government, and claimed his party was the only one that could "provide a majority government". He ignored polls showing the Conservatives neck and neck with Labour, saying "the only poll which matters is the one on polling day".
Before the speech began, a soundtrack of thinly veiled campaign messages like "Keep On Running" and "Mr Blue Sky" played to the audience of excited party members and scowling journalists.
Presenting the manifesto, he repeatedly stressed that the Conservatives are on course to bring back "the good life".
The speech revolved around Cameron's patriotism and his headline-grabbing policies of a tax-free minimum wage and right-to-buy.
But he also found time to criticise Ed Miliband and Labour, saying that their new image of fiscal responsibility was "an unconvincing deathbed conversion".
He added that Labour hadn't set out its fiscal plan, unlike his party, and said: "They haven't even got to base camp – they're still at Gatwick Airport trying to figure out which suncream to buy."
Challenged on his commitment to cut welfare spending by a further £12 billion, Cameron said: "We saved £21 billion on welfare in the last parliament and need to save £12 billion in this parliament. That is the right choice – the other parties want unreformed welfare, but we need to reform welfare and that's what we'll do."
Cameron was also asked if, given the closeness of the polls, he had underestimated Miliband – to audience giggles. Cameron said he still believes the Conservatives are the only party that can win a majority.
Journalists were forbidden from holding the microphone by Conservative staff so were unable to ask follow-up questions. Andy Bell from Channel 5 shouted a second question, but was ignored by the prime minister.
Cameron's speech ended with a delightful rhyming couplet.