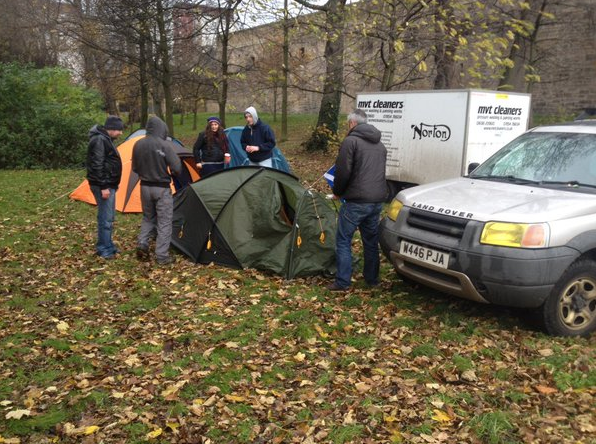 Eight people have taken up residence in a camp next to the Scottish parliament and have vowed to stay there until Scotland becomes independent.
The camp, which was set up on Saturday, sits to the side of Scotland's devolved parliament in Edinburgh and organisers have told BuzzFeed News it will be permanently occupied until the country declares independence.
They hope the camp will eventually house 100 people, having drawn inspiration from from the 14th-century declaration of Scottish independence known as the Declaration of Arbroath, which stated: "As long as but 100 of us remain alive, never will we on any conditions be brought under English rule."
Organiser Moira Williams said the camp will welcome anyone who's disappointed with what has happened since the independence referendum last year – particularly those who feel "The Vow", which promised more powers for Scotland, has not been delivered.
"You know the Declaration of Arbroath? We'll build this movement until we have a hundred good men who will man the camp until independence," said Williams.
"People were getting a wee bit upset when the Scotland bill went through the way it did and with EVEL [English Votes for English Laws] going on as well, and basically 'The Vow' being broken. We had all of these protests and events but we needed something a bit more solid so we decided on the camp, and we wanted to show the will of the Scottish people so we're starting it in winter."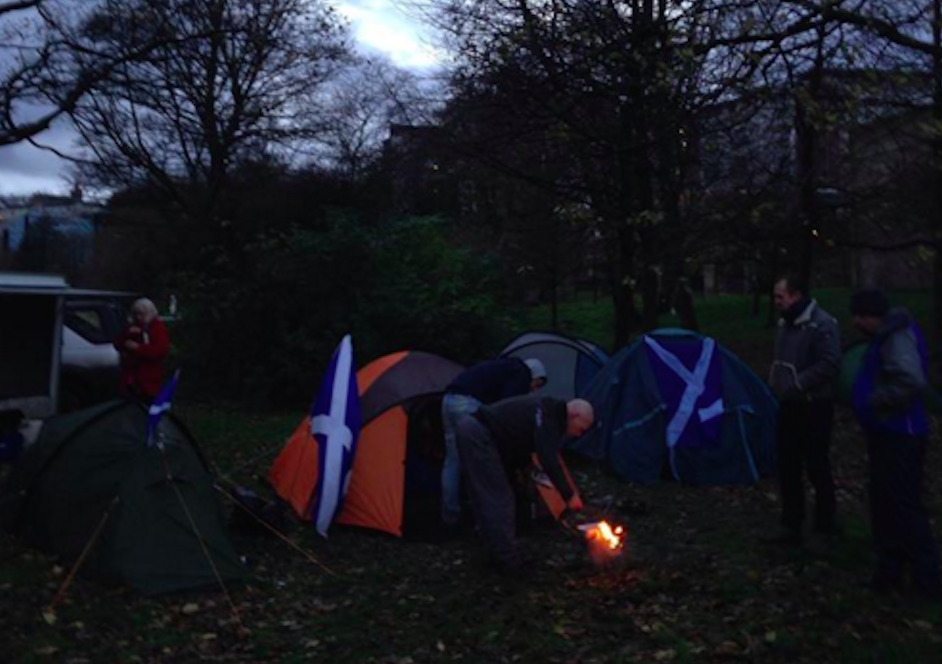 Some residents of the camp intend to stay there seven days a week, whereas other will be returning to their homes intermittently depending on their work and family commitments.
"Some are permanent," said Williams. "I'm a carer, so I'm going two days on, two days off. Some are doing weekdays, some will be here for weekends. There will always be someone here and as it grows there will be more people to rotate and have a bigger presence at different times."
Food and other supplies are either being taken care of by the residents themselves or will be brought in by pro-independence volunteers who want to help the effort but are unable to dedicate time to staying at the camp.
Williams, who organised the anti-BBC protests during the referendum campaign, said she had had "loads of offers" from people willing to give campers hot meals, cooking equipment, and blankets.
Posts on the camp's Facebook event page suggest there's a power supply and some "disco lights", and Williams said they will stay at the camp regardless of how cold it gets during the winter.
"It's just something the Scottish people want to do so we don't feel completely lost," said Williams. "We have Facebook, we have events, but this brings it all together and gives people a place to come to if they need to.
"We're building wee nests," she said. "If you're a novice camper like me you have to rely on the more experienced campers to build wee nests and keep us warm."
Like BuzzFeed UK Politics on Facebook