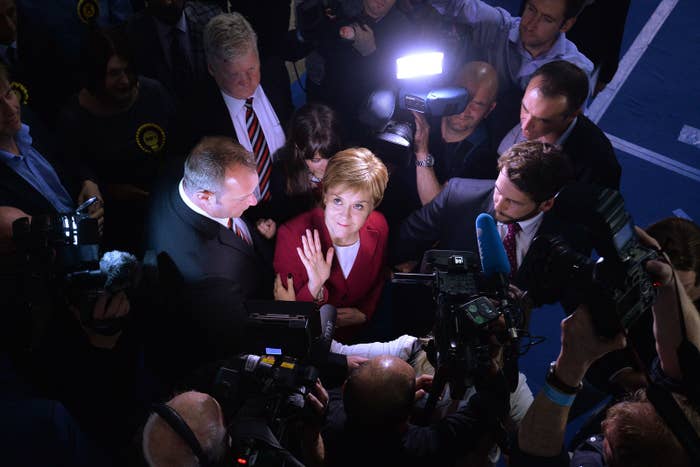 Nicola Sturgeon has said she will be forced to "reflect" on holding a second referendum on independence after the SNP suffered devastating losses on election night including Angus Robertson and Alex Salmond.
The losses for Sturgeon's party exceeded anything expected ahead of the general election by far, with the SNP losing in seats such as Banff and Buchan, in the northeast of Scotland, where they held a majority of 15,000 votes.
The party lost to the Conservatives its two most senior members of its previous Westminster group: its deputy leader, Robertson, and the former leader of the party and former first minister of Scotland Alex Salmond.
Speaking after Salmond's defeat, Scottish Conservative leader Ruth Davidson declared: "IndyRef2 is dead in Scotland – Nicola Sturgeon has to reflect on that."

Shortly before the announcement of Salmond's loss, Sturgeon said she was "disappointed" her party was experiencing such significant losses and that she had lost so many of her experienced colleagues.
"We're pretty clear that we will have won more seats than all of the other parties combined," said Sturgeon. "The SNP has won this election in Scotland, it will be our second-best ever result in a Westminster election.
"That said, yes we are disappointed. I am disappointed to have had a number of losses, not least the loss of Angus Robertson, who's been such an outstanding MP for Moray but also an exceptional leader of the SNP group."
Sturgeon blamed the losses on a "large surge" to Jeremy Corbyn's Labour party – with Scottish Labour gaining six seats from the SNP – and the uncertainty brought about by the vote to leave the EU.
"There's been a late surge to Jeremy Corbyn across the UK including in Scotland ... clearly there is a post-Brexit uncertainty," said said. "Independence is clearly a factor in that and I will reflect on that in the days to come.
"The other thing that has to be said is, tonight is a disaster for Theresa May. ... She thought she could steamroller the opposition."
A senior SNP source has already told BuzzFeed News that Sturgeon will face "questions" over her leadership of the party tomorrow, alongside the leadership of chief executive of the SNP Peter Murrell, her husband.
Robertson, who was defending a 9,000 majority from the Conservatives, was decisively beaten by over 4,000 votes by Douglas Ross MSP in what is turning out to be a disastrous night for Nicola Sturgeon's party.
The SNP bled to both Ruth Davidson's Conservatives and the Scottish Labour party, with an SNP source describing the unfolding events as "quite simply an awful night".
The SNP has also lost the Ochil and South Perthshire constituency and Angus to the Conservatives – constituencies where, like Banff and Buchan, the party was defending majorities of several thousand.
Scottish Labour has also made gains from the SNP in Glasgow North-East, Rutherglen, Midlothian, East Lothian, Coatbridge, and Kirkcaldy, as well as returning an increased majority in Edinburgh South.
The exit poll predicted 22 lost seats for the SNP and sources initially refused to believe the results, calling the poll "shonky" as it was UK-wide and so, they said, the Scottish sample was too small to accurately reflect voters.
However, as the night goes on, the exit poll figure is looking increasingly likely to be accurate.