The anti-UKIP protest was arranged by a group called Thanet Stand Up to UKIP, which is aiming to prevent Nigel Farage from being elected in South Thanet in May's general election.
It is part of a broader network of Stand Up to UKIP groups that have disrupted UKIP events across the country – such as in Rotherham in early February, when dozens of protesters trapped Nigel Farage inside a UKIP shop.
Before the protest, organiser and socialist campaigner Bunny La Roche told BuzzFeed News that she didn't want to stop Farage from speaking, but did want to make life difficult for him.
"We want to give him a hard time, but we're not trying to stop them having meetings," she said. "We believe in freedom of speech, which is why we want to be noisy and make our voices heard against this racist party."
A group of around 200 protesters marched from Margate train station to the hall where UKIP was holding its spring conference.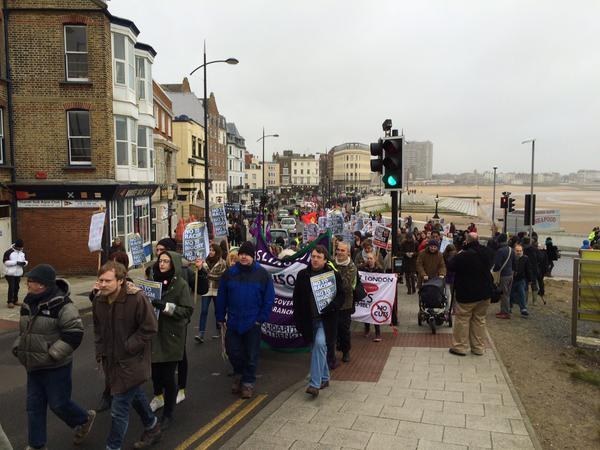 The group – largely comprised of trade union representatives, students, and anti-fascism campaigners – chanted songs such as "Nigel Farage Is Just a Pound Shop Enoch Powell" and "You're Just Another Tory Racist".
La Roche said the anti-Farage campaign had been planning the protest for months, and that it was just one of a series of events in the pipeline to disrupt Nigel Farage's election campaign before May 7.
"This is just the start, we're going to be doing all sorts of things," she said. "It's difficult to pin Farage down – his movements are very secretive and they send out decoys to try to fool us – but he won't escape us at the conference."
Initially, the protest was noisy but peaceful. They had musicians with them, and some had made banners.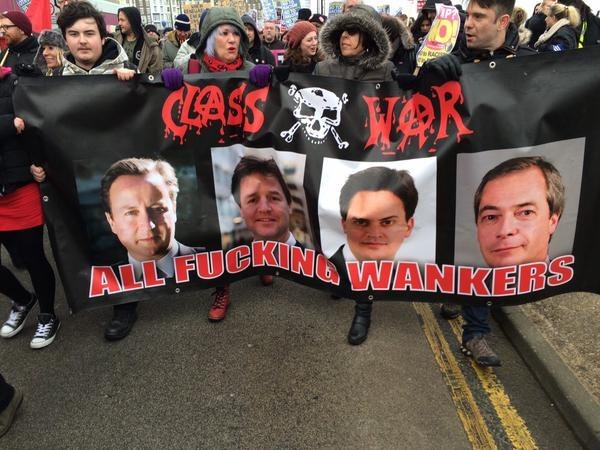 "Nigel Farage looks like a scrotum."
The leader of the East Kent Patriots, who didn't want to be named, said his group was there because it supports UKIP and wanted to "let Nigel Farage's voice be heard".
A week before the conference, the men warned the Thanet Stand Up to UKIP group that they would be at the conference by sending them a postcard which said "See you on Saturday, love East Kent Patriots".
"It's about freedom of speech," the leader of the East Kent Patriots told BuzzFeed News. "We're not going to let some commie scum come here and stop the meeting."
The men told the anti-Farage protesters to "have a wash", "get jobs", and "come over here and say that" when they were insulted.
Britain First is a far-right group created by former members of the British National party, and has a vigilante group called the Britain First Defence Force.
Steve Lewis, the "regional commander" of Britain First, initially refused to speak to BuzzFeed News due to "some pretty unfair articles" he said had been published about his party in the past.
However, he told us his group had turned up because "us and UKIP have very similar policies" – a claim UKIP strongly denies.
The Britain First members shouted English nationalist slogans at the protesters, who responded by calling them racist.
Britain First members complained that the police were being heavy-handed towards them, and were on the side of the Farage protestors. Police were called "socialists" and "traitors", and one Britain First member attempted to knock a police camera out of the hands of a policeman.
The anti-Farage march continued on to a Love Music, Hate Racism event, while the UKIP conference continued inside the hall.