The family of a man injured in a London acid attack said the government's plan to ban the sale of acid to people under-18s will not be enough to bring an end to such crimes.
Campaigners joined Afzal Ahmed's uncle in expressing concerns that the measures home secretary Amber Rudd announced at the Conservative conference in Manchester do not go far enough.
Shaynul Khan, whose 22-year-old nephew has been left with facial scarring, said the government had dragged its feet, and suggested Rudd should have taken a firmer stance by restricting acid purchases to licensed tradespeople.
Speaking to the conference on Tuesday afternoon, Rudd said the government will publish its consultation into reducing violent crime soon and that it will include measures such as banning people from carrying acid in public "without a good reason".
The home secretary said acid attacks had "ruined lives" and resulted in "endless surgeries", and that victims "never fully recover" from the attacks, which she described as "absolutely revolting". The government is currently considering the exact range of substances the new offence will cover.
However, she specifically announced the intention to "drastically limit" the sale of sulphuric acid, which she said was used in the production of homemade explosives known as "Mother of Satan" devices.
The government believes the new offence will be similar to the existing offence of selling knives to a person under 18, which has a maximum prison sentence of six months and a possible fine.
On the ban on carrying acid in public places, the government said the onus would be on the person carrying the substance to prove they had a good reason for being in possession of it, similar to the existing offence on carrying knives.
Speaking to BuzzFeed News, Khan, whose nephew was left with life-changing injuries after being the victim of an acid attack in the summer in Bethnal Green, said the home secretary's announcement was welcome but there could have been faster action and reassuring of communities. Khan said he had written to Rudd, and that "action was better than no action".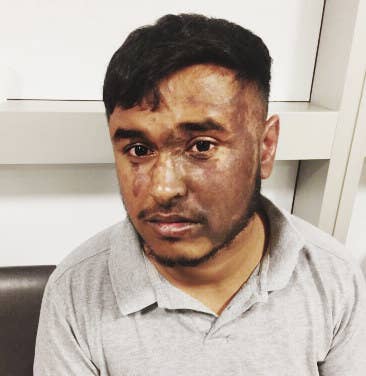 He said the announcement constituted progress, but that 18 was "probably not the best of ages" to choose for the sales ban, "because a lot of the perpetrators have been over the age of 18, and not many of them have been minors". He agreed with the purchase of acids being restricted to certain trades: "With acid attack it leaves a long lasting effect. You're going to live with scarring for the rest of your life."

Khan said his nephew, who was a confident 22-year-old with a wife and young baby, is now uncomfortable to go to out in public and to family events and is not in work at the moment as he is uncomfortable with his facial scarring. He added that the psychological impact of the attack would last much longer.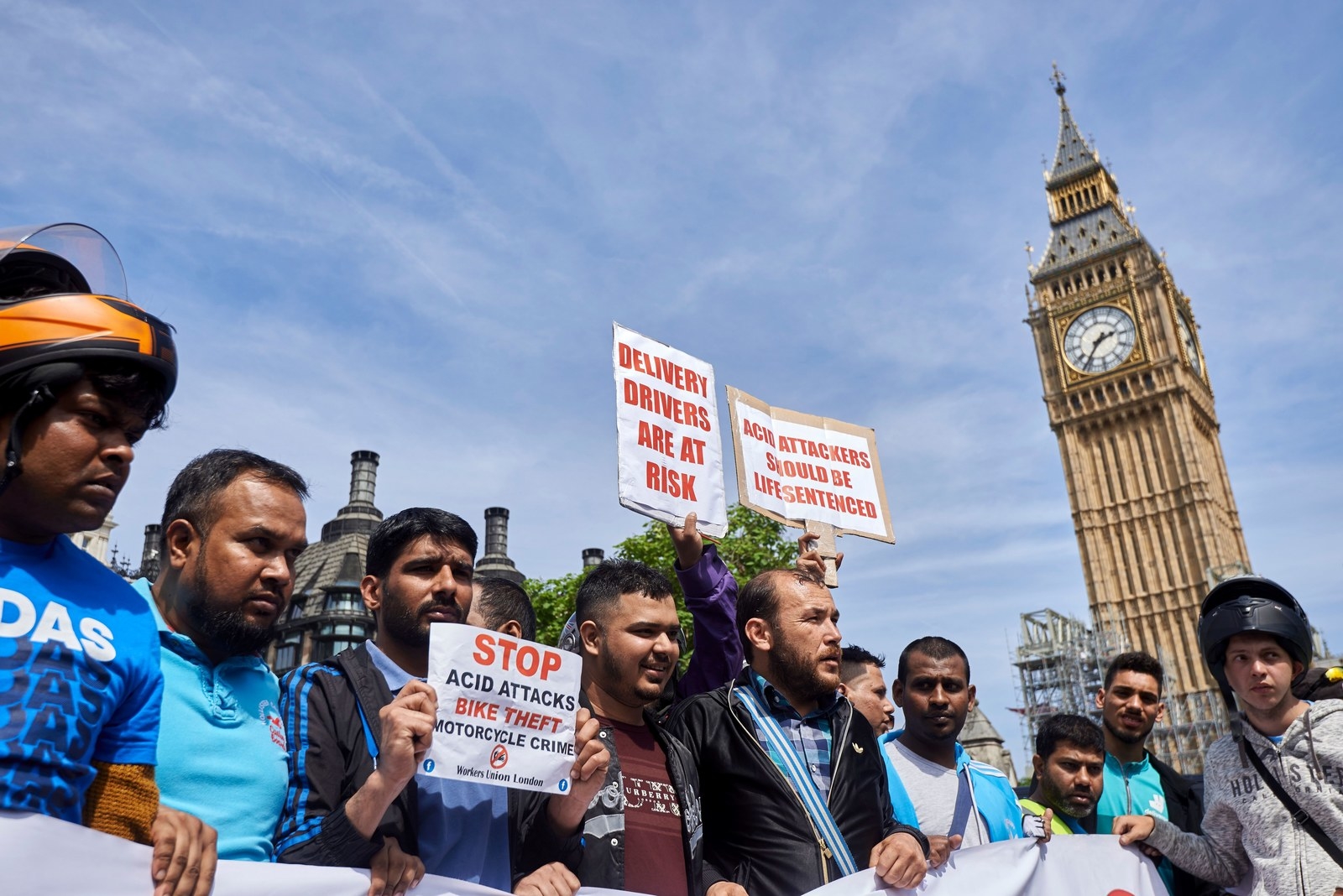 Jaf Shah, executive director of the Acid Survivors Trust International, said that while he welcomed the measures, the government had not gone far enough.
He told BuzzFeed News: "I think it's a useful first step, but I think there's a lot more the government can be doing. The age restriction I think is important, but I think there also needs to be a licensing system and an end to cash sales, and a way to address the inconsistency in sentencing."
Shah also said the government needs to work with retailers "around the corrosive content of many of the products on the market".
He said the measures the government planned to introduce would not be enough alone to tackle the problem. "It needs to be part of wider legal reform, legislation change," he said. "The government needs to do more on the subject."
Shah said education work was key, to change the mindsets of those who are carrying acid, and that more research was needed to establish who would be most at risk of becoming a victim or a perpetrator.
"Who are the perpetrators?" he said, "What are the demographics, the motivations? Which areas of the UK and London are most affected? What are the demographics of perpetrators and victims?"
He said he suspected preventative education work "will mean working with particularly young boys and men, trying to change those ideas of masculinity, trying to bring about a change in attitudes, and that will require quite a bit of investment with children, schools, youth clubs."
He added: "I think that the process of obtaining acid will still be relatively easy unless you introduce further regulation. I don't think these measures in isolation will be sufficient."
David Videcette, a former Metropolitan police detective with a background in fighting organised crime, told BuzzFeed News said the age restrictions would have less impact than making carrying acid a criminal offence in itself.
He said: "Amber Rudd's intention to restrict the sale of acids to over 18s is unlikely to have much of an impact on acid attacks, simply because most of the acid attacks that we see are committed by adults, but he added that "her intention to make carrying acid in a public place without reasonable excuse is a positive one".
He said the changes "will dramatically increase police powers to combat those found with acid on the streets", explaining that at present when police find someone with acid in public places, they have to prove someone's intent for it to be a criminal offence.
"I also applaud her for trying to completely restrict the sale of sulphuric acid, which is a precursor material of explosives, and has been used to make explosives here in the UK" he added. "This acid is mainly used to make fertiliser products - we should be looking to license the possession of this product and make it harder to terrorists to gain possession of it."

Gavin Hales, associate fellow and former deputy director of think tank the Police Foundation, told BuzzFeed News he was "wondering out loud how the proposed law relates to the problem it is intended to address".

He said: "The kinds of questions that need asking include: What percentage of attackers are in fact under 18, and of those that are, (a) what substances are they using, and (b) where are they getting them?
"Without the answers to these questions, it's rather difficult to know if the proposed law goes 'far enough'. It's worth saying that the ban on the sale of most knives to under-18s hasn't stopped knife crime – but also that we don't, as far as I'm aware, know how much if any difference it has made to rates of knife crime committed by under-18s. Of course, knives are available in every house. It's a very different story with guns, where supply is heavily constrained."
There was also scepticism on social media, with commentators saying the measures by themselves will not put a stop to acid attacks. On Twitter, several people asked what percentage of attacks had historically been carried out by under-18s.
But Salman Farsi, a spokesperson from the East London Mosque, who has been giving assistance to acid attack victims, welcomed the news, saying in a statement: "We welcome the Home Secretary's call for stricter controls on sulphuric acid and to make it an offence to sell to under-18s. Recently, our community has seen the horrors from the devastating effects of acid attacks with life-changing injuries on the victims.

"We have been working overtime with the local authority, Police and key community stakeholders to put fears at rest through community engagement events. There has been particular concern from members of our community, who are fearful of going outside their homes lest they become a victim of an acid attack, especially women.

"Moving forward, we hope to see a substantial decline in sulphuric acid sales in Tower Hamlets and a reduction in related crimes. Our message to young people is as always; our doors are open to you, should you need help. Carrying acid to attack others, can have life-changing consequence and it carries harsh punishments through the Law that will affect you for the rest of your life."