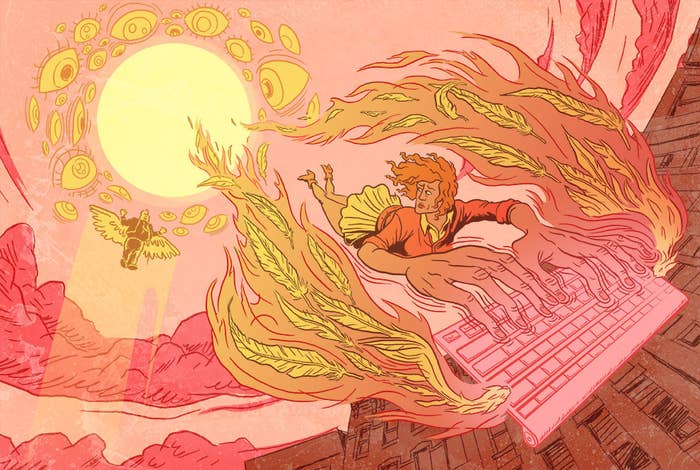 This is the absolutely true story of how I lost my bike, found my bike, got internet fame, and then watched it fade away — all in three days.
It happened in 2010, during August, when New York City is hot, empty, and often unbearable. I was a struggling writer. I'd had three books come out that no one had bought, and I was broke. A friend offered me free tickets to an Arcade Fire/Spoon show at Madison Square Garden. I rode my bike, a yellow Schwinn with a basket, to the subway. I locked it to a street sign post and then took the train into the city. Arcade Fire was awesome, as was Spoon. I came back late, and found that my bike had been stolen. I kicked the curb, sad and dejected. Goddamn, I had loved that bike. Also, now I had to buy a new bike. With all my imaginary money.
The next morning I woke up and got on Craigslist. In 10 minutes I found an ad for the perfect bike. It looked just like mine… because it was. An hour later, with the help of my friend Maura, we ascertained that the bike thief lived just blocks from my house. An hour after that I called the cops and convinced them to help me bust the guy. By noon, we had organized a sting and caught the thief, a tall, skinny, white junkie with dreads.
I came home and documented the events of the previous few hours on my blog. I wrote breathlessly, sloppily, but with a pure fire. I tweeted the link. People instantly started forwarding the story. I had 5,000 hits within the first hour; 50,000 within five. Some people cheered me on because they, too, had had bikes stolen, and they related to my story. Others cheered me on because they were just grateful for a happy ending. Everyone else was just bored: It was August, after all.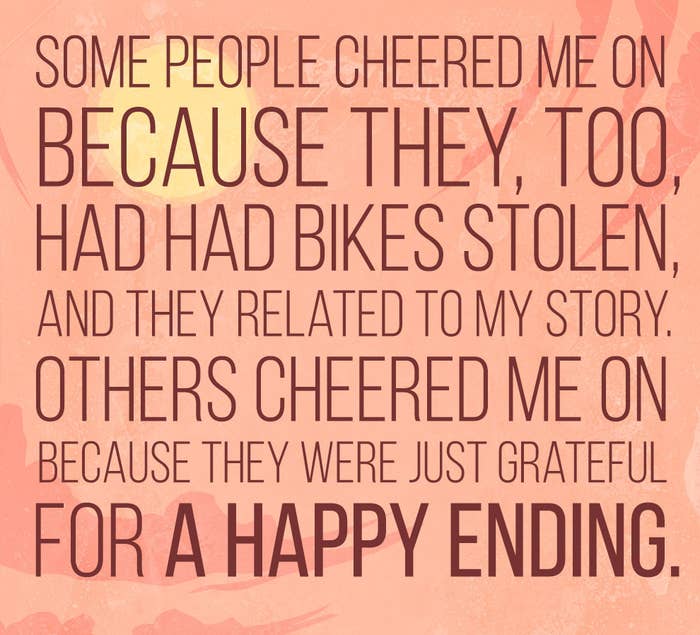 As someone who had published books, it was an interesting moment for me, this sudden attention. It was never fame that I wanted. I don't know too many writers who care about fame. It's an elusive idea in the literary world anyway. Our dreams are simpler. We just want to be heard; we just want to be read. And here I was, being read. And the emails and comments I got were so lovely and thrilling. I had made so many strangers' days a little better.
Still, it felt bittersweet. I had dashed off the blog post, been careless with my writing. Even if the passion showed through, it was certainly not my best work. I had spent years and years working on my novels, agonizing over sentences, characters, themes, and my big message to the world. But in one day more people had read this simple post than all of my books combined — times five.
I pulled myself away from the computer that night to see a friend visiting from out of town. I met her at a nearby restaurant, where we sat outside and enjoyed the cooling off of the day. "I think I'm going viral," I said, and I laughed nervously. "What does it feel like?" she said. "Ridiculous," I said. "And kind of great?" Later we sat on the roof of my building and caught the breeze off the East River. We talked about books. It felt good to talk about books. And it felt good to be away from the computer, to be free of the obsessive refreshing of my hit count.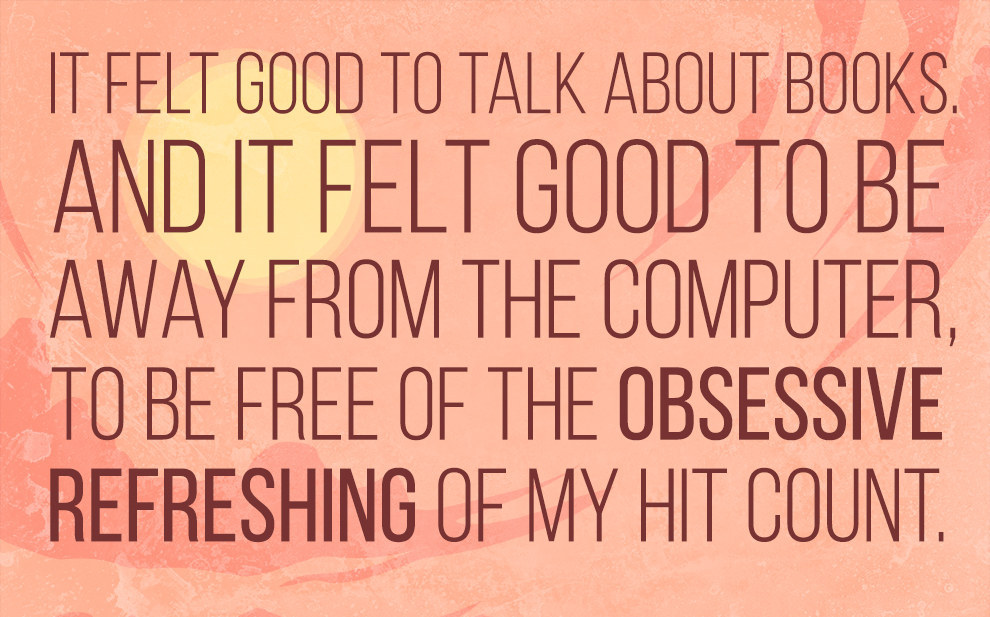 I walked her downstairs to catch her a cab, and I noticed there was a CBS news van on the street in front of my building. "That's strange," I said. When I went back to my apartment there was a reporter waiting outside with a camera crew. He was holding an offering: an Arcade Fire poster. The story had spread further than I had realized. Also, it was August. And nothing interesting ever happens in August. Except, apparently, me.
The rest of the weekend was full of mild pleasures and amusements. I had coverage in a variety of local publications and people continued to link to me across social media platforms. The New York Post found a really unattractive picture of me and happily published it. I went to a bar, and a few strangers congratulated me. "Nice work," they said. "You're a real hero." "Eh," I said. I knew what a hero was: a fireman, a Doctor without Borders, Toni Morrison. Not some woman who called the cops because her bike got stolen. And anyway did anyone want to hear about the three books I had written though? No? OK. No.
Then Inside Edition contacted me; they wanted an interview. I emailed my publicist. Well, I didn't have a publicist. I had a publisher but I was nobody's priority. Still they connected me to someone within the publicity department who would answer questions for me. I asked her if there was any way to turn everything that was happening into book sales. People had become famous for less. But she did not think any of the press I was getting would help me at all. This was just a blip. Also, for the love of God, why was I bothering her in August?

I wasn't so sure I agreed with her. I waited for the whole thing to turn into a moment. On Sunday morning, I did another interview, this one with a local cable news show. How many of these could I do? And what would any of it have to do with my books? But maybe this was the thing I needed all along, I thought. It wasn't necessarily the right way to get read, but it wasn't the wrong way either. What did it matter how they found my work? And anyway it was a nice, solid story. And I was a storyteller.
As it turns out it, it didn't matter anyway, because my sweet little tale wasn't as good as Steven Slater's, which took place the next day. Steven Slater was the Jet Blue flight attendant who cursed out his flight's passengers over the PA system, took two beers from the fridge, and then exited the plane via the inflatable evacuation slide. He got the New York Post like I did, but he also got the New York Times. In one day I got 100 new followers on Twitter, while Steven Slater got 25,000 Facebook fans. Sure he got arrested, but he also got the Today show. It seems in America the only thing we want more than justice being served is to quit our jobs. He was a true populist hero.
I fell back down to Earth gracefully, as if I had taken a smooth ride on that evacuation slide myself. I got back to work on my next book. I rode my yellow bike with the basket for the rest of slow, dreamy August, and through fall, until winter came, and by then no one thought about the story anymore. Fame fled. My bike — and my books — remain. Every once in a while I meet someone who remembers that story and they tell me it meant something to them and my heart does a tiny, pleased flip. In that moment, it's all I've ever wanted, a story I told making an impact, coming true again.
***
Jami Attenberg is the author of five books of fiction, including the New York Times bestseller The Middlesteins, which was published in nine countries. Her latest novel, forthcoming in June 2015, is Saint Mazie. Visit Jami on tumblr or twitter.
To learn more about Saint Mazie, click here.