World Leaders Have Said They Stand With Spain Following The Terror Attack In Barcelona
"We are by your side."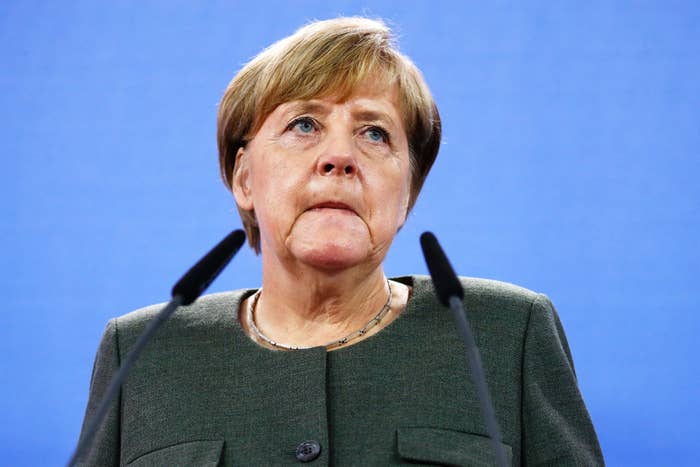 World leaders have offered their solidarity and support to the people of Spain as they condemned the terrorist attacks in Barcelona and Cambrils, which have left at least 14 dead and more than 100 injured.
Speaking to reporters on Friday morning, German chancellor Angela Merkel said terrorism would "never defeat us".
"These murderous attacks have once again showed us the total hatred of humanity with which Islamist terrorism acts," she said.

"We're united in our resolve not to allow these murders ... stop us living our way of life.
"Terrorism may inflict bitter and terribly sad hours upon us, as has happened in Spain, but it can never defeat us."

UK prime minister Theresa May said Spain had supported the UK following its recent spate of terror attacks, and that the UK would in turn support Spain.
"I am sickened by the senseless loss of life in Barcelona today," May said in a statement. "The Foreign Office is working to establish if any British nationals were involved in this appalling incident and we are in close contact with the authorities in Spain, who have our full support.
"Following the attacks in Manchester and London, Spain stood alongside the British people. Tonight, Britain stands with Spain against the evil of terrorism."
Mark Rutte, the prime minister of the Netherlands, called the attack a "black day" and a "cowardly attack against innocent people", while Israel's prime minister Benjamin Netenyahu said Israel "firmly condemns" the attack.
"This evening we have seen once again that terrorism strikes everywhere," he added in his statement. "The civilised world must unite to defeat it."

Jean-Claude Juncker, the president of the European Commission, singled out emergency first responders for praise, and said the EU would never be "cowed by … barbarism".
"I send my deepest condolences to the families and loved ones of the victims, as well as to Prime Minister Rajoy and the people of Spain. My thoughts are with the people of Barcelona," he said in a statement.
"I hold a special thought for the heroic people who responded by running towards danger to help others and to the security forces who are working to keep the population safe.
"The Commission is at the full disposal of the authorities for any help or assistance necessary. This cowardly attack has deliberately targeted those enjoying life and sharing time with family and friends. We will never be cowed by such barbarism."
Other leaders expressed their support for Spain through Twitter. On Thursday night, US President Donald Trump condemned the attacks and said the US would do "whatever necessary" to help.
French president Emmanuel Macron tweeted in Spanish "Solidarity with Barcelona. We are by your side."
Mexico's president Enrique Peña Nieto said: "Mexico strongly condemns the attack that took place in Barcelona. My solidarity with the people and government of Spain."
Canadian prime minister Justin Trudeau said Canada's "hearts, sympathy & support" were with the attack's victims.
Former US president Barack Obama said "Americans will always stand with our Spanish friends", ending his tweet "un abrazo" – "a hug".