The New UK Trade Secretary Said In 2013 That The UK Is Bad At Negotiation
Liam Fox, the man charged with negotiating new trade deals for the UK, said in 2013 that taxpayers had lost out because of a shortage of trained negotiators.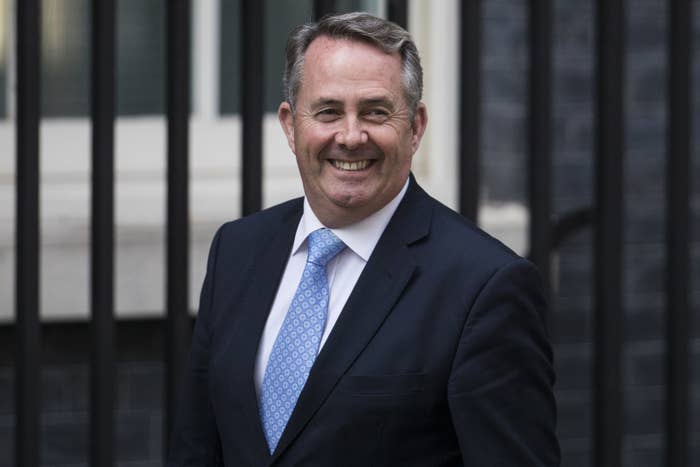 Britain's new secretary of state for international trade – the person with responsibility for negotiating trade deals for the UK post-Brexit – said in 2013 that "weaknesses" in the public sector's ability to negotiate contracts had cost the taxpayer dearly.
Liam Fox, who was defence secretary before resigning in disgrace in 2011 over his close ties to a lobbyist, gave a speech at a conference titled "Asbestos: The Truth" in 2013 talking about the benefits and risks of involving private companies in the public sector.
Campaigners and numerous parliamentary committee reports found that such deals – generally referred to as PFI deals – had often been skewed in favour of the private companies, leaving the government to pick up extra charges, repair bills, or huge costs for basic work.
An extract of Fox's speech posted online shows the minister blaming such deficiencies on a shortage of trained negotiators in the UK public sector.
"Weaknesses have often arisen because of a shortage in the required skills in the public sector to negotiate PFI contracts effectively," he said. "And as secretary of state for defence I saw the consequences of having negotiators on behalf of the MoD [Ministry of Defence] constrained by public sector pay norms having to negotiate with infinitely better-paid opposite numbers in the private sector in the defence industry.
"And we all know from reports that have gone to parliament the cost that has ultimately given the taxpayer."
Fox received payment of £3,000 for the speech, titled "Where can the solutions come from?"
The UK's lack of skilled negotiators – especially for international trade deals – has become a key concern as the country attempts to replace current trade agreements it has through the EU. Trade deals are central to the ability of complex economies' such as the UK to sell goods and services overseas.
Oliver Letwin, the minister previously responsible for Brexit before Theresa May became prime minister, told the BBC earlier this month that the UK civil service had no trade negotiators whatsoever – with the handful of British trade negotiators who did exist working for the EU.
By contrast, the Financial Times reported, Canada has 300 negotiators, while the EU has 600.
The UK is, according to Bloomberg, likely to have to recruit trade negotiators from overseas, including from management consultancy firms. The cost is likely to run well in excess of typical senior civil service salaries, and could reach £3,500 a day for the most experienced staff.
Asked about Fox's remarks, a spokeswoman for Department for International Trade said:
"The Department for International Trade is a new, specialised body, specifically designed to drive forward the trade and investment agenda. The department has already started drawing together officials with a wide range of policy expertise from across government and will rapidly build expertise on trade, with up to 300 specialist staff to be in place by year end."