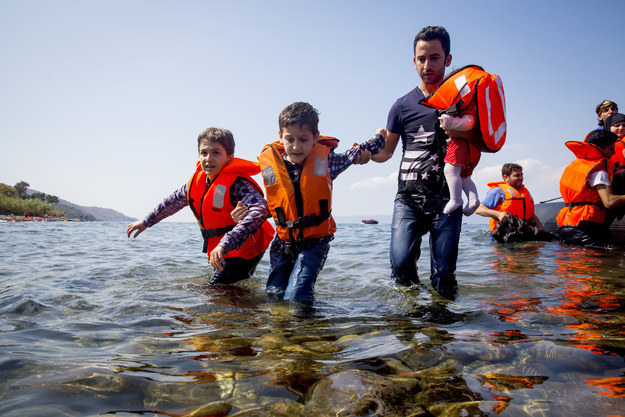 The UN's refugee agency has warned that European nations should expect 400,000 refugees to enter via dangerous sea crossings by the end of 2015, with a further 450,000 expected to enter by the end of next year, predominantly as a result of the ongoing Syria crisis.
The new figures from the UN High Commission for Refugees (UNHCR), which estimates that 322,500 people have come into Europe by sea so far in 2015, reveal that a crisis that is already gripping Europe, North Africa, and the Middle East is still far from its peak.
The figures are contained in an emergency appeal by the agency, which is bidding to raise funding and support for its response. To date, the 2015 Syrian emergency campaign has received just 37% of the funding it needs to provide for the basic needs of Syrians across the Middle East.
Greece, Italy, and Serbia are bearing the brunt of Mediterranean arrivals.
The new UNHCR figures show sharp increases in the numbers of people arriving daily in southern and eastern European nations.
Greece, still in its deepest economic crisis for a generation, has received 244,855 sea arrivals in the first nine months of this year, the agency says, versus just 43,500 last year.
In other countries the totals are not so high, but the increases are even sharper. Italy received just 13,300 people arriving by sea in 2012, but has had 110,000 in the first eight months of this year.
Serbia, meanwhile, took in just 2,700 refugees and migrants in 2012, 16,500 in 2014, but has registered more than 100,000 so far this year – with 38,000 people arriving in August alone.
In a briefing on Tuesday in Geneva, UNHCR spokesperson Melissa Fleming told reporters that the intensifying European migration was due to the worsening conditions of refugees in countries neighbouring Syria.
"For the 4.08 million refugees already in neighbouring countries – the vast majority of whom live outside of formal camps – hope is also dwindling as they sink deeper into abject poverty," she said. "Recent studies in Jordan and Lebanon, for example, have found a marked increase in refugee vulnerability amidst funding shortfalls for refugee programmes."
Fleming said 86% of Syrians living outside of camps in Jordan were living below the poverty line, while 70% of those living in Lebanon were doing the same.
Shortfalls in donations pledged by the international community are making a bad situation worse, she said, noting that the UN's World Food Programme had cut food aid to 229,000 refugees in Jordan.
A UK-based spokesperson for the agency told BuzzFeed News it was "important to note [that] the neighbouring countries are buckling under the pressure", saying the sheer volume of refugees and lack of international funding was causing "enormous pressure on basic services and infrastructure".
These conditions, he said, were spurring Syrians to make the dangerous journey to Europe as the five-year Syrian crisis shows no sign of abating. "Syrians in these regions feel compelled to leave," he said.
He concluded by saying the UNHCR predicts that as many as 10% of Syria's 4 million refugees may eventually need resettling, but that the agency currently has a target of 130,000 by the end of 2016.
Europe's nations differ in the extent to which they are willing to offer asylum to Syrians fleeing to the continent. On Tuesday, Germany's vice chancellor, Sigmar Gabriel, said his country could take at least 500,000 asylum-seekers a year for several years. Germany has to date offered the most places to Syrian refugees.
British prime minister David Cameron said on Monday that he would accept a further 20,000 refugees from camps by May 2020, as well as offering further financial support from the UK aid budget.
"We will continue with our approach of taking refugees from the camps, and from elsewhere in Turkey, Jordan, and Lebanon," he told parliament. "This provides refugees with a more direct and safe route to the United Kingdom, rather than risking the hazardous journey to Europe, which has tragically cost so many lives."
Yvette Cooper, the shadow home secretary and a Labour leadership contender, challenged David Cameron to do more to help Syrian people.
"The prime minister said yesterday he would help up to 20,000 refugees over the five year parliament," she said, opening a 3-hour emergency debate.
"But the crisis is now. Helping 4,000 refugees this year isn't enough. 4,000, compared to 24,000 in France, hundreds of thousands in Germany.
"4,000, compared to our population of 60 million. 4,000, compared to the 10,000 we helped in just 9 months under the Kinder transport. 4,000, compared to the 19,000 Vietnamese boat people who fled to Britain from the Viet Cong. And 4,000, compared to the 24,000 Kosovans that came to Britain in the late '90s. We can do more than this."
Cooper also accused Cameron of doing little to support the Syrian people who had already traveled to Europe, including providing more support to Greece.
"Offer to take 3,000 children who have travelled to Europe alone, as Save the Children have suggested," she urged. "Just offer to help. Be British – do something bold."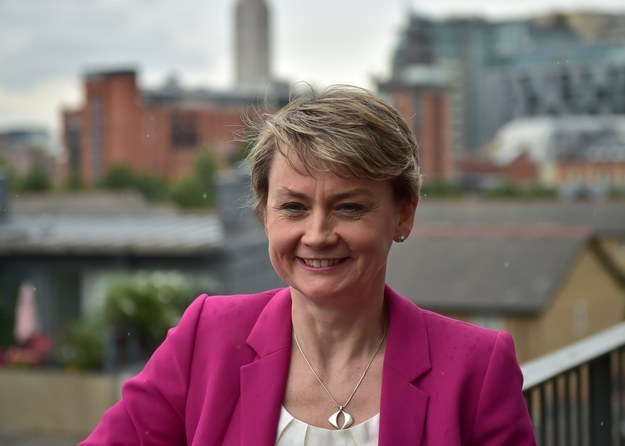 Cooper's call for further action was reflected in statements by British charities on Cameron's refugee plans.
"We welcome this acknowledgement that the UK needs to do its part in providing a place of safety for people fleeing conflict and persecution," said Alex Fraser, head of refugee support for the British Red Cross.
"However, the expansion of resettlement schemes is only part of a durable solution to Europe's refugee crisis, which is on a scale unseen since the second world war and includes people fleeing conflict and persecution from a number of other countries.
"The government's proposals do not apply to Syrian people already caught up along the routes being used by refugees in Europe and so while it is a positive step, it will not directly improve the situation for the thousands of people spending another night sleeping outside without proper shelter, food or water."
This was echoed by Amnesty International's UK refugee expert Steve Symonds.
"It shouldn't have taken a photograph to get politicians to start to do the right thing, but this news offers a vital lifeline to thousands of Syrians, he said. "If acted upon urgently, it will be a truly positive step forward.
"However, it does not address the huge challenge facing Europe right now – countries like Greece and Hungary cannot cope alone. Nor does it offer a solution to the many Eritreans, Afghans and others, forced to flee bullets, bombs, torture and overcrowded refugee camps elsewhere."