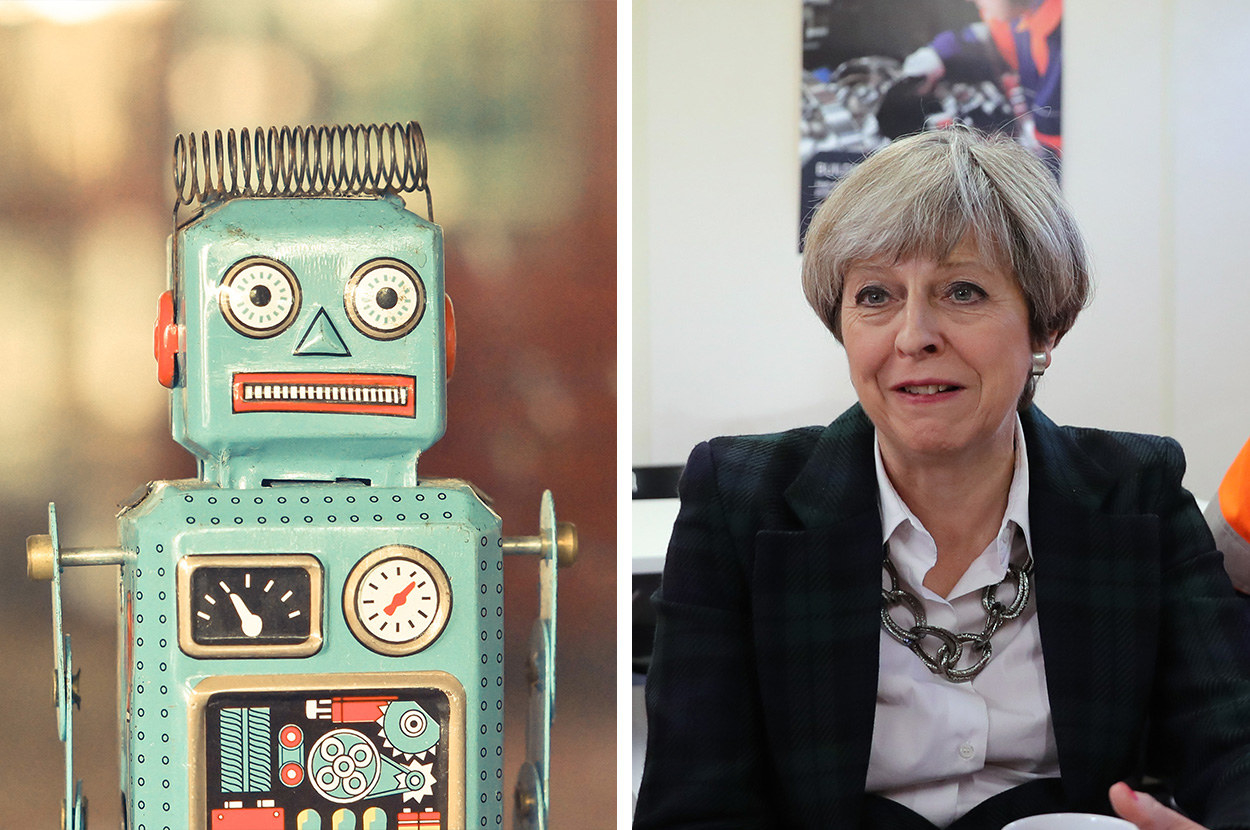 Theresa May is very clear – or at least she likes to say that she is. She also likes to say how she prefers "strong and stable" to a "coalition of chaos", and wants you to strengthen her hand.
But the prime minister's penchant for parroting slogans and ducking questions is starting to draw criticism, with some now calling her downright robotic.
The criticism escalated after an interview with a local journalist at the Plymouth Herald which left the local hack despairing.
May faced a series of questions on Brexit, transport, and military cuts – but the reporter, Sam Blackledge, was far from happy with the answers.
"If the ultimate job of a journalist is to get answers, I had failed," he wrote. "She had and given me absolutely nothing. It was like a postmodern version of Radio 4's Just A Minute."
The interview was just one of a series in recent days that have left people pondering whether May was operating on autopilot – so we've decided to test what that could look like.
We asked the AI chatbot Rose – which won the Loebner prize for most human AI bot in 2014 and 2015 – the same questions Theresa May was asked by Blackledge, as well as some from a few other recent interviews. Can you tell which one of these answers is actually Theresa May?
I'm very clear that this is a crucial election for this country.

I'll have to think about that.

I'm very clear that Plymouth has a proud record of connection with the armed forces.

I don't want to get into that. Have you traveled abroad?

Leaving the EU... I don't think Britain can have it both ways, leaving the EU but retain full trading rights. But it's their choice if they don't want to stay.

I think there is a better future ahead for Plymouth and for the whole of the UK.

I'm very clear that connectivity is hugely important for Plymouth and the South West generally.

Transport! - yeah I like to go by transport. I think maybe, in the future people won't use transport anymore - well not as a way to get from A to B. Communications are becoming so good - like Skype. People just won't need to travel as much as they do now.

I'm not willing to make that assumption.

Gosh, there are two words that come into mind. One is 'determined'. And the other is 'optimistic'.

If I've got a genuine bit of time I might try and do a bit of shopping, grab a coffee. Where do I go? Ah, that would be telling! Ha ha!

My ideal day would be hacking, eating cheese toasties, and dancing to my favourite band. I live that a lot.

I'm sure you are very smart.

No, what we have set out in the manifesto is a series of policies which address what I see, and I think are the five great challenges that we face as a country.

Don't ask me about politicians, I don't know why anyone wants to be one or ever trusts one.

I wish I could explain it to you but I think it is just an instinct.

We are – we will means test winter fuel allowance but once again we will consult, we will ask people, charities, organisations at what level that should be set.