Theresa May Gambled Her Majority On Getting UKIP Votes. This Is How She Failed.
A BuzzFeed News analysis of 100 seats with a large UKIP vote shows how one of the Conservative party's key election strategies failed miserably.
by
,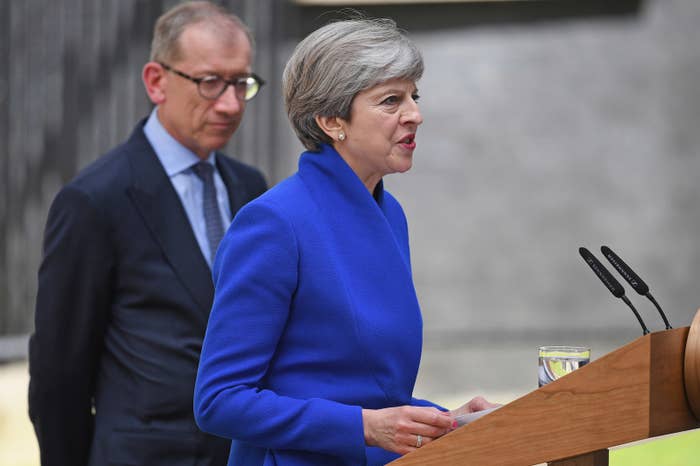 Theresa May's electoral gambit was a simple one, there for everyone to see in her campaign speeches and the Conservative party's Facebook adverts: The prime minister wanted to make 2017 the Brexit election, and sell herself as the woman to do it, netting as many of the 3.8 million people who voted UKIP in 2015 as possible.
On paper, this looked like a winning strategy. UKIP's voters – compared with the UK average – are older, more socially conservative, and less educated. They overwhelmingly support Brexit, want more controls on immigration, and are concerned about national security.
That was the campaign that May's Conservatives ran: She said a victory would strengthen her hand in Brexit negotiations, it would avoid a "coalition of chaos" and any chance of another EU referendum, and it would protect national security.
On paper, it should have been the perfect way to capture a group of voters naturally wary of Jeremy Corbyn. In practice, it was a dismal failure, analysis by BuzzFeed News reveals.
BuzzFeed News gathered data on the voting totals in each of the 100 seats in which UKIP performed best in 2015. Of the 100, one was won by UKIP, 70 by the Tories, and 29 by Labour (many of which appeared on the Conservatives' target list in 2017, including Mansfield, Dudley North, and Batley and Spen).
However, in the 2017 general election, despite a huge collapse in the UKIP vote, the Tories took only two of those seats – Labour-held Mansfield and Clacton, which was won in 2015 by the defecting Tory MP Douglas Carswell.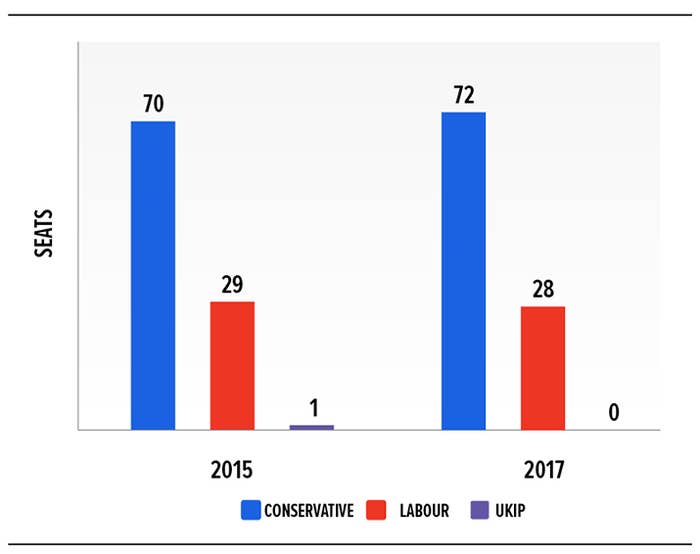 Digging into the figures shows the scale of the Tory failure to achieve a breakthrough in this sample of seats. Despite expectations that UKIP-leaning areas would hand the Conservative party a huge swath of Labour's heartlands, Labour actually increased its vote count by more than the Conservatives in 46 of the 100 seats, areas in which Labour was expected by most to do very badly.

These totals don't necessarily mean that the UKIP voters switched to Labour instead of the Conservatives – though some will have – but speak to the complex set of factors in a dramatic election campaign.
Part of the surprise is likely explained by May's disastrous manifesto launch, which included three provisions likely to upset UKIP's older, economically quite left-wing voting base.
The manifesto included pledges for people to fund their own social care through selling their homes after they died, dubbed a "dementia tax"; to means-test pensioners' winter fuel allowance; and to scrap the "triple lock" that guaranteed increases in the value of state pensions.
This is a set of policies that could almost have been deliberately designed to alienate UKIP's voter base, potentially leaving some staying at home, or even voting Labour instead.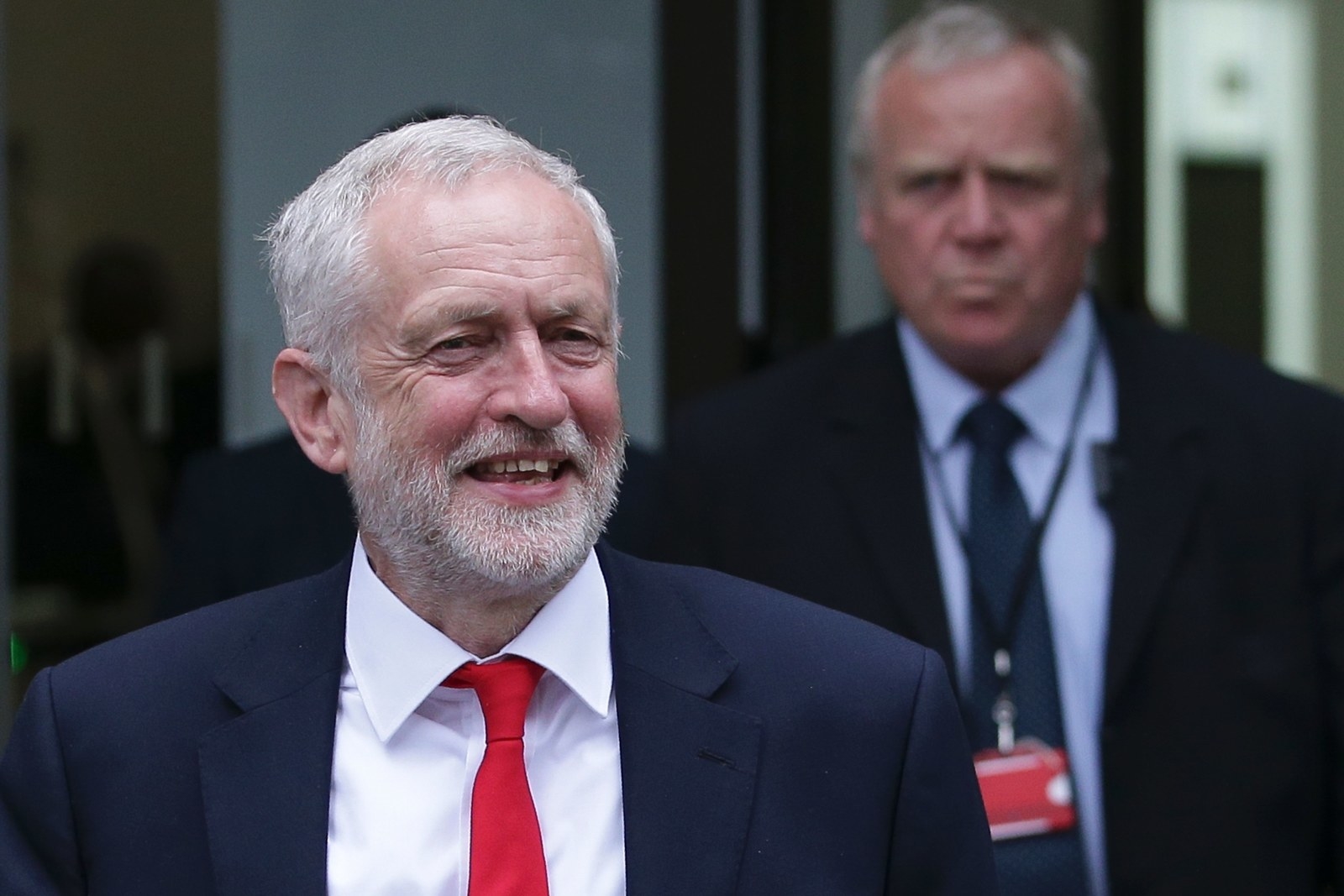 May's shift to a socially conservative, anti-immigration, and hard-Brexit agenda appears to have provoked a backlash, too – consolidating support for Labour from the party's disillusioned centrists, as well as animating young non-voters, Green and Liberal Democrat supporters, and others – offsetting any votes May did manage to pick up from UKIP.
One key example of this is evidence of huge swings firming up Labour marginal seats in urban areas where there is a high proportion of minority ethnic communities.
One of the stories of the night was of voters turning away from the Tories in Croydon Central, where the party had a 165 majority in 2015, and going red – with Labour gaining a 9.7% swing and booting Garvin Barwell, the housing minister, out.
In Ealing Central and Acton, a lead of just 274 votes was increased last night to 13,807, giving Labour's Rupa Huq a swing of 16.5%.
Ruth Cadbury's Brentford and Isleworth seat was also marginal, yet last night it saw a 13.6% increase in Labour's vote share compared with 2015.
In Ilford North, Corbyn critic Wes Streeting saw his majority of 589 increase to almost 10,000 – a 13.9% swing from last time. Similarly, the Labour vote share increased to double digits in other marginal constituencies such as Tooting, and Hampstead and Kilburn.
Outside of London meanwhile, in the Bristol West the Labour vote was 47,213, meaning a huge 30.3% bump in the party's vote share.
Operation Black Vote – which campaigns to get black, Asian, and minority ethnic voters out – said in a statement: "More BME people are voting – just look at Battersea, Hitchin, and Slough and Croydon Central."
The Muslim Council of Britain (MCB), the UK's largest Muslim umbrella body, said in 39 key constituencies with slim majorities, Muslim communities may have had an impact.

In 16 seats identified by the MCB where the impact of Muslim communities could be high, the increase in the Labour majority was 7,789 on average. Each of the 16 seats is now held by Labour – including 11 Labour marginals significantly bolstered, and five previously marginal Conservative seats.
"There is no bloc Muslim vote," Harun Khan, the secretary general of the MCB said, "nor can we know how Muslims have voted.

"What we can see, however, is Muslim and BME communities, in particular the young, enthused and involved in the political process across the country. In the 39 constituencies where Muslim communities could have had an impact, it appears they have done so."