Stock markets around the world collapsed and the pound plunged on news that Britain's electorate had emphatically voted to leave the European Union in Thursday's referendum.
Banks including Lloyds, Barclays, and Royal Bank of Scotland all saw around a fifth of their value wiped out on Friday, and there were similar losses at housebuilders like Taylor Wimpey, Barratt, and Berkeley Group.
Holiday and airline firms, including British Airways parent IAG, Thomas Cook, and easyJet, also suffered.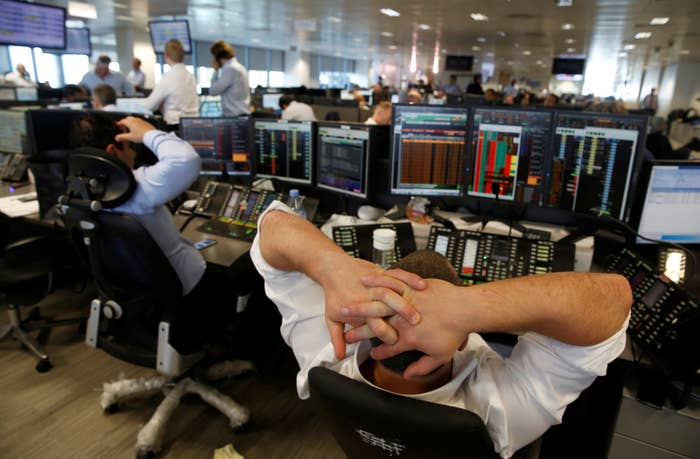 Although the falls were pretty huge, they were better than first thing Friday morning, when some watched as much as 40% wiped off their value.
The freefall was slowed by Bank of England governor Mark Carney promising to invest an extra £250 billion to steady markets if needed and adding that any further action needed would be taken. This could mean a change to interest rates.
British holidaymakers will also see prices rise overseas, after the pound fell heavily everywhere.
£1 was worth $1.50 on Thursday night as voting ended and a remain was predicted, but by Friday £1 was just $1.36 – down 8.8%. At points it dropped as low as $1.33 – the biggest fall in history.
But it was not just the US dollar that gained on the pound: Virtually every currency rose in response to the referendum.
The London Stock Exchange's top-tier FTSE 100 index dropped 500 points to 5808.72 shortly after opening at 8am, its biggest fall since the 2008 financial crisis.
But by the end of trading at 4.30pm it had calmed and recovered to close down a less dreadful 175, or 2.8% down, to 6163 – actually beating last week's level.

Connor Campbell, financial analyst at Spreadex, said:
There isn't much to explain the FTSE's rather remarkable recovery. A decent strand of buyers swept in when the UK index hit its earlier lows, helping to lift it back above 6200 despite a continued battering for its Barclays / RBS / Lloyds banking trio.

The liquidity support promised by the Bank of England (and subsequently the ECB and Federal Reserve) appears to have been the main catalyst for the turnaround, especially given the fact that the afternoon was still littered with worrying news (namely the likelihood of a second independence referendum in Scotland).
The second-tier FTSE 250 index dropped 11.4% in its biggest fall on record (beating 1987's 10.8% drop), but calmed by the end of the day, ending down 7%.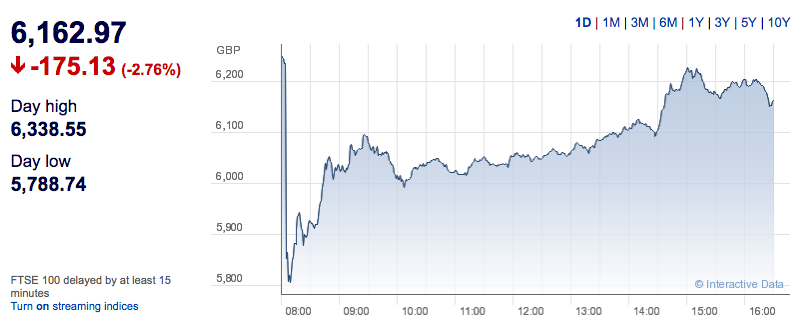 It was hit harder than the FTSE 100 because the 250 companies that make it up are generally UK-based, while companies in the top tier are more internationally focused.

Overseas, stock markets in France, Germany, and Spain all suffered too, closing down 6.9%, 6%, and 11.3% respectively, suggesting European markets will feel the impact harder than the UK.
In the UK most companies saw their shares take a battering, but the hardest hit were banks and housebuilders.

The banks
High street names such as Barclays, RBS, and Lloyds were always likely to be hardest hit by Brexit, which puts as the future of the UK's place as the centre of finance for Europe under threat.
Barclays plunged by 40% at one point, but after conciliatory words from Leave frontman Boris Johnson and German chancellor Angela Merkel, it settled to a fall of 20% instead.
The Financial Conduct Authority also issued calming words, saying:

The FCA is in very close contact with the firms we supervise as well as the Treasury, the Bank of England and other UK authorities, and we are monitoring developments in the financial markets.

Much financial regulation currently applicable in the UK derives from EU legislation. This regulation will remain applicable until any changes are made, which will be a matter for Government and Parliament.
British Bankers' Association chief executive Anthony Browne also reassured customers and said banks had contingencies already drawn up.
He added:
Banking services will continue as normal. People will be able to take money out of cash machines, exchange currency and have full access to their banking services.

Any consequences of the referendum result will take some time to resolve and any changes to banking will take place over several years.
But not everyone was so lucky with exchanging their money, as Tesco Bank and the Post Office closed their exchange websites on Friday morning, and in Greece there were problems too.
But one senior source at a major bank put it more bluntly to BuzzFeed News. The source said:
"Fucking disaster. Single most irresponsible, grossly misconceived act of self-harm in history. Every single one of the leave leaders must be held accountable and not allowed to slope off. Johnson's speech was grotesque, our own homegrown Trump. Boris Trump. Cunt."
Few banks have responded individually, but there was an interesting rumour doing the rounds.
And another that was quickly put out.

Investment banks and insurance companies were also hard hit, with Provident Financial, Standard Life, Aviva, and Legal & General all falling badly.

The builders
Housebuilders were always going to suffer badly, given fears a Leave vote would stifle the property market.
Berkeley Group, Taylor Wimpey, Persimmon, and Barratt Developments all fell by more than 20%, occasionally changing places as the worst-performing shares on the market.

But with typical brass necks, some estate agents attempted to reassure the market that with the pound falling now could be an excellent time for foreigners to invest in UK property.
Keatons sent its customers an update: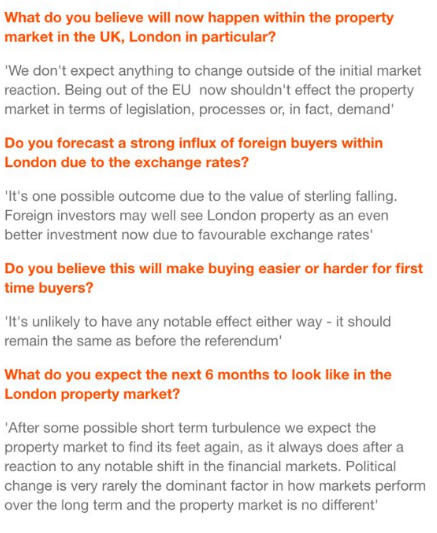 Others were more pessimistic. Jonathan Hopper, managing director of the buying agency Garrington Property Finders, said:

Looking further ahead, the only sure thing is that we can't be sure of much. The actual process of Brexit is unlikely to be quick or easy, but it's the prolonged period of uncertainty that will accompany it that is likely to prove most toxic.


The blunt truth is that many investors – for whom property is a discretionary purchase – will sit on their hands until the dust settles. And no-one really knows how long that will take.
Retailers
Although the high street has been generally unaffected by the recent months of campaigning in terms of shoppers splashing the cash, investors in big names such as Marks & Spencer, Tesco, and Dixons Carphone – parent company of Currys PC World and Carphone Warehouse – sold up.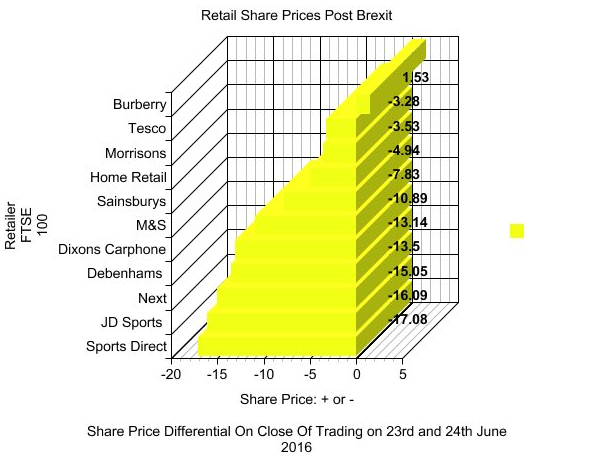 On average, shares in the sector were down by around 10%, but as with other areas, the early-morning swings soon calmed and the pain was spread on companies that are more exposed to buying their products from overseas.
Sir Ian Cheshire, chair of Debenhams, told BuzzFeed News:
"The sector is responding to two things – they are reacting to retailers who have got high exposure to foreign exchange rates and source their products from overseas, which now become more expensive.
"You've also got companies like Dixons, who will have customers sitting on their hands thinking 'do I need that extra flatscreen?'."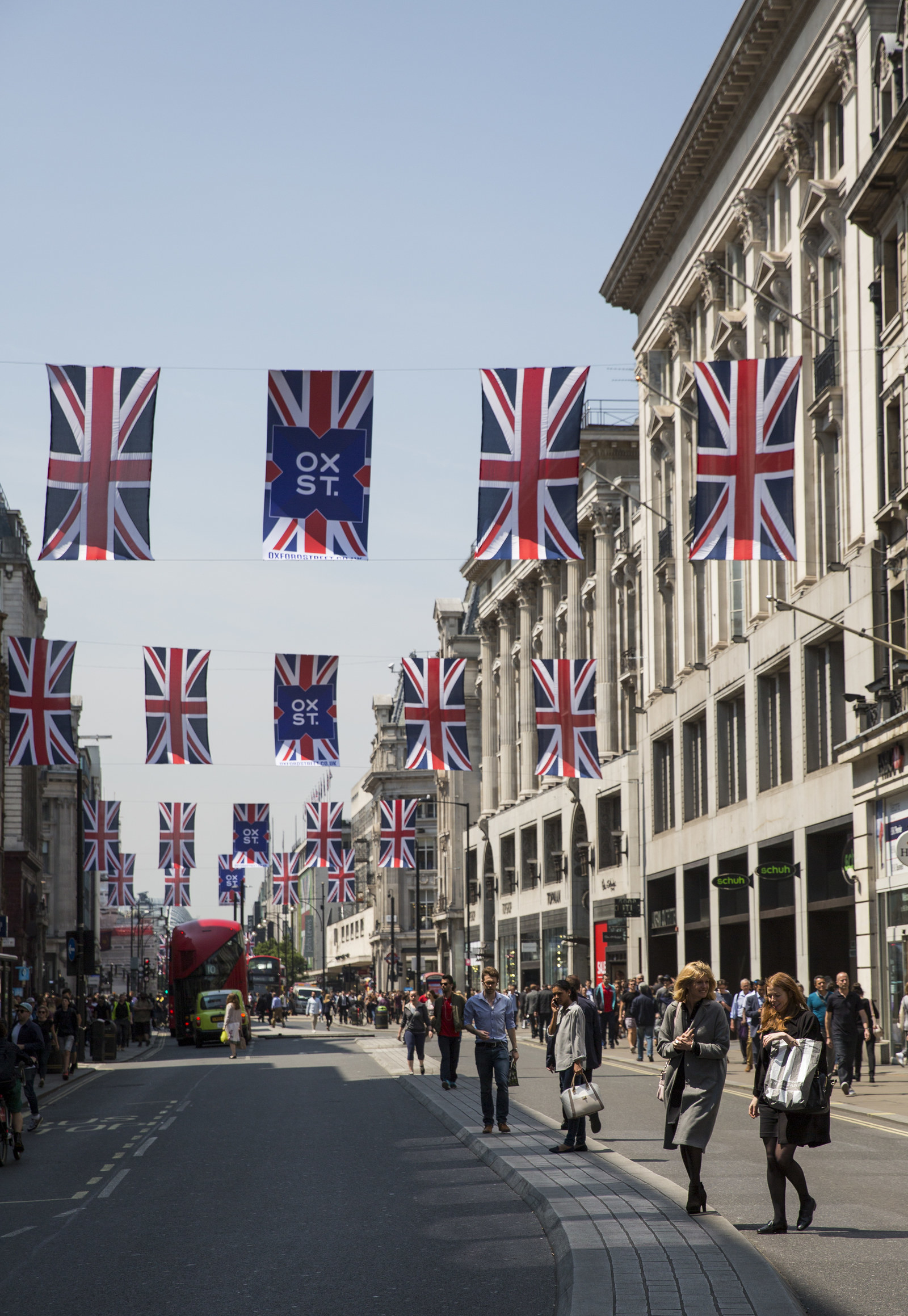 Mike Ashley's Sports Direct – where shares fell 17% – warned the stock market that it could be hit hard by the currency fluctuations because it is not protected against such moves beyond next year. It was the only retailer to make a public statement.
However, the British Retail Consortium, which represents the industry, said:
In order to keep prices down and to deliver the best possible choice for consumers, retailers' top priority in the short term will be to ensure the continued ease and minimum additional costs of importing EU goods into the UK for sale to customers.

A prolonged fall in the value of the pound will impact import costs and ultimately consumer prices, but this will take time to feed through.
Travel and holiday firms
IAG, the company behind British Airways, American Airlines, and Iberia, was hit badly and became the first company on the market to tell the world it expects profits to miss expectations following the Leave vote.
The announcement sent its shares down 21%, and easyJet, Thomas Cook, and TUI all followed suit with heavy falls of between 8% and 13%.
Thomas Cook also put a limit on how much money people can exchange from pounds into euros to £1,000 per person.
A spokesperson said:
We have temporarily suspended our travel money website following unprecedented customer demand for foreign currency overnight and this morning. We apologise to all customers affected.

Our immediate priority is to ensure that we have enough currency in store to fulfil outstanding orders. We hope to be back up and running as soon as possible.
Gold and silver
Unsurprisingly, the strongest stocks of the day are gold and silver mining firms Randgold and Fresnillo. The precious metals are the safe haven of choice for investors when the world looks like caving in.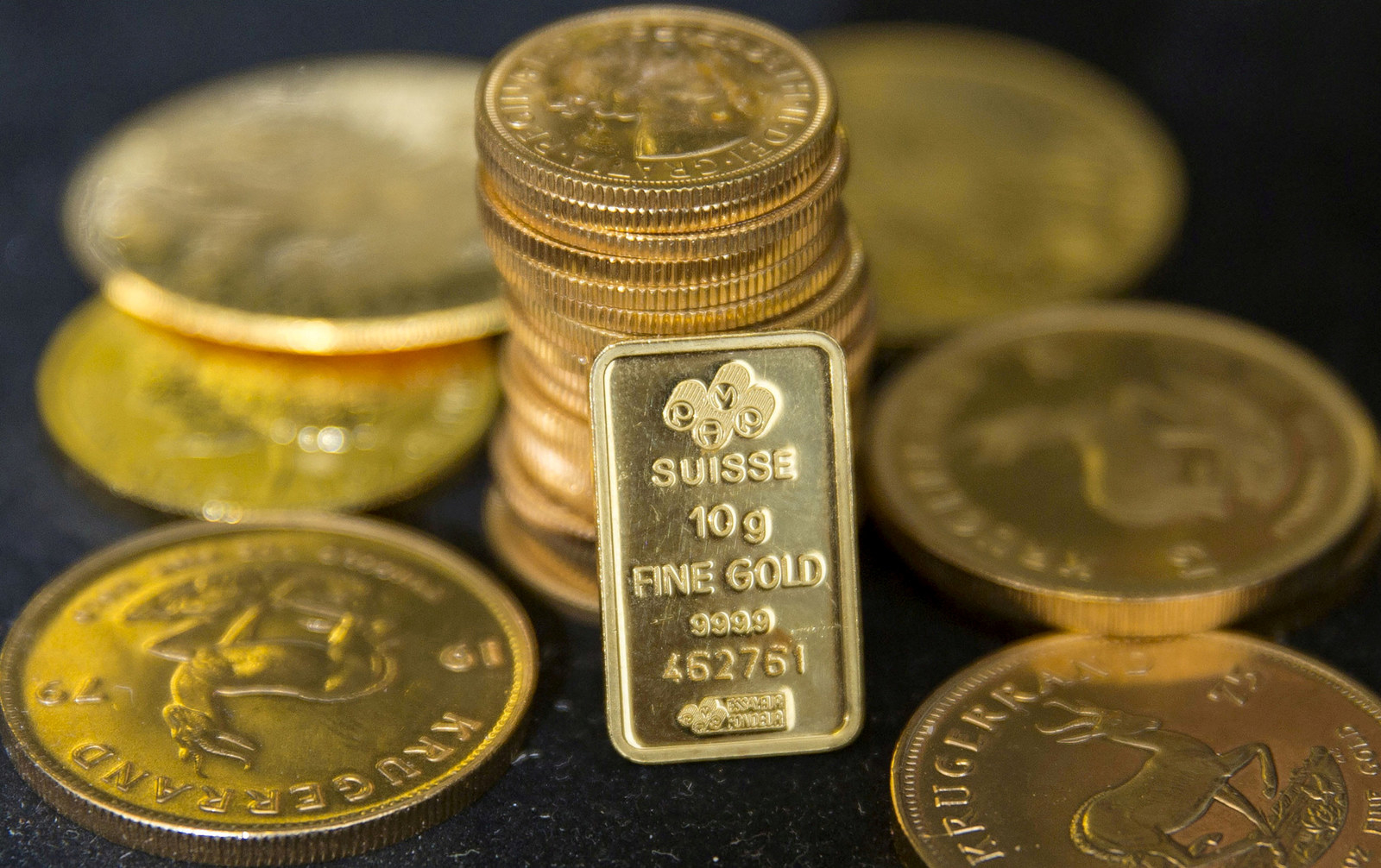 Matthew Elliott, the chief executive of the Vote Leave campaign, insisted ahead of the final result that the markets would settle down once people realised it would take up to two years for Britain to leave the EU.

He told journalists in Manchester: "There's less panic than people were suggesting. We'll see what happens tomorrow. But assuming it is a Leave vote, and it's still too early to call that, I think people will quickly realise actually Britain is still in the European Union and we'll be in the European Union for several months, if not a couple of years, still to come, because nothing changes on day one."
He said Britain would soon start setting up trade deals with individual countries, including the US, and "very, very quickly it will settle down".