The Chancellor Just Revealed The British Economy Is In Worse Shape Than Previously Thought
Philip Hammond announced downgrades to the UK economy – which means less government spending and lower wages – in his Budget speech.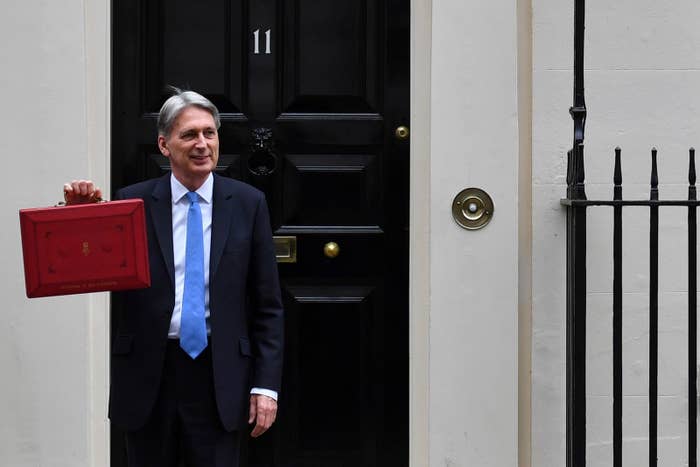 The chancellor announced a severe set of cuts to Britain's economic growth forecast during his 2017 autumn Budget speech, suggesting the UK now expects to be considerably poorer than expected in the next few years.
The economy had initially been predicted to grow by 2% this year, 1.6% next year, and 1.7% the year after – but is now expected to grow by just 1.5%, 1.4%, and 1.3% respectively.
The estimates are produced by the independent Office of Budget Responsibility, which has downgraded its forecasts because the UK continues to have sluggish productivity growth – meaning the amount of money generated per worker per hour is not going up by the amount expected.
The cumulative effect of the new downgrades means the UK economy is now expected to be around 2.3% smaller than previously hoped by 2021/22.
Chris Applegate / BuzzFeed News
The effect of slower growth means the UK government will have less money to spend, as its tax take depends on the size of the economy, companies will expect to earn less, and wages are likely to grow more slowly than previously expected.
In total, the new forecasts – if correct – suggest that by 2021/22 the UK economy will be about £45 billion smaller than previously expected.
Chris Applegate / BuzzFeed News
The new forecasts could also face further downgrades, as they do not take into account any potential impact to the economy from Brexit, as the OBR does not yet know what the plan for Brexit is. A hard Brexit, for example, would have very different impacts to a soft one.
Last month, OBR chairman Robert Chote said: "We do not expect to make any significant changes to our Brexit assumptions come November, as there remains no meaningful basis to predict the precise outcome of the negotiations and no statement by the Government of the changes in domestic policy that would accompany it."