Three days ago, Chris Shaw sent this tweet supposedly showing how The Sun reported the "invention" of the internet "in 1992".
The tweet has already been RT'd more than 5,000 times, copied by dozens of others, and posted and shared widely on Facebook.
Just one problem, though: The whole thing is a spoof – by none other than The Sun itself.
The warning signs should be pretty obvious. Tim Berners-Lee is generally credited with inventing the World Wide Web rather than the whole internet, and it launched in March 1989 – not 1992.
The internet itself dates back to the 1960s, when it was known as the ARPANET – by 1969 it had a massive four computers hooked up to the network.
But if such cornerstones of geek history weren't enough to trigger alarm bells, then there was one slightly more obvious clue: The reporter's byline was "DOT COMME". The clue's right there, guys.
Here's what the full spoof front page looked like (this time datelined, again wrongly, to 1991).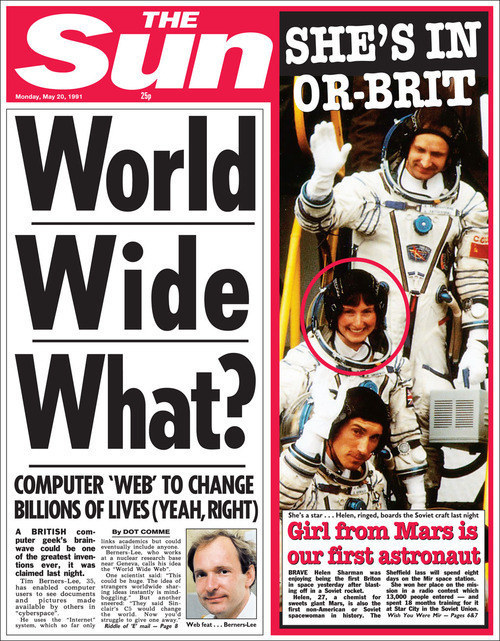 This isn't the first time this particular hoax has caught out Twitter users: It did the rounds before in 2012, when among others it caught out Martha Lane-Fox, an adviser to the government on the digital economy, who tweeted, according to the Press Gazette:
@MarthaLaneFox: hilarious. how the sun newspaper reported tim b-l discovery of www
For anyone determined to track down a second source, here's what The Sun's managing editor had to say about the tweets.
He also tweeted a selection of The Sun's other mock front pages – probably coming soon to a Twitter stream near you.