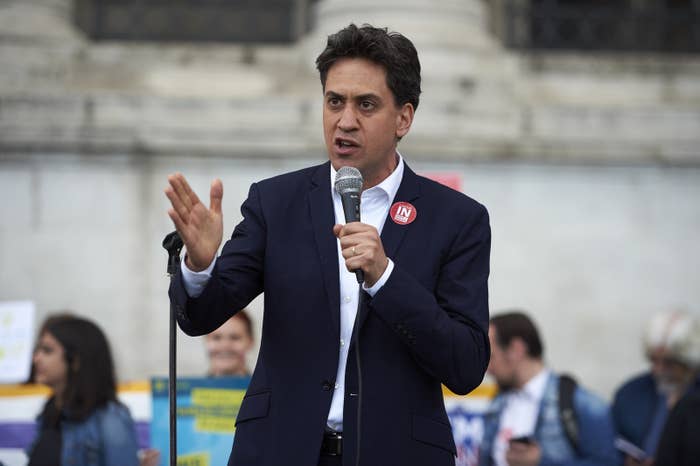 Former Labour leader Ed Miliband on Wednesday waded into one of UK politics' most contentious debates: the pricing of Cadbury's flagship frog-shaped chocolate bar Freddo.
Miliband tweeted his opinion on the childhood favourite after a Miliverse fandom account tweeted that in the fictional world in which Miliband become prime minister in 2015 (in reality, the Conservatives gained a majority in that election), Freddos would have received a price freeze.
Miliband then responded to the tweet by revealing that he "prefer[s] Buttons", a different Cadbury product.
Freddos have become a common subject for UK political jokes owing to many people remembering fondly a time when the mini chocolate bars sold for just 10p, making them an excellent pocket-money treat. They now cost 30p.
Earlier this year a fake story claiming current Labour leader Jeremy Corbyn had pledged a price cap on Freddos went viral, receiving more than 6,000 shares.
To establish the truth behind whether the price of Freddos is spiralling out of control, and whether Cadbury's Buttons are a savvier choice, BuzzFeed News collated the data – and headed to the corner shop to buy a sample of each.
BuzzFeed News was able to acquire a Freddo for 30p and a bag of giant buttons for 90p. Here are the conclusions of that research:
Freddos have gone up in price much faster than inflation.
If the price of Freddos had risen in line with the UK's official CPI measure of inflation (how much more expensive prices get each year, on average), they'd cost around 14p.
Overall, prices in the UK have increased by around 42% on average since 2000, while the cost of a Freddo is up 200%. The price of Freddos has risen even more than average house prices, which have increased from £81,202 in 2000 to £209,971 in 2017 – an increase of 158%.
But in terms of getting more choc for your buck, Ed Miliband has backed the wrong sweet treat.
Both Freddo bars and Buttons are made from milk chocolate, and the recipes are very similar, though not identical. (Since you asked, Freddos use polyglycerol polyricinoleate as well as phosphorylated glyceride salts as their emulsifier, whereas Buttons only use the latter.)
A Freddo weighs in at 18g of milk chocolate for 30p, giving an average 0.6g of chocolate for every penny spent.
The 90p bag of giant buttons, meanwhile, weighs 40g, meaning that you get just 0.44g of chocolate per penny – a much less cost-efficient way to buy chocolate.