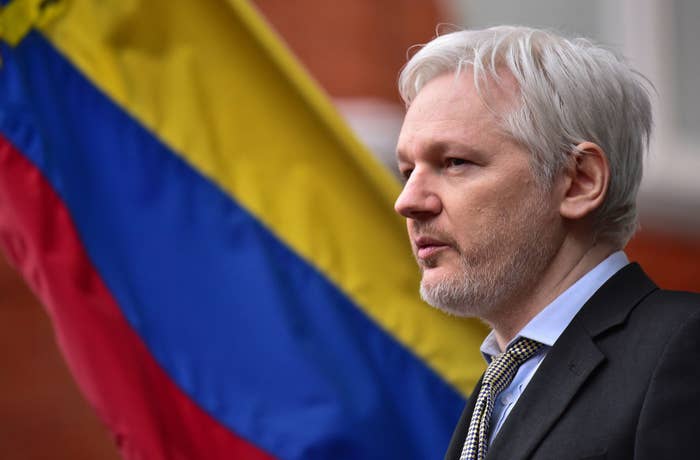 The Swedish prosecutor's office received on Tuesday morning several hundred pages of interview evidence from Julian Assange in relation to his alleged sexual offences in the country in 2010, BuzzFeed News has learned.
The allegations by two women against Assange – made in the summer of 2010 – have led to years of legal challenges in UK courts against extradition for the WikiLeaks founder. Following his failed bid at the Supreme Court in 2012, Assange fled to the Ecuadorian embassy, prompting a diplomatic standoff now in its fifth year.
After several years of wrangling, Swedish and Ecuadorian authorities finally agreed a compromise to allow Assange to be interviewed in the embassy for several days last November – but by Ecuadorian prosecutors rather than Swedish ones.
Now, more than six weeks later, the results of the interviews have been passed to Swedish authorities, allowing them to consider whether to continue pursuing the case against Assange, who has returned to the headlines in recent weeks following WikiLeaks' high-profile interventions in the US election campaign.
The prosecutor's office had expected to receive the documents several weeks earlier, in mid-December.
BuzzFeed News understands that because the interviews with Assange were carried out under Ecuadorian jurisdiction, the transcripts – which are hundreds of pages long – have been translated into Spanish.
The original interviews were carried out through a translator, with a prosecutor asking questions in Spanish and receiving responses in English, leading to the possibility Assange's responses will pass through two layers of translation: from English to Spanish, then Spanish to Swedish.
"It's rather special," one source in the prosecutor's office told BuzzFeed News.
Assange's no-show for an interview with Swedish authorities in 2010 meant prosecutors were unable to make decisions on whether or not to charge him with the offences he was alleged to have committed, which ranged from sexual assault to rape.
In December, Assange defied the wishes of the Swedish prosecutor's office by publicly leaking transcripts from his interviews. It is not known whether the documents received by the Swedish prosecutor are more extensive than what Assange released.
During the six-year gap between the alleged offences and conducting the interview, some of those allegations ran past their statute of limitations under Swedish law, but now prosecutors have the transcripts they are free to finally consider the case and make decisions regarding charges.
There is no formal timescale for this process – especially as translation is expected to take a substantial amount of time – but BuzzFeed News understands that as part of the decision-making process the prosecutor's office may conduct further investigation, including additional interviews with involved parties.
The progress in Assange's alleged rape case comes in a week where the WikiLeaks founder had found support from new and unlikely allies. US president-elect Donald Trump – who once called for Assange's execution – tweeted his comments on the sourcing of the Democratic National Committee leak, while former governor of Alaska Sarah Palin apologised for her previous condemnation of Assange.