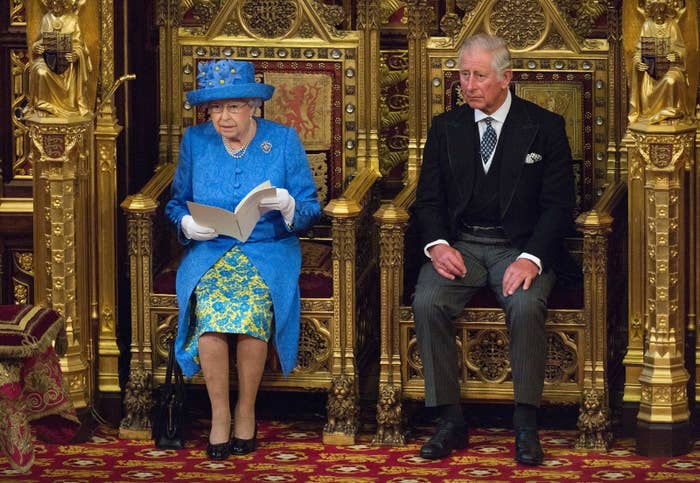 Theresa May has been criticised for laying out a "threadbare" legislative programme in the Queen's Speech that is expected to last for two years.
Despite lacking a majority, the government set out a Queen's Speech containing, in theory, 27 pieces of legislation – a fairly substantial total.
However, that total gives a misleading view of the contents of the speech, experts and pressure groups said, because many of the bills not directly related to Brexit contain just a handful of simple and uncontroversial measures – many of which are carried forwards from previous sessions.
Parliament is sitting for two years instead of one in order to get the huge amount of Brexit legislation through the Commons.
One bill simply enacts some changes to national insurance announced in 2016 – but not the controversial ones of Philip Hammond's first budget – while another simply enacts some tax avoidance changes.
Elsewhere, one bill approves the High Speed 2 railway, another would change rules on whiplash claims to reduce the cost of car insurance, while others tackle issues like licensing commercial spaceflight and regulation of self-driving cars.
Around nine of the bills proposed directly concern Brexit, while others – such as one on data protection and another on travel rights and protections – are indirectly related to the process.
Controversial legislation proposed in the Conservative manifesto, such as reintroducing grammar schools, changing how corporations are run with measures such as workers on company boards, reforming social care funding, and holding a vote on fox hunting, are notable by their absence.
The modest programme led opposition leader Jeremy Corbyn to launch a scathing attack on the agenda in his parliamentary response to the speech. Corbyn called it "a threadbare legislative programme from a government that's lost its majority and apparently run out of ideas already".
"There's not enough in it to fill even one year," he told MPs.
Julian McCrae, deputy director of the nonpartisan Institute for Government, echoed Corbyn's view that the legislative programme was thin, if not the Labour leader's scorn.
"You'd normally expect much more headline bills in the first Queen's Speech of a government," he told BuzzFeed News. "This has the feeling of a mid- or late-term speech, mopping up loose ends. I don't think this is necessarily a bad thing given the uncertainty around at the moment."
McCrae added several of the government's bills that did not relate to Brexit were generally continuing reform programmes from before the election, but without some of their more controversial elements, while others were relatively small and manageable – but he said this would allow the government to focus on what will be large and complex Brexit bills, of which there were nine in the speech.
"One of the key things you need a Queen's Speech to do is prioritise the focus of the government – and the Brexit bills will be quite large ones," he said, noting that the immigration bill, for example, would need to introduce an entirely new immigration system for the UK.
"There will also be more bills the government will have to introduce as the Brexit process continues. These [the Brexit bills] will really be the priority. The electorate has forced the government to leave off a lot of their other priorities. A lot of the radical reform – industrial strategy, economic fairness – just isn't in there in a legislative sense."
The simple nature of many of the bills in the Queen's Speech will increase the government's chances of passing them without a Commons majority. A government with a comfortable majority would be likely to fold in simple and uncontentious measures into broader legislation.
This speech included them as standalone bills – which are relatively difficult to amend by opposition parties, leaving those parties to either oppose a simple bill that may be relatively popular, or to vote with the government.
However, this approach leaves any contentious matters largely untouched, to the disappointment of campaign groups.
The Local Government Association, which represents councils across the country, said it was disappointed the government appears to have shelved plans allowing it to keep revenue from business rates, and also warned Brexit could not be allowed to overly dominate the political agenda.
"While negotiating Brexit will be a huge challenge for the government, it cannot be a distraction from the challenges facing our public services. The day-to-day concerns of our communities go far beyond Brexit," said chairman Lord Porter.
"To build desperately needed homes, create jobs and school places, provide the dignified care for our elderly and disabled, and boost economic growth, all councils also need freedom from central government to be able to take decisions over vital services in their area."
Elsewhere, the chief executive of the anti-poverty charity the Joseph Rowntree Foundation said the "threadbare" speech offered little.
"Almost a year ago Theresa May pledged to tackle the country's injustices. But this threadbare Queen's Speech is symbolic of the impasse in British politics, where these injustices will be left untouched and people's prospects held back," said Campbell Robb.
"Some action on energy costs and helping renters is encouraging, but on their own they fall far short of the bold domestic reforms we badly need to see. Millions of people face a daily struggle to make ends meet and no party has made a persuasive case that this will change."
The chief prison inspector has also criticised the government, for leaving prison reform out of its agenda.