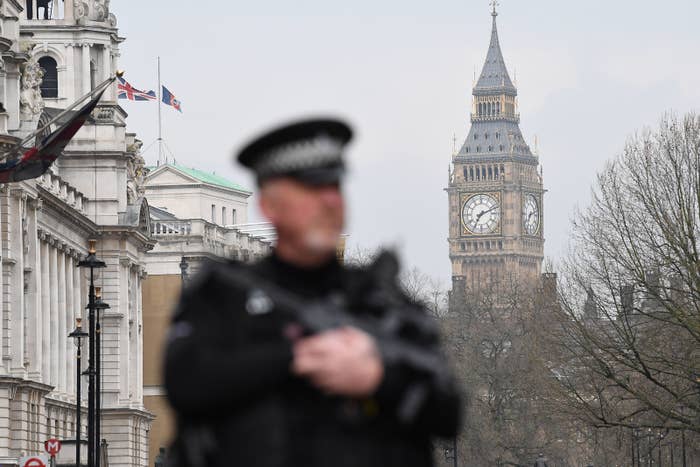 Parliament is to review its security procedures in an emergency meeting on Thursday in the wake of a terror attack that killed at least three people, as well as the assailant, and left 29 injured.
Lindsay Hoyle, deputy speaker of the House of Commons and chairman of parliament's security committee, told the BBC that he would be hosting a meeting to check if additional measures were required.
"We will be having an emergency meeting," he said. "We'll be getting information, what else needs to be put in place, and we will reflect, not instantly, we've got to take on board what's happened and we will make decisions accordingly. Of course, we've got to look after both houses."

TV footage on Thursday morning showed new concrete blocks being moved into place around the Palace of Westminster in the wake of the attack. The blocks have already been in place around parts of the parliamentary estate as part of longstanding security measures against vehicle attack.
Even before Wednesday's attack, the parliamentary estate was already subject to extensive security precautions including routine patrols by armed police, thorough security screening of visitors, extensive electronic surveillance, and other measures. Kevin Maguire, associate editor of the Daily Mirror, described parliament as "a fortress".
Theresa May stressed to MPs that the attacker only managed to get 20 yards into the grounds of parliament before being stopped, through the carriage gate, which is usually used as an entrance by MPs and peers. The gate has the lightest visible security of parliament's many entrances, with most others having mechanical or pass-activated gates blocking entry.
The gates were already due to be upgraded by the end of 2017, according to a parliamentary written question. The gates currently feature a temporary low-level barrier, which is manned by police officers who open it when cars needs access.
Prior to the attack, MPs had complained that the barrier is unsightly, prompting House of Commons commission chair Tom Brake MP to promise a solution by the end of the year as part of a general upgrade of security measures in the area where the attack took place.
"The temporary galvanised barriers outside Carriage Gates will be replaced via the New Palace Yard security enhancement project," he said in December. "It is envisaged that a solution sympathetic to the existing local architecture will be adopted."
John Bercow, the Speaker of the House of Commons, told MPs some new security measures have already been introduced, and said he would eventually consider whether a review of the incident will be conducted.
"Naturally the parliamentary security authorities have already taken measures to ensure that parliament is safe in the light of the attack," he said.
"In due time, the commission which I chair will consider together with our Lord counterparts what sort of review of lessons learned would be appropriate.
"However let the security personnel who protect us – police, security officers, and doorkeepers – be in no doubt whatsoever as to our appreciation of the way in which they discharged their duties yesterday."
Mark Rowley, the acting deputy commissioner of the Metropolitan Police, said in a statement on Thursday that it was police's belief that the attacker acted alone but was "inspired by international terrorism".
Private security consultant Brian Painter told BuzzFeed News the attack's simplicity was part of what made it difficult for police and intelligence agencies to forecast, but said the response had been highly effective.
"The attack in itself is very low-tech and that's the genius behind it," he said. "That's what we've seen in Berlin, Belgium, and France – they don't need to buy munitions or explosives, they just need a car and a kitchen knife.
"I can't speak as to how these people think, but it's simple: These attacks don't need planning, so don't come to the attention of the security services, and don't require much surveillance of the target. The plan's simple: Drive into people and try to get into parliament."
When it came to the actual response to the attack, though, Painter said police had responded exactly as they had been trained to, adding that the textbook response showed the effectiveness of police's regular anti-terror drills.
"This method of attack is something police are very aware of and had already drilled how to deal with marauding knife and gunmen," he said. "It's potentially the most likely model [of attack]. No plan survives contact with the enemy – that's the purpose of drills, so that everyone knows what to do individually. It was done exactly as in a drill."
Jamie Bartlett, an expert in extremism and radicalisation at the think tank Demos, told BuzzFeed News the new style of so-called lone wolf ISIS attacks in Western Europe are in part a product of the success of authorities in thwarting other plots.
"The idea of a self-starting, self-radicalising attacker has been growing as a phenomenon for a long time, and was even talked about in relation to Al Qaeda," he said. "Someone sees magazines, watches videos online and decides almost apropos of nothing they'll do something – it's still relatively unusual, there's often still some contact with a spiritual leader.
Speaking of the shift from building cells and attempting to source explosives to lone attackers with easily available tools and weapons, Bartlett said: "This opens things up a bit – it lowers the bar of entry into this world and some people then decide to attack. This is a lot easier than the attack model of a decade ago.
"Part of this is effectively a response to the success of intelligence agencies – they've made a rod for their own back. These attacks are hard to spot – you can't track unusual purchases (like bomb manuals) online, you can't spot networks of people. [But] the reason ISIS resorted to this is they can't pull of the spectacular attacks they'd like to, because the intelligence agencies have been so successful in foiling them."