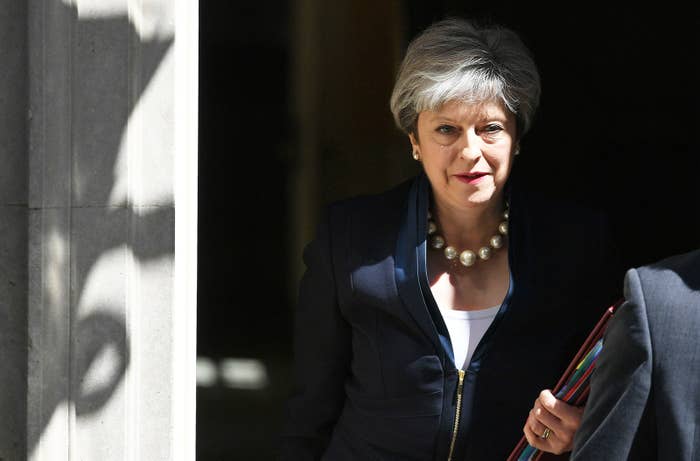 Working families who are "just about managing" are worse off than they were last year, despite Theresa May's pledge to focus her efforts on helping this group, new research has found.
A report by the Joseph Rowntree Foundation, an anti-poverty charity, has found that higher inflation – boosted by the falling pound after the Brexit vote – plus the benefit freeze and other reforms mean many families working in low-paid jobs are getting further away from a liveable income.
A family in which one adult works full-time on the National Living Wage and another stays at home looking after children is now £870 a year – £17 a week – further away from what the JRF refers to as a "decent living standard", while a working single parent has slipped a further £640 a year behind that line.
The report doesn't look at an official measure of poverty, but instead what it calls a "minimum income standard", which is worked out in conjunction with academics who ask a panel every four years what people regard as necessities to live a normal life.

A single person now needs to earn £17,900 a year to reach the minimum standard, a couple who both work and have two children need total earnings of £40,800, and the line for a lone parent with a preschool child is £25,900.
This is the group of people referred to as "ordinary working families" and those "just about managing" by Theresa May, who pledged help when she became prime minister last July.
"If you're from an ordinary working-class family, life is much harder than many people in Westminster realise," she said in a speech outside Number 10. "You can just about manage, but you worry about the cost of living and getting your kids into a good school.

"If you're one of those families, if you're just managing, I want to address you directly. I know you're working around the clock, I know you're doing your best and I know that sometimes life can be a struggle. The government I lead will be driven, not by the interests of the privileged few, but by yours."
However, the research shows that the gap between many of these families and a minimum income standard has actually grown substantially in recent years, under both Cameron and May, as a detailed case study provided to BuzzFeed News shows.
Donald Hirsch, director of the Centre for Research in Social Policy at Loughborough University and the JRF report's main author, calculated figures for a single parent with two young children and demonstrated how they'd changed over the last five years.
These figures showed that a family with one parent working full-time would be £33.02 a week short of the JRF's minimum standard in 2012, but by 2017 that had shot up to £67.50. The family is helped substantially by the introduction of the National Living Wage (the research assumes the parent is over 25), but is then hit slightly by tax and benefit changes, and much more substantially by the rising cost of living – ending up struggling to make ends meet.
How wage, tax, and benefit changes have affected a working single parent with two children
Significantly, Hirsch said it is the benefit freeze – which has not received the same public attention in recent weeks as the public sector pay cap – that's mainly responsible for the growing difficulties of low-income families.

"This year we have seen a return to inflation for the first time since the freeze in benefits and tax credits was introduced," said Hirsch. "It is clear from these results that this freeze is preventing better minimum wages from feeding through to improved family living standards.
"A particularly important feature of this is that for every extra pound earned, about 75p is typically lost by low earning families in additional tax and reduced tax credits or universal credit. Unless the amount that you can earn before these credits are withdrawn rises along with prices and earnings, it will be very difficult to deliver the improved living standards for struggling families that have been promised."
This view was echoed by Campbell Robb, the JRF's chief executive.
"Ordinary working families are facing bigger holes in their budgets worth hundreds of pounds, despite pay rises and tax cuts," he said. "It means millions of families are facing a struggle to make ends meet as the cost of getting by in modern Britain rises ever higher.
"We need the government to take action and ensure living standards do not fall backwards. Lifting the freeze on working-age benefits and tax credits must be the start along with allowing people to keep more of their earnings."
Liberal Democrat leader Tim Farron said the research showed the results of "cruel" Conservative policies.
"Millions of people are facing a squeeze because of the Conservatives' cruel insistence on balancing the books on the backs of the working poor," he said.

"The just-about-managing are being hauled under the waterline. They are being forced to access food banks and live month-to-month. The government say the right things, but for once they should do the right thing."