Leading Pro-Brexit MP Reported To Parliamentary Watchdog Over Undisclosed Company Stake
Gisela Stuart, Labour MP and chair of the official Vote Leave campaign, held an undeclared partnership interest in a "wealth management" firm offering "tax planning" advice to ultra-rich clients.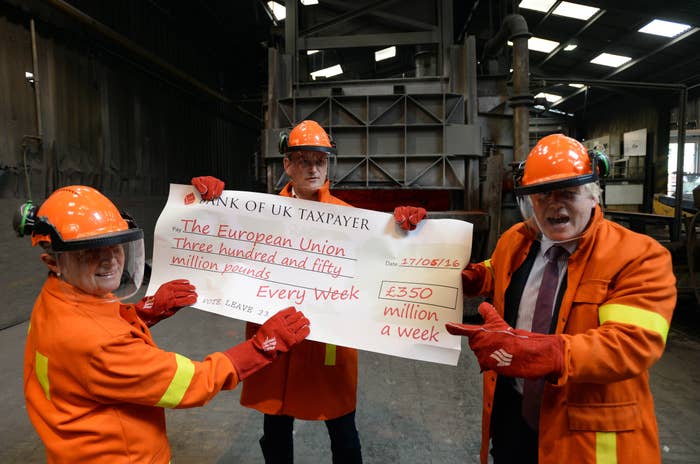 A leading Labour MP has been reported to parliamentary authorities over an undisclosed interest in a "wealth management" company catering to rich non-doms and offshore clients.
Records at Companies House, independently corroborated by BuzzFeed News, show that Gisela Stuart, chair of the Vote Leave campaign to take Britain out of the EU, inherited a partnership interest – equivalent to a shareholding – in Vestra Wealth LLP in 2012 from her late husband.
The company, which was co-founded by Stuart's husband, offers "tax planning" to "high-net-worth" and "ultra-high-net-worth" clients, including UK-based non-doms, who enjoy significant tax advantages compared with most UK citizens.
In 2015, while holding her stake in Vestra, Stuart ran unsuccessfully to become chair of the influential Commons public accounts committee, promising in her manifesto to focus on "an effective tax system that delivers; eliminates aggressive avoidance, and establishes clear rules which are properly enforced".
Her stake was uncovered by journalist Martin Williams during his research for the book Parliament Ltd: A Journey to the Dark Heart of British Politics, which is published on Thursday.
When Williams discovered the stake in January, it was not declared on Stuart's entry in the register of members' interests, a public list on which MPs are required to disclose outside employment and significant shareholdings, to avoid any undisclosed conflicts of interest.
Asked about the company by Williams on 25 January, Stuart said: "Essentially, it invests serious[ly] rich people's money ... this is the first time anybody's ever mentioned it."
Stuart's entry on the register of members' interests was then updated on 27 January to include her Vestra Wealth stake for the first time. The section for including shareholdings worth "over £70,000" now states:
Vestra Wealth LLP; a private wealth management company. This interest
achieved registrable value on 25 January 2016. (Registered 27 January
2016)
Asked about the apparent coincidence of her Vestra Wealth stake becoming of registrable value on the same day Williams spoke to her about it, she told BuzzFeed News that she had only checked the value of her stake after being questioned.
"I inherited the interest as part of my husband's estate when he died in 2012," she said. "The probate value was below the level required for registration.
"Following Mr Williams' visit I asked for an updated valuation and was provided with a valuation. As a private partnership there is no regular valuation of the business as any such valuations are only carried out if there is a particular purpose such as death or sale or purchase of interests. I then immediately registered the interest as required."
BuzzFeed News understands Williams has written to the parliamentary standards commissioner asking them to investigate whether Stuart's Vestra Wealth stake was properly registered.
Williams also asked Stuart whether there was a contradiction between owning a sizeable stake in a company offering offshore "tax planning" and her campaigning to chair the public accounts committee on tackling tax avoidance. Under its previous chair, Margaret Hodge, the committee ran aggressive investigations into offshore tax avoidance and evasion.
Stuart replied that she was "not a church".
"Hold on. Let's just be very clear here," she said. "I'm not a church and I'm not a pressure group. I'm not here because I claim to be better than you are. So I'm a legislator, and part of my role as a legislator is that in my own conduct I comply with the rule of law the way I expect you to comply with the rule of law.
"Beyond that envelope I may make decisions, I may do certain things with my money. But I'm really conscious of when politicians stand up and say 'I'm morally better than you are.' No I'm not. You have a right to expect me to comply with the law. You also have a right to have an expectation that at times I may campaign for a change of law. But within that, you have no right to expect anything else."
In March this year, Stuart became chair of the board of the official Vote Leave campaign, and one of the most prominent Labour MPs campaigning for Britain to exit the EU.