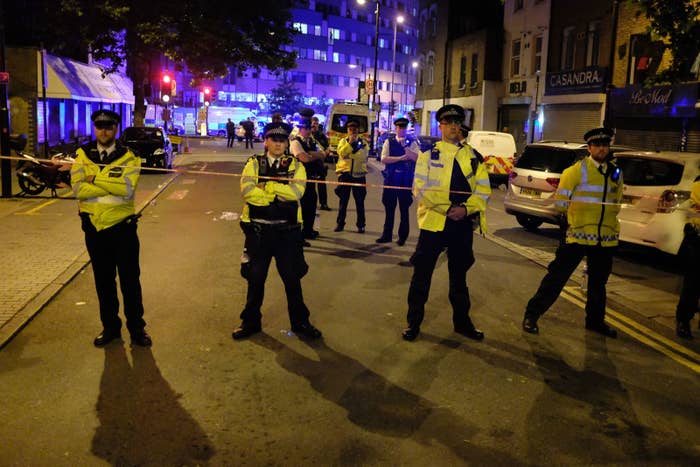 Shortly after midnight on Monday 19 June, Seven Sisters Road, a street at the heart of north London's Finsbury Park neighbourhood, was teeming with people. Many had just left prayers at Finsbury Park Mosque, just a few hundred feet round the corner, or had left the Muslim Welfare Centre on the street itself.
Muslims from both mosques, and some who had been at neither, were breaking their Ramadan fasts at one of the many late-night eateries on the bustling street, which also hosts numerous bars, cafés, and restaurants.
At a bus stop near the welfare centre, a man had been taken ill, according to accounts pieced together by BuzzFeed from multiple eyewitness accounts and videos from the scene. Whether from exhaustion, dehydration, the heat, or something else, an elderly man had collapsed on a street. It seemed serious, and a crowd had gathered to try to help him.
It was this group of people that a heavy white van – seemingly rented from a Welsh firm – ploughed into, sometime between 00:15am and 00:20am, eyewitnesses say.
"We were trying to help an old man who was laying on the floor," Abdulrahman Saleh Aboudi, an eyewitness, told BuzzFeed News from near the scene. "And this big van just came and went over us … I think at least 8 or 10 people got injured. Luckily I managed to escape."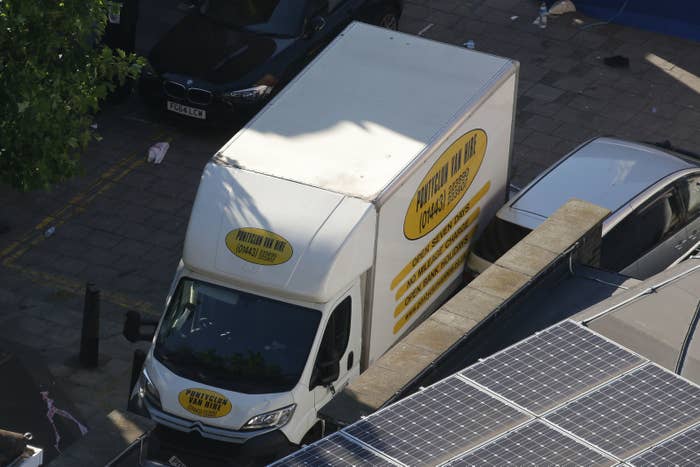 Emergency services later confirmed these figures, saying by the morning that one man was dead, eight people had been hospitalised, and a further two people were treated at the scene, in an attack authorities are treating as a terrorist incident.
Zee, 33, who said he lived next door to the elderly man who was being helped as the incident began – and who authorities have since confirmed has died – spoke to BuzzFeed News from his bike, looking visibly shocked.
The van driver, Zee said, "turned right at Seven Sisters Road, he turned left on the indicator and we heard the accelerator, he turned left and everyone flew. There was no way out and everyone had to come out of Seven Sisters Road."
The van, the eyewitnesses said, crashed into and got stuck on a bollard after travelling some distance on the pavement, leaving the driver unable to try reversing or turning around for another approach. He reportedly then left the vehicle and ran around the street, "throwing punches", according to some accounts.
"Then the guy came out from his van … He came past me, so I managed to get him on the floor and I was holding him," Aboudi said.
As Aboudi was talking, another eyewitness who had helped tackle the alleged assailant interrupted him to say the van driver was shouting "I want to kill all Muslims" as he left his vehicle.
Once the attacker was captured by passersby, "He was saying 'kill me, kill me'," said Aboudi. "I said, 'We're not going to kill you. Why did you do that? Why did you do that?', but he wouldn't say anything."
Aboudi and those around him say it took half an hour for police and ambulances to arrive at the scene, though accounts from the Metropolitan police say there was at least one officer in attendance within a minute of the attack, and the ambulance service says it arrived at the scene within 15 minutes of being called.
Mohammed Mahmoud, an imam who was present at the scene, said the group held the alleged attacker for around 20 minutes until flagging down a passing police van and turning him into custody, protecting him from angry bystanders as they did so.

"He had been restrained by around three people," Mahmoud said. "We found that a group of people quickly started to collect around the assailant and some of them tried to hit him, either kicks or punches. By God's grace we managed to surround him and protect him from any harm. We stopped all forms of attack and abuse that were coming from every angle."

Once they had the attention of the police van, Mahmoud said, "We told them the situation and that the man was restrained after he had mowed down a group of people with his van. There's a mob attempting to hurt him, and if you don't take him God forbid he might be seriously hurt.
"We pushed people away from him until he was safely taken by police into custody and put into the back of the van."
By 1:15am the emergency services were in full major incident mode: The Metropolitan police had issued a short press statement, but police, ambulance, and fire staff were in the area in their dozens, building a cordon of around 300 feet in each direction around one of north London's busiest streets as helicopters buzzed overhead. Met police officers guarded the perimeter, accompanied at each cordon by at least two armed officers.
At first the mood around the cordons was largely one of confusion as tired residents came to see what the fuss was about. On Isledon Road, night staff at a student hall of residence passed water to police as they battled to stop enterprising locals trying to sneak their way into their homes. "Come on, read what's on the tape," said a weary officer to one man who ducked the cordon. "Does it say 'police line, do cross'? No?"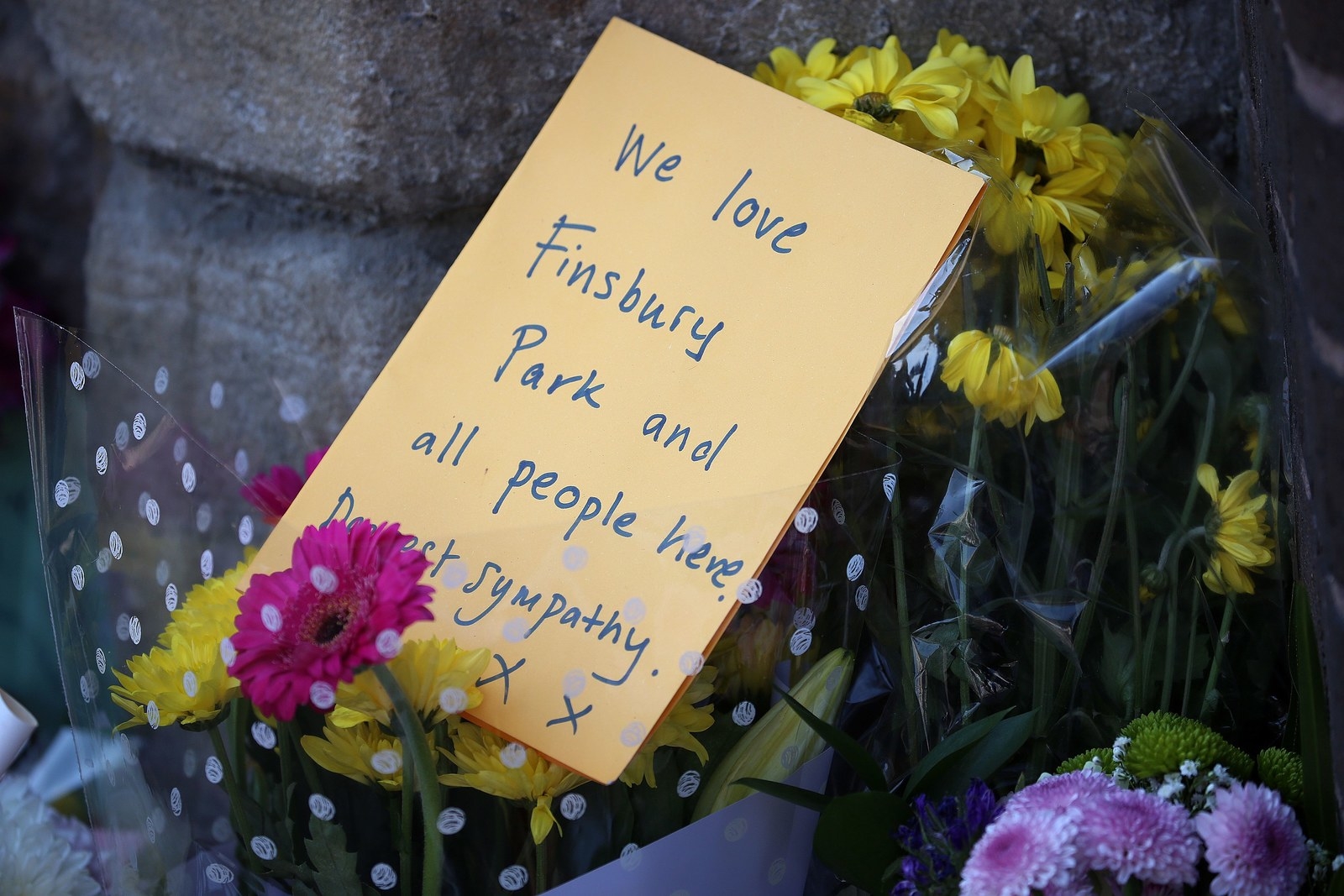 Elsewhere, people were all too aware of what had happened. Police had largely moved eyewitnesses to a cordon on Seven Sisters Road itself, slightly further away from Finsbury Park Mosque. Here a small crowd gathered, largely people present at the attack, showing each other videos they'd taken from the scene and working out how to share them so the "real" story of the attack would be told – as they did not trust the mainstream media to do it.
It was here that Aboudi and others relayed their account of what had happened less than two hours before, sharing videos with the handful of journalists present. Already they were trying to stop the rumour mill; repeatedly those present assured relatives and bystanders that there had been only one alleged attacker – despite rumours there had been three, and that two were on the loose – and that no one had been stabbed.
During these hours, no official information came. Despite a calm mood across the incident site, police and bystanders spoke very little, and shared no information when they did.
People checking social media and news sites for information grew increasingly frustrated that there was no information beyond what had been there at 1am: one person arrested, several injured. Anger grew that the media – which follows official sources lead on designating attacks – had not described the attack as a terrorist incident.
"No interviews for the BBC, no interviews for CNN," was a common refrain through the night. A reporter for Ruptly, an offshoot of the Russian state-controlled Russia Today, initially struggled to get interviews as those present suspected he worked for the BBC. Bystanders boasted they had "chased off" a reporter from another network, despite his efforts to explain why his coverage had been cautious.
"So if the victim is Muslim, but the perpetrator is not Muslim, that means it can't be terrorists in the eyes of the mainstream media?" asked Ahmed Kaballo, who says he works as a journalist and arrived early at the scene. Kaballo said those present had been fact-checking coverage as it appeared.

"None of them are saying the word 'terror'," he told BuzzFeed News. "One media outlet said it's not believed to be terror-related, and I thought, You guys must be joking. What they really mean was the perpetrator was not Muslim … but I'm very proud of the Muslim brothers and sisters who are here today, because they've gave the mainstream media outlets a run for their money, they've been calling them out.
"There was a reporter here earlier … He said you can't use the word 'terror' because he needs to do his due diligence. We asked him when the London Bridge attack happened, how long before the word terror was used, for your outlet. There was a sister at the back who said nine minutes."
It was 4:30am before answers started to come. As the sun rose over London, the Metropolitan police revealed one man was dead, and eight hospitalised – and that counter-terror officers were at the scene.
A 47-year-old man was announced to be under arrest for attempted murder.
In a later statement, the police said: "The attack unfolded whilst a man was receiving first aid from the public after being taken ill in Seven Sisters Road. Sadly he was pronounced dead at the scene at 01:04hrs. Inquiries are continuing to establish whether there is any link between his death and the attack."
The police confirmed in the same statement that the suspect arrested at the scene was being investigated for terror offences. "A 47-year-old man was arrested for attempted murder and taken to a south London police station where he remains in custody," they said. "He has further been arrested for the commission, preparation or instigation of terrorism including murder and attempted murder."
An address in Cardiff is being searched by officers.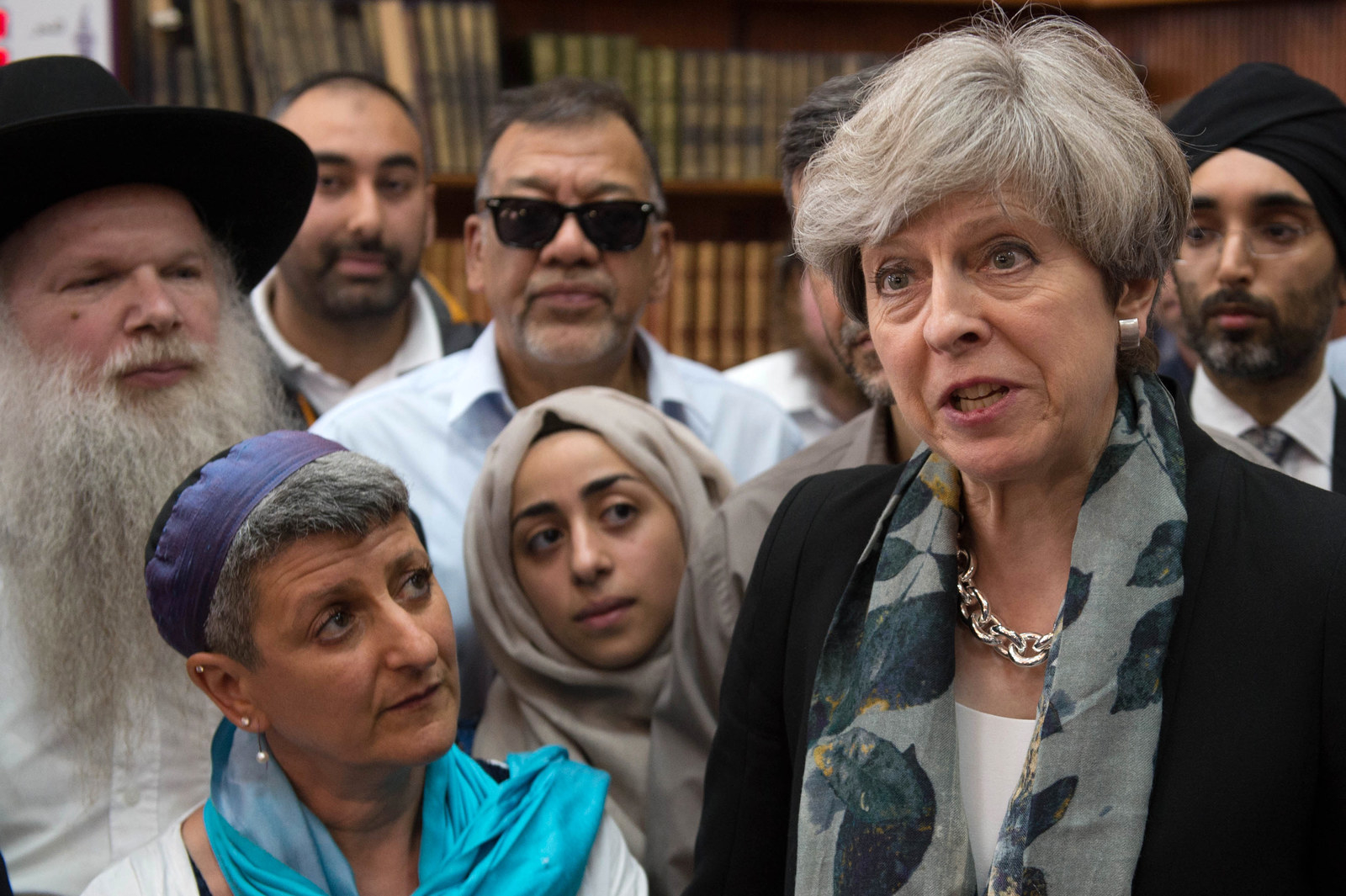 As the morning drew in, more statements came – as did the description of the attack as an act of terrorism which those on the scene had waited for.
Prime minister Theresa May, Labour leader – and local MP – Jeremy Corbyn, and London mayor Sadiq Khan all visited the scene, and all condemned the attack as a terrorist attack, one that in May's words was "every bit as sickening" as other recent attacks.
The mood, though, remained sombre – and anxious. "We're all worried," said one man, who asked not to be named, shortly before dawn. "What's going to happen tomorrow?"