Five months after British voters shocked pollsters and markets alike by voting to leave the EU, leading British social research institute NatCen has delivered the most comprehensive analysis yet of why the UK voted to leave the EU and who voted Leave in the ballot box.
Using data from the 30,000-strong election study internet panel, the 4,000-strong NatCen referendum survey, and the 3,000-strong British Social Attitudes survey, the research built up a detailed portrait of who voted for Leave. Here's what they found.
People with little education voted to leave.

Seventy-eight per cent of people with no formal qualifications voted to leave the EU, as did 61% of people whose highest qualification was a GCSE or O-level.
By contrast, only 26% of people with a degree-level qualification voted Leave.
People in social housing overwhelmingly voted to leave.

Seventy per cent of people in council houses and 68% of people living in housing association properties voted to leave – a far bigger gap than that between private renters, 50% of whom voted Leave, and owner-occupiers, only 47% of whom voted for Brexit.

Only the highest-income group of voters backed Remain.

The lowest-income group of voters in the survey, on an annual income of £14,400 (£1,200 a month) or less, were by far the most likely to back Brexit, with 66% support.
The only group in the research who supported Remain were voters earning over £44,400 – roughly speaking, higher-rate tax payers – of whom only 38% voted to leave the EU.
White British people were the only ethnic group to back Brexit.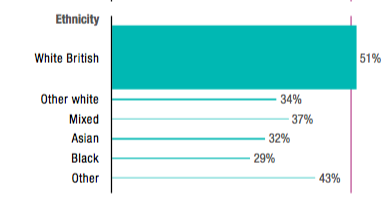 Black voters were least likely to vote for Brexit – only 29% did so – while the only ethnic group in which a majority supported leaving the EU was white Brits. The result ended up stronger because of a combination of this being by far the single largest ethnic group in the UK, and turnout being higher among this group.
Men voted Leave, women voted Remain. But only just.

As well as "objective" characteristics, the research also looked at attitudes affecting how people voted. One of the most significant findings looked into whether criticism of Labour and Jeremy Corbyn for apparently lacklustre campaigning for Remain affected Labour's vote.
Their conclusion was that there didn't appear to be a large effect in this area – 36% of Labour voters backed Brexit, exactly the same proportion as did SNP voters, and only just ahead of the 32% of Plaid Cymru voters baking Brexit.
Around a third of Labour, SNP, and Plaid Cymru voters backed Leave.
Unsurprisingly, an overwhelming 98% of UKIP voters backed Brexit, as did 70% of people who said they didn't support any political party.
But despite David Cameron's vociferous support for Remain, 58% of Conservative voters backed Brexit. Only a quarter of Liberal Democrat voters opted for Leave, and just 1 in 5 Green supporters voted for Brexit.
People were more likely to vote with their newspaper than their political party.

One of NatCen's most striking conclusions was that voters were more likely to back the editorial line of their favoured newspaper than the leader of their political party when it came to Brexit.
With most of the UK's newspapers backing Brexit, this proved a significant boost for Leave: Seventy per cent of Sun and Express voters backed Brexit, as did 66% of Mail readers (implying, perhaps surprisingly, that 34% of Mail readers voted Remain).
Remain was strongly ahead among people reading no newspaper whatsoever, with just 41% of this group backing Brexit.
People "just about managing" – or doing worse – voted to leave.
The Remain campaign relied on voters being unwilling to take risks with Britain's economic future. NatCen's research showed why that strategy failed: Quite a lot of the public already felt they had little to lose.
The people just about getting by – the stated target demographic of Theresa May – backed Leave by 60/40, while those saying they were struggling backed Leave even more strongly, by 70/30.
This effect was even stronger among people who felt they personally were doing worse as a result of how Britain had changed in the last 10 years than most people – those who felt left behind.
People who thought the country had got worse in the last decade overwhelmingly voted for Brexit, and this effect was even stronger for those who felt they had personally lost out.
TL;DR: Here's Britain split into groups, and how they voted.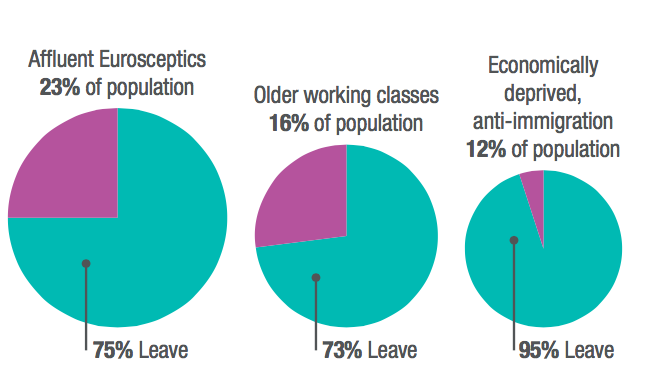 This sequence of charts show how the Brexit battle was won: Solid Remain support among middle-class liberals and younger working-class voters was offset by Leave-supporting older voters and affluent Eurosceptics.
This deadlock was broken by the relatively small group – 12% of the population – of economically deprived anti-immigration voters, who voted absolutely overwhelmingly to leave the EU, with Leave votes outnumbering Remain by a factor of 19 to 1.
Voters in this group often don't turn out to local or general elections, the NatCen research found, but the Brexit vote brought them to the ballot box.
Eighty per cent of people who said they had no interest in politics backed Leave – and more specifically, 54% of people who told NatCen they didn't vote in 2015's general election turned up to vote in the EU referendum. Sixty per cent backed Brexit.
"There are many reasons behind the outcome of the EU Rreferendum, but a key factor in the Leave campaign's success was that they managed to galvanise a wide-ranging group of people," said Kirby Swales, NatCen's director of survey research.
"This included a group of politically disengaged people and this goes some way to explaining why many polls underestimated the leave vote: their models simply did not account for these new voters. ...
"Whether this is a one-off change for a once in a lifetime decision, or is the start of a step-change in the political landscape remains to be seen."