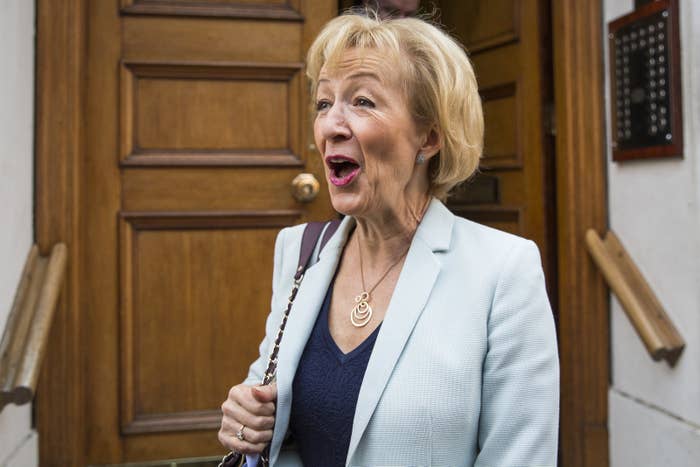 After two rounds of voting from Conservative MPs, the votes of 150,000 or so party activists are all that stand between energy minister Andrea Leadsom and the keys to Number 10.
As the Conservative leadership contest continues, Leadsom has released the full CV of her lengthy City career, which critics have claimed is exaggerated and incomplete.
Leadsom's team chose to publish the document after a former colleague accused her on Tuesday of overstating her work experience.
In an interview with the BBC on Thursday, Leadsom insisted her City experience was robust and her CV was accurate.
"My CV as I've presented it are exactly accurate," she said. "There is nothing to regret, my CV is exactly accurate."
Here is Andrea Leadsom's full CV along with the claims and counterclaims made about it.
The CV
The fullest version of Leadsom's CV issued by her campaign was given to the journalist Iain Martin on Wednesday. Here is the CV as published: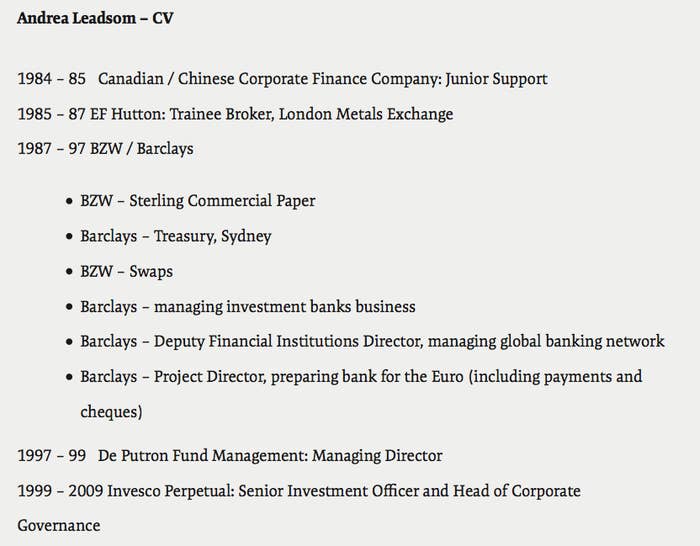 1995: the collapse of Barings Bank
Barings Bank was a merchant bank that collapsed in 1995 after losing more than £800 million due to the actions of one of its traders, Nick Leesom. Andrea Leadsom has referred to the crisis caused by the bank's failure several times on her blog and in parliamentary committees.
In December 2012, during a hearing of the parliamentary commission on banking standards, she said:
When I was running the investment bank's team in Barclays back in 1995, and Barings went bust, I recall spending the weekend ringing international banks saying, "This is all in hand. Eddie George has got it covered. Don't panic."
In a 2009 blogpost, she wrote:
In 1995, one month before Barings Bank collapsed as a result of rogue trading and fraud in the Far East, I was invited over to lunch with my boss at their smart London HQ. In those days I was running Barclays' Investment Banks team and Barclays was a principal banker to Barings, doing much of their clearing banking, providing billions of trading lines and also a key lender to their global activities.

I was just 30 and had joined Barclays from the investment banking arm, BZW. Unusually for a banker, I was very familiar with treasury products, derivatives, trading etc

...

Within a week, it was clear the rumours were true and Barings was in deep trouble. I was about to leave the office for the weekend – 6pm on Friday evening – and a call came through from Andrew Buxton's office (then Chairman of Barclays). My team and I spent the weekend in the office, working for Andrew Buxton and Eddie George, then Governor of the Bank of England.

Leadsom's accounts suggest she played a central and senior role in handling the fallout. However, the former chief executive of Barings told Reuters he had "no recollection" of Leadsom.
"I was there the weekend of Barings' collapse," Peter Norris said. "I presented to all the banks in a room with Eddie George and I have absolutely no recollection of her at all.
"She may have had a relationship with Barings but I do not recall her being involved in any way surrounding the collapse that weekend."
Leadsom's office did not respond to Reuter's request for comment on the quote.
1987–97: deputy financial institutions director, Barclays
Leadsom's CV as provided on Wednesday lists one of her roles at Barclays as "Deputy Financial Institutions Director".
However, in a 2012 article in the Financial Times, Leadsom described herself as "Financial Institutions Director running the Banks team". Leadsom's entry in Who's Who also listed her role as "Financial Institutions Director", omitting the "Deputy".
A spokesman for Leadsom told the Financial Times the confusion had arisen because Leadsom had two simultaneous roles at the bank, as deputy director of financial institutions and as a "project director", preparing the bank for the introduction of the euro.
1997–99: managing director, De Putron Fund Management
Leadsom's CV lists a two-year role as managing director of De Putron Fund Management, a company owned by her brother-in-law Peter De Putron, a major donor to the Conservative party, Leadsom's own office, and Leadsom's charitable pursuits.
However, hours before Leadsom's team published this CV, The Times had already questioned the detail of her role at the company. Documents filed at Companies House, the newspaper said, showed Leadsom had a 13-month role at the company beginning in 1998, not 1997, which was described in official paperwork as "marketing director", not "managing director".

1998–99: director, Seaperfect
Andrea Leadsom's CV does not detail a directorship she held between February 1998 and May 1999 at Seaperfect, a company which invested in clam and scallop farming in South America, which she took under her maiden name, The Guardian reported.

Seaperfect's investments failed, and the business was eventually taken over by an offshore company controlled by Leadsom's brother-in-law, Peter de Putron.
1999–2009: senior investment officer, Invesco Perpetual
Leadsom's portrayal of her 10-year stint at Invesco Perpetual has attracted public criticism from several former colleagues.
Robert Stephens, a retired banker who worked with Leadsom, wrote on Tuesday that he had prompted her to "correct" an untrue claim she had been chief investment officer at the bank. He wrote:
Last week, at my prompting, she corrected her CV with Wikipedia and Who's Who, changing her title from the obviously incorrect Chief Investment Officer to the titles of Senior Investment Officer and Head of Corporate Governance.

Her actual job was to work (sometimes part-time) on "special projects", mostly for the Chief Investment Officer. These included for example negotiating pay terms for senior fund managers. Towards the end of her time, she advised on a couple of governance issues.

As I understand it she had no-one reporting to her in either role, so the words Senior and Head are, one might say, superfluous.
"When she expresses views on market and currency movements," he concluded, "she is not speaking with the authority of experience.
"At Perpetual/Invesco Perpetual she did not manage any teams, large or small, and she certainly did not manage any funds."
Another former Invesco employee told Reuters: "Everybody I've spoken to who does remember her says her CV doesn't match her role."
Leadsom, the Financial Times reported, was only listed in the financial services register – a requirement for trading – for three months of her time at Invesco, under her maiden name. The paper said this was an "indication of the relatively junior level of her financial sector jobs".

Speaking on Thursday, Leadsom told BBC News she had not managed investment funds but maintained her CV was "absolutely all true".
"I've absolutely set out the jobs that I've done," she said. "But, as I say, I missed out my job at the weekend in Sainsbury's.
"So, you know, I can understand people saying, 'You haven't done this, you haven't done that,' but where do you stop?"
Leadsom is up against home secretary Theresa May in the contest to be the next Conservative party leader and prime minister after justice secretary Michael Gove was eliminated on Thursday. The result is expected on 9 September.