Here's How Theresa May Is Going To Launch A General Election
Theresa May announced on Tuesday that she would like a general election on 8 June, but she doesn't have the power to call it without a parliamentary vote.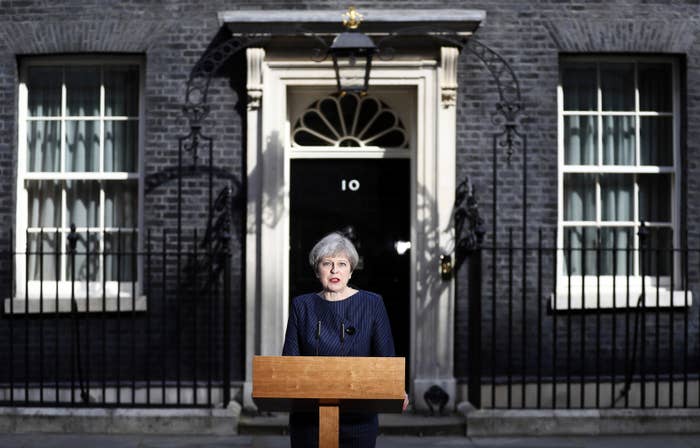 On Tuesday morning, Theresa May caught political journalists and opponents off-guard with a surprise announcement that she would like to hold a general election on 8 June – after months of declaring there would be no early election.

Unlike most former prime ministers, however, May does not have the power to unilaterally implement her decision, which she said she'd made "recently and reluctantly".
Until 2010, prime ministers had the power to announce elections any time they wished, subject to having an election at least every five years, and giving a notice period of at least around five weeks between announcement and voting.
However, the last coalition government changed the rules around how calling an election works with a new law called the Fixed Term Parliaments Act.
May has announced that she will use a provision under this law that allows MPs to vote on whether or not they would like to have an election.
Most votes in parliament are decided by a simple majority, meaning whichever side has the most votes wins, regardless of how many MPs vote – but this vote will be different.
The rules of the act mean that two-thirds of all MPs, not just those voting, have to be in favour of calling the election early. As there are 650 MPs in total, this means 434 MPs will have to vote in favour of an early election.
May has 330 MPs, meaning she will need the support of at least 104 MPs from opposition parties to vote in favour of a general election.
Despite being more than 20 points behind in the polls, Jeremy Corbyn's Labour party has now said it will support an early election, which would easily carry May over the line, as the party has 229 MPs.
The Liberal Democrats, who only have 9 MPs, have also announced they will support the early election, which may see them picking up seats from the Conservatives and Labour.
Had May not got the required votes, she had other options – she could have either attempted to amend or replace the Fixed Term Parliaments Act, which would have required a majority in the Commons or Lords, or alternatively voted "no confidence" in her own government, which would then have left opposition parties with two weeks to try to form a government – which they lack the votes to manage – before automatically triggering an election.