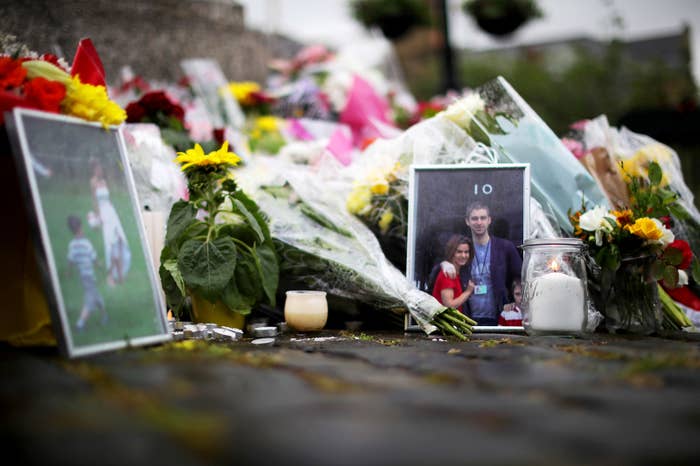 People in the UK – and across Europe – are concerned about a rise of the radical right. While the far-right may not have made a breakthrough at the ballot box in the UK, it's resurgent on social media, where one far-right group outstrips by far the pages of the UK's three major political parties combined. Police worry about far-right rallies and riots, or attacks on minority groups. And last June, such fears were realised when Jo Cox MP was murdered by an extremist as she left a library in her constituency.
That attack brought into urgent focus a mounting problem that has concerned law enforcement, policymakers, and anti-hate groups for years: What can be done to identify and tackle right-wing extremism, even as similar efforts are pursued to deal with people at risk of falling into Islamist extremism?

Officially, the government's anti-radicalisation strategy – known as the Prevent programme – is aimed at stopping all forms of dangerous extremism, but the public focus and debate centres around Islamist extremism, and officials admit that issue represents the bulk of their efforts.
However, official figures released last month revealed growing efforts to tackle those being radicalised by the far-right, at least in parts of the programme. One of the most intensive parts of the Prevent programme is a system called Channel, which provides "tailored support" to people believed to be at high risk of radicalisation.
"Police talk about the threat of Islamist extremism in a different way to the threat from the far-right."

Around 1,000 people have been supported through Channel – 400 last year alone – and new Home Office data reveals that last year 1 in 3 of these were referred in relation to far-right extremism, up from a quarter just a year before. In some regions, the Home Office says, potential far-right extremists make up more than half of the programme's workload.
"The truth is there is activity on far-right extremism through the Prevent programme," said Rick Muir, director of the independent think tank the Police Foundation. "That's not been widely publicised and so maybe it's not widely appreciated by the public."
Muir said police forces had been working for years on far-right extremism, with little public awareness – but said the need for public campaigns in the area was growing.
"There's a lot going on under the radar on far-right extremism," he said. "Prevent is perceived to be focused on Muslim communities and with the rhetoric and coverage around it, that's clearly the focus. It has to be a universal programme.
"I think it's very clear we need to do more work with far-right extremism … White British communities are not aware of Prevent in a way that Muslim communities are. It's about framing: Police talk about the threat of Islamist extremism in a different way to the threat from the far-right."

Muir concluded by noting Prevent has a "real image problem" among the communities whose trust it is trying to build, and questioned its future as the UK faces a mounting terror threat from multiple sources.
"The way the problem is framed, talked about, and covered is overwhelmingly skewed towards Islamist extremism and that's a problem now we've seen terror incidents related to far-right ideologies," he said.

"Prevent has a real image problem. There's good work on the ground but for a hearts and minds programme that's a real problem, too."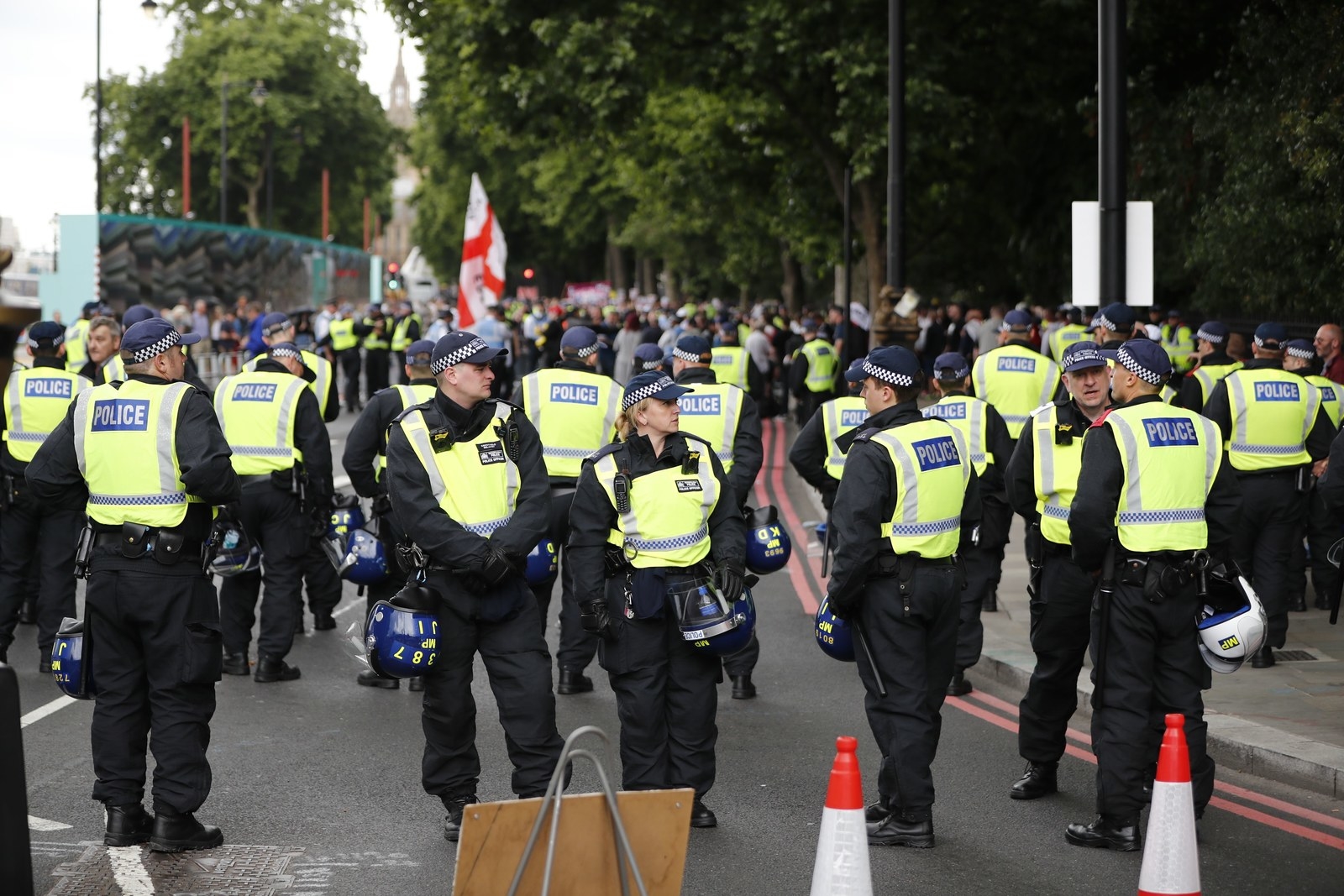 "Police officers have no time for people like the EDL. These people tend to be fairly thick, on the whole."
Police have been taking action to monitor and tackle far-right extremism for many years, but the steps they take – and the way they assess the threat – work very differently to how Islamist extremism is handled, according to Sir Peter Fahy, who headed Greater Manchester Police (GMP) until his retirement in 2015.
Fahy said that police were often aware of those in far-right groups such as the English Defence League (EDL) and various offshoots, because of policing protests and riots they attended – but also because such people are often already known to local forces.
"The thing about far-right activists is they tend to come to our attention through other criminal activity," he said. "That's not always the case when looking at Islamic extremists.
"Police officers have no time for people like the EDL. These people tend to be fairly thick, on the whole," he said, bluntly. "Far-right extremists tend to be flagged by their neighbours for antisocial behaviour, or come up through football hooliganism or general violent crime – fights down the pub."
Fahy said such people tended to be monitored to an extent by police because of these criminal contacts, which often served as an early warning. In the weeks before his retirement as chief constable of GMP, Fahy spoke out publicly of his concerns around the Prevent programme being against British values and risking alienation of the communities it focuses on.
He echoed those concerns in his interview with BuzzFeed News, noting that monitoring people "for their political views" risked encroaching into the territory of the "police state", and cited the scandal around undercover police who had been embedded in environmental groups – who in some cases even fathered children with activists in the groups who were totally unaware of their real identity as police officers – as an example of the risks of this approach.
However, Fahy did reveal GMP under his leadership had engaged in a number of specific measures to track and target potential far-right terrorists, including training fire officers and housing officers on how to look for signs of extreme right-wing views when visiting people's homes – and who to alert if anything troubling (far-right paraphernalia alongside weapons, for example) was found.
Fahy said his force also had a specific programme tracking some returning soldiers from Iraq and Afghanistan who had been flagged as a potential risk.
"Certainly a few years ago there was a lot of work done on certain individuals leaving the army," he said. "There was a lot of activity on the internet, undercover officers monitoring social media and certain far-right websites.
"Certain EDL chapters are also known to be more extreme than others and they were being heavily monitored – there's even use of informants. Some of these groups are easier to infiltrate than equivalent Islamist groups," he said.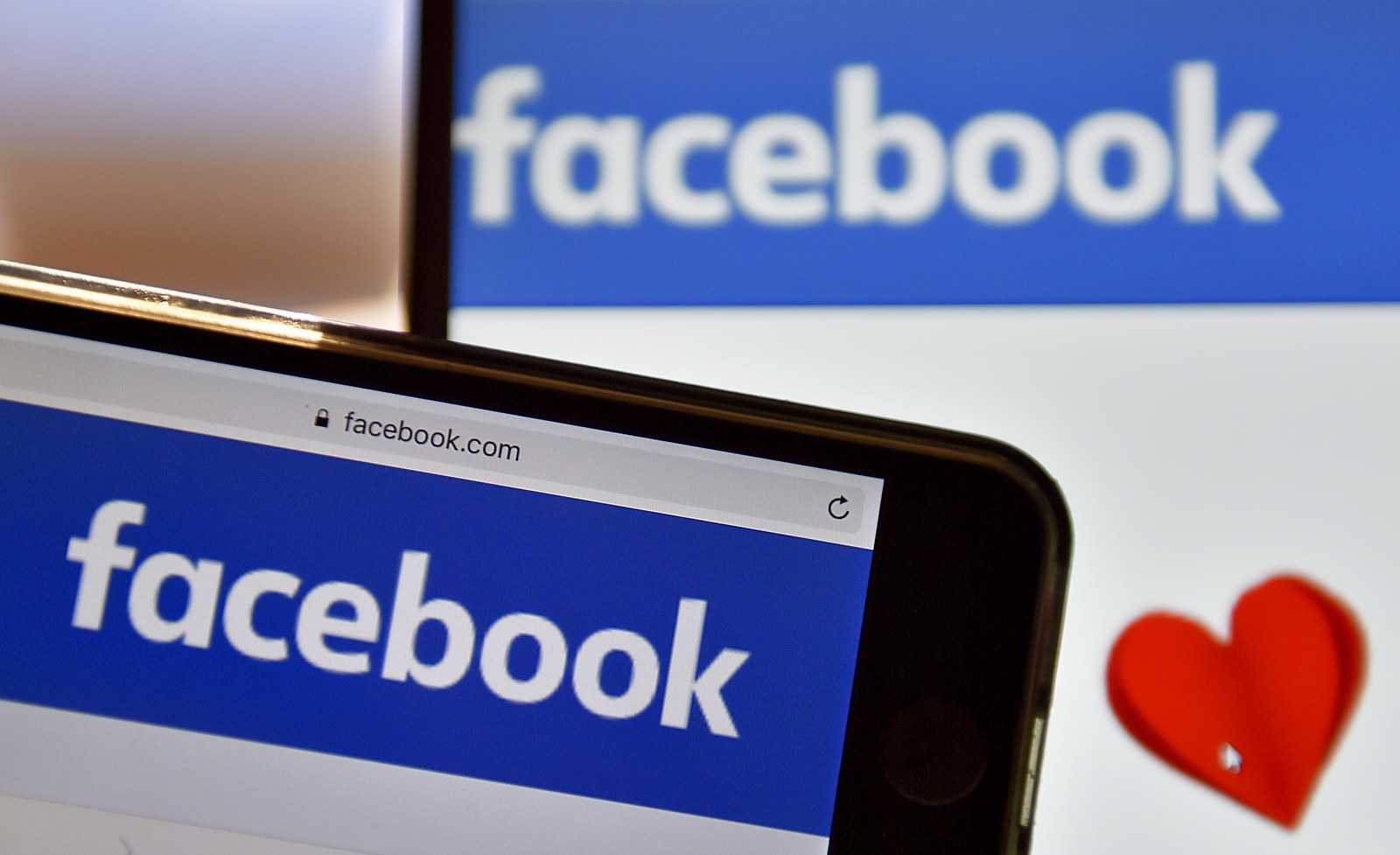 Police monitoring of far-right sites is reflective of wider concerns about the growing strength of far-right groups online. On Facebook, for example, Britain First has almost 2 million followers, more than the three main political parties – the Conservatives, Labour, and the Liberal Democrats – combined.
"We need a perception shift and to increase vigilance against those on the extremes of the right who wish to plunge us into some kind of civil war with Muslims."
Nick Ryan, the director of communications for the advocacy group Hope Not Hate, told BuzzFeed News social networks needed to step up and take action.
"Where the battleground is now proving very challenging is the online dimension, particularly but not only on social media," he said. "There we need governments, social media firms, and wider society to try and reach a consensus about the best ways to monitor and combat hate online.
"Many vloggers and YouTubers in the alt-right sphere now have tens or even hundreds of thousands of followers, allowing them to bypass traditional media outlets. Lies, fake news, and racial hatred plus Islamophobia can easily be spread in such a manner, often unchecked or poorly dealt with by digital outlets.
"Thankfully there are some campaigns out there targeting some of the key right-wing sites propagating such fake news, but ... right-wing conspiracy sites are still free to pump out hugely distorted news content under the guise of 'free speech'.
Ryan said there needs to be a change in attitudes around what is and isn't acceptable in the online sphere if escalating violence is to be avoided.
"[W]e need a perception shift and to increase vigilance against those on the extremes of the right who wish to plunge us into some kind of civil war with Muslims," he concluded.

This view was echoed by other campaigners, who noted the risk of extreme Islamists and those on the far-right pushing something close to a shared agenda: that the communities and cultures were alien to each other, and could not be reconciled.
"People are more likely to think of Muslims as a problem, they lack ability to humanise them, they see them as inherently prone to violence," said Omar Khan, director of race equality think tank the Runnymede Trust. "I think what we actually need is a community with an understanding that the paths towards violent acts are probably quite similar, regardless of the type of motivation.

"I think we need to be much more upfront and honest about this, about ways of speaking about Muslims generally."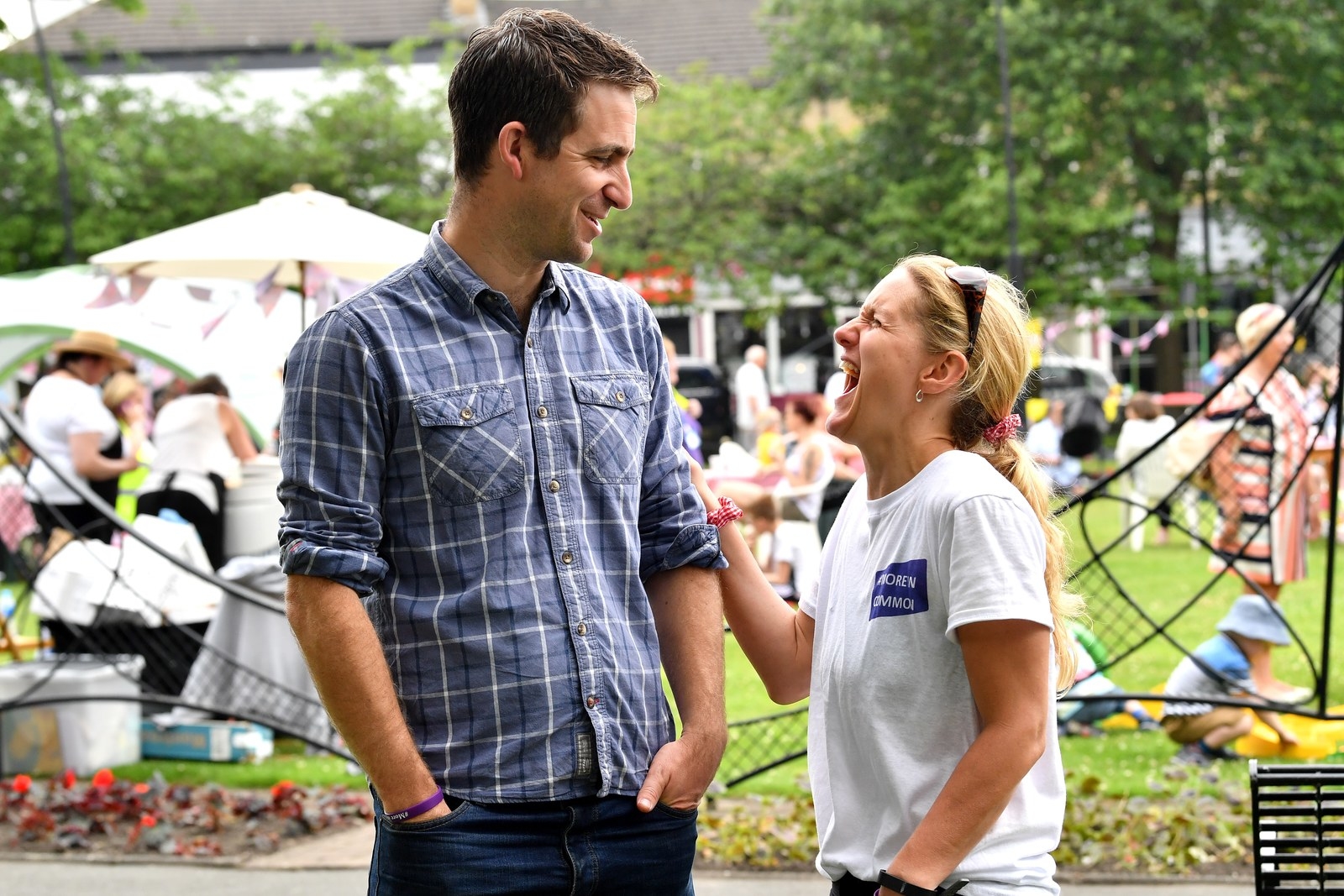 Elsewhere, people have spoken admiringly of efforts to build bridges between communities, with one MP speaking about how the terrible actions of Jo Cox's killer had many results that were the opposite to what he hoped for – bringing people together instead of dividing them.
Thomas Tugendhat MP, the most recent chair of the all-party parliamentary group on counter-extremism, said Cox's murder had a "huge" impact on public consciousness of the risk of the far-right.
"I think for the government, yes, they are taking it seriously, police forces, yes, for members of parliament the murder of our colleague brought it home in a particularly painful way," he said. "A lot of us are in much better touch with our local police forces now than we were before Jo was murdered."
Tugendhat agreed that terror attacks by far-right sympathisers and Islamists could fuel one another, but said that positive steps were being taken to minimise the threat, not just by the government and security services, but by communities themselves.
"What's really interesting is the fightback against it," he said. "Obviously they feed off each other and that's why things like this week's More In Common picnics are important. Breaking down differences and bringing people together is the best way to stop demonisation of different groups.
"Brendan Cox turned out to be such an extraordinary individual – a young father who coped with the death of his wife and now he's gently leading a national reconciliation movement. It's really impressive."