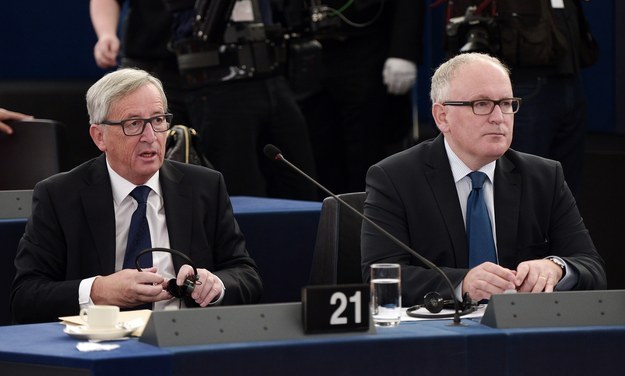 The European Commission has unveiled a broad series of proposals to try to take control of the continent's deepening refugee crisis, a day after the UN predicted 500,000 more people will brave the Mediterranean crossing from North Africa over the next year.
The commission's plans involve resettling more refugees from Greece, Italy and Hungary – the countries with the largest intake of people, predominantly those fleeing the Syrian crisis – as well as centralising power to tackle future developments in the crisis without having to get fresh approval from member nations.
The proposals were accompanied by an emotive address from the commission's president, Jean-Claude Juncker, to the European parliament in which he said addressing the refugee crisis "must be the first priority".
"We Europeans should remember well that Europe is a continent where nearly everyone has at one time been a refugee," he said. "Our common history is marked by millions of Europeans fleeing from religious or political persecution, from war, dictatorship, or oppression."
He continued: "We Europeans should know and should never forget why giving refuge and complying with the fundamental right to asylum is so important. ... It is Europe today that represents a beacon of hope, a haven of stability in the eyes of women and men in the Middle East and in Africa. That is something to be proud of and not something to fear."
The UK, however, is not expected to sign up to the proposals, instead opting to act independently. Prime minister David Cameron announced this week Britain would accept 20,000 refugees over the next five years, a figure substantially lower than would be allocated to the UK under the EU proposals.
Requests to Downing Street for comment on the European Commission proposals, or the UK's response to them, had not been returned by the time of publication.
Here are the key points of the European Commission's plan, which requires the approval of member states if it is to be enacted.
1. Relocate 120,000 more refugees from Greece, Italy and Hungary
In May, the European Commission proposed relocating 40,000 refugees out of these three countries into other European nations, who have each been agreeing over the last few months how many they would take.
Despite this proposal not yet having been adopted, the commission is now dramatically expanding its desired total, in a bid to spread the impact of the new arrivals across the EU, and relieve pressure on facilities, particularly in Greece, which has the most refugees and its own domestic financial crisis.
2. A "temporary solidarity clause" requiring nations to pay up if they can't take refugees
The commission is proposing that if a country can't take its quota of refugees at any given moment – because, for example, it's just experienced a national disaster – it will pay a small portion of its GDP (0.002%, which would be around £30 million for the UK) to the EU, which will also adjudicate whether it thinks the country's reasons for not taking refugees at that time are reasonable.
3. A new mechanism to automatically require nations to take refugees without having to get agreement
At present, any new relocation of refugees between countries has to be agreed each time, which can takes months of diplomatic wrangling. In what some are seeing as a power grab, the commission is proposing granting itself an emergency mechanism to reallocate refugees.
If this power is granted, the commission will assess whether a particular EU nation has had an unusually large influx of asylum-seekers, and if so allocate them across Europe based on the same formula it is using for the 160,000 people it is proposing to resettle from Greece, Italy, and Hungary.
4. Add more countries to the "safe countries" list to make rejecting asylum claims from those countries quicker
To make rejecting claims from countries the commission says do not have human rights or conflict concerns easier, the plan proposes to add a number of Baltic states to the "safe" list from which asylum claims are generally automatically rejected.
These countries are signed up to human rights treaties and other requirements. The list includes Albania, Serbia, Kosovo, Montenegro, and a number of other Balkan nations.
The commission is also proposing strengthening the procedures for refugees who later want to return to their home country.
5. An extra €1.8 billion of funding for Africa
The commission is establishing an "emergency trust fund" aimed at "addressing the root causes of irregular migration in Africa", aimed in particular at countries in the north of the continent and in the Horn of Africa.
The money, which the commission hopes will be topped up by European nations, is aimed at improving socioeconomic factors in those regions so people are less likely to want to leave. The fund is also intended to help "manage" migration – generally a catch-all term for trying to shift migration to working through official channels, rather than dangerous boat journeys by people-smugglers.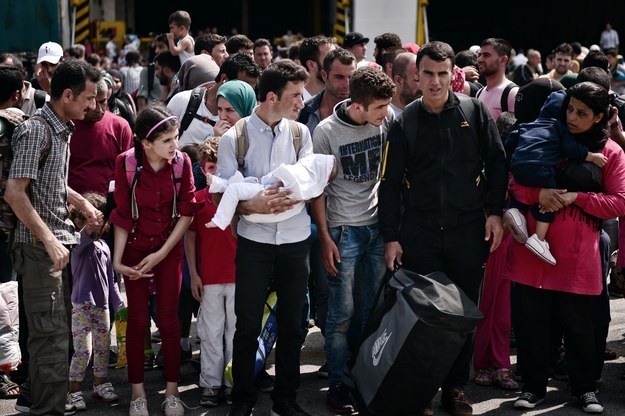 Most of the proposals will be discussed at an emergency meeting of the EU's home affairs council next week, on 14 September, though the "trust fund" proposals won't be ready for discussion until November.
Looks like there are no comments yet.
Be the first to comment!