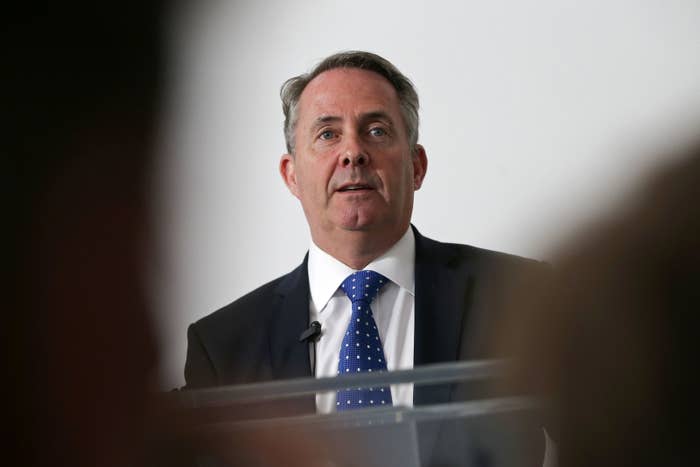 The Charity Commission, the regulator for UK charities, has written to trustees of Give Us Time, a charity offering military families short holiday trips, following a BuzzFeed News investigation.
The commission confirmed it had contacted the trustees of the charity, which was founded in 2012 by international trade secretary Liam Fox, for "further information" following a series of revelations about the charity's activities.
In a story published on Sunday, BuzzFeed News revealed that:
Fox set up Give Us Time to provide holidays to military families in 2012, announcing within its first month that 300 weeks of trips had been donated already.

But by November 2013 only five holidays had been given away, and by September 2015 fewer than 130 families had been helped.

The charity and one of its donors paid for a week-long trip to Bulgaria for two of Fox's parliamentary researchers, including flights.

Labour's deputy leader Tom Watson said Fox must "urgently explain" the charity's activities and funding, particularly a £500,000 government grant in November 2014 when it had helped just 40 families.

Give Us Time said it was "solely dedicated" to helping service families.

In a short statement, the Charity Commission said on Monday:
The Charity Commission has analysed the information in the BuzzFeed News article regarding the charity Give Us Time and has today written to the charity's trustees to seek further information from them.

The commission has a wide range of powers to launch formal investigations into charities' activities, recommend changes to how they're run, and even impose new management on them.
The move to write to Give Us Time is not the beginning of a formal investigation, and does not mean one will be launched, but serves to help the regulator get more information to decide if it should take action.
Two previous charities connected to Fox, who was forced to resign as defence secretary in 2011 over a scandal relating to his close ties to lobbyist Adam Werrity, have been investigated by the Charity Commission.
The first, Atlantic Bridge, was founded by Fox in 1997 and run by Werrity. It was voluntarily shut down shortly after a critical Charity Commission report found it had failed to advance its charitable objectives and appeared at times to be "promoting a political policy which is closely associated with the Conservative Party".
Afghan Heroes, a charity of which Fox was patron – a symbolic rather than day-to-day role – was investigated by the Charity Commission in 2013 over allegations of financial mismanagement and conflicts of interests with the trustees.
The Charity Commission replaced the trustees with an "interim manager" in February 2014, who concluded its operations must be wound down. Fox resigned as patron of the charity – which had initially been the partner of his Give Us Time scheme – in December 2013, citing a "breakdown of trust" between himself and the trustees, who he said had not informed him of the Charity Commission's concerns.
Labour's deputy leader, Tom Watson, said on Sunday that BuzzFeed News' revelations about Give Us Time – which Fox founded and supports, although he does not serve as a trustee for the charity – required "urgent explanation".
"Liam Fox has questions to answer about the activities of Give Us Time," Watson said. "He must urgently explain why the charity he established apparently paid for two of his researchers to go on a week-long holiday. Dr Fox must also explain why it arranged fewer than 140 holidays in the three years after it was set up in 2012 following his resignation from the cabinet.
"The charity appears to have done very little until it received a £500,000 grant from a fund set up by the government to distribute fines paid by banks involved in the Libor scandal. The charities that support military families carry out valuable work but they must be open and transparent about how they spend public money. Liam Fox should now publish a detailed account of the amount Give Us Time has spent on holidays, along with a breakdown of other costs, including salaries paid to senior employees."
In a statement on Sunday, Give Us Time said it was "solely dedicated" to helping military families, and shared "best practices" with other military charities.
"Give Us Time is an Armed Forces charity solely dedicated to helping Service families by providing them with holidays after long periods of separation, injury and other needs arising from their military service," the statement said. "Dr Fox founded the charity in 2012 but has had no involvement in its operations or accounting processes. Give Us Time was incorporated as a charity in 2013 and is registered with the Charity Commission and Companies House.
"All its annual reports and accounts are available to the public via the appropriate websites. As members of the Confederation of Service Charities (Cobseo) we learn and share best practice within the wider military charity sector. We were extremely lucky to receive Libor funding to further the aims of the charity which recognises the need to provide a holistic approach to welfare by providing support to the military family unit. The publication of data is a matter for the Treasury."
Update, 7 September 2016:
BuzzFeed News has received a statement from the Charity Commission saying that following its communication with Give Us Time it has "no regulatory concerns" about the charity:
"Concerns were raised regarding the charity by BuzzFeed News. The Commission assessed the information in the media article and contacted Give Us Time in August 2016.

"The charity cooperated fully with the Commission in their response. Give Us Time informed the Commission that the charity paid for flights for charity staff and volunteers, as well as the military families in order to support their visit to Bulgaria as is usual practice. The charity has informed the Commission that the two individuals mentioned in the news article took part in the visit as volunteers in a personal and private capacity. This does not give rise to regulatory concerns for the Commission.

"Further concerns were raised by BuzzFeed News in relation to the charity's expenditure on charitable activities and spending at the charity. The Commission asked the charity for further information on its charitable activities and investments, and was satisfied that there were no regulatory concerns in relation to these matters. The Commission has now closed its engagement."