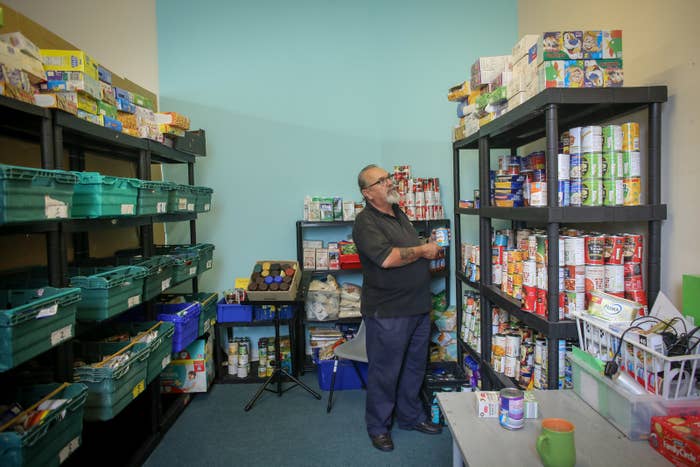 There are 3.4 million more households in the UK struggling to live on their income than there were in 2008/09, a new report by the respected anti-poverty group the Joseph Rowntree Foundation has revealed, a week before chancellor Philip Hammond unveils his Budget.
The JRF said 30% of families in the UK – 18.9 million people – were living on an income below the "minimum income standard", an amount of cash that's defined by the charity as "having enough to make ends meet".
Theresa May has spoken of her desire to help families who are "just about managing", a term that a researcher told BuzzFeed News roughly tallied with those whose income was just below the minimum standard. But more than 11 million people were well below the line, the report shows, suggesting they're struggling to buy essentials and meet their bill repayments.
The report showed that some groups, such as single parents who aren't working, and couples where one partner is working full-time while the other is not, are significantly worse off under current policies, often to the sum of thousands of pounds a year. These groups are projected to remain that way in future too.
Annual effect of government policy changes on different types of families working for the living wage (or not working) from 2010 to 2022:
Chris Applegate / BuzzFeed News
Meanwhile, a single person working full-time or a couple who are both working full-time will see a smaller shortfall in their income by 2022 than other groups.
The research, and an accompanying study also commissioned by the JRF, also revealed the often conflicting effects of government policies on those households struggling to get by.
The government announced a new national living wage of £7.50 an hour for over-25s in 2016, a figure that is set to rise to 60% of average earnings by 2020.
The living wage boosts the incomes of many groups, but in some cases the benefit freeze and other changes often take away even more money, leaving people worse off. The greatest shortfall for those in work is faced by single parents who are working part-time on the national living wage.
How government policies affect the pay of a single parent working part-time on the living wage:
Chris Applegate / BuzzFeed News
"UC" in the caption refers to the government's universal credit policy. The UC taper is how much of your universal credit payment is reduced for each extra £1 a year you earn from your job.
The situation is tougher still for those under 25, who aren't eligible for the national living wage but are still hit by benefit changes.
Younger people were much more likely to be living in households below the minimum income threshold: 44% of children are living in a house below the line, compared with 29% of working age adults and just 15% of pensioners.
Overall, the cumulative effect of Conservative policies between 2010 and 2017, and future policies already announced, helps families with two people in work – though not enough for them to reach the minimum income standard.
According to the research, a single parent working part-time in 2010 would be within £1,000 of the minimum standard – but by 2022 will be more than £3,000 short of that mark, while a single parent out of work will be £8,000 below the line.
Previous JRF research has found around 4 in 10 families where one adult or no adults work are looking after children below school age, while 3 in 10 have at least one disabled member – meaning the families may find it difficult to work more to offset their losses.
Donald Hirsch, director of the Centre for Research in Social Policy at Loughborough University and the study's lead author, said his research showed the government's flagship universal credit policy is risking a huge increase in child poverty.
"These figures show that there are a wide range of losers from present policies, with some of the worst-off families projected to have to live on barely half of what they need," he said. "A few families will gain enough from the higher national living wage to offset cuts in benefits and tax credits. These, however, are the families who have the smallest shortfalls in their income, because they have two working parents.
"In-work benefits were designed to protect family incomes against hard times, and many of those they have helped are those with fewer opportunities to earn, including lone parents who only have one wage coming in. As universal credit comes in, it will need to improve what it offers to such families if a steep rise in child poverty is to be avoided."

These concerns were echoed by Katie Schmuecker, the head of policy at the JRF.
"The thing that really comes through is the effect of the number of earners in your household on whether the government's changes help you or not," she told BuzzFeed News. "As you move down in terms of number of earners, it gets progressively grimmer.
"One of the things this brings up is the challenges that families are going to face … We know only about 1 in 3 families below the minimum income standard are two-earner families."
Schmuecker also highlighted the struggles the benefit system changes were bringing to single-parent families, where revised childcare rules meant that, for some parents, working full-time pays less than working part-time – trapping them on low incomes.

"If you're just below the minimum income standard, that's 'just about managing', she said. "People we talk to at this level describe managing to get by day-to-day but the smallest unexpected expense – a broken washer, or even your child's feet having a growth spurt – can tip them into really starting to struggle to pay their bills."