Jeffree Star, a well-known beauty YouTuber, has gotten into hot water after uploading a product review of a new foundation from a Black-owned brand.
In the video, Star — with over 11 million IG followers and 13 million YouTube subscribers — positively reviewed Juvia's Place's new foundation, concealer, and setting powder. However, Twitter was confused about why he was providing a product review for a Black brand given his racist past.
For context, Star has previously been called out and canceled by other beauty YouTubers, like Jackie Aina, for his past racist behavior and commentary. Although he publicly apologized, Jackie said she would not "excuse [Star's] past references to [her] in derogatory terms, his continued use of the N word, nor his efforts to eliminate spaces and opportunities for people of color."
Juvia's Place THEN suffered backlash after shouting out Star in a now-deleted Instagram post. The caption read: "We're speechless. Shade Cairo in I Am Magic Foundation. Jeffree found his match in @ultabeauty. Did you find your match? Comment bellow. Thank you @jeffreestar."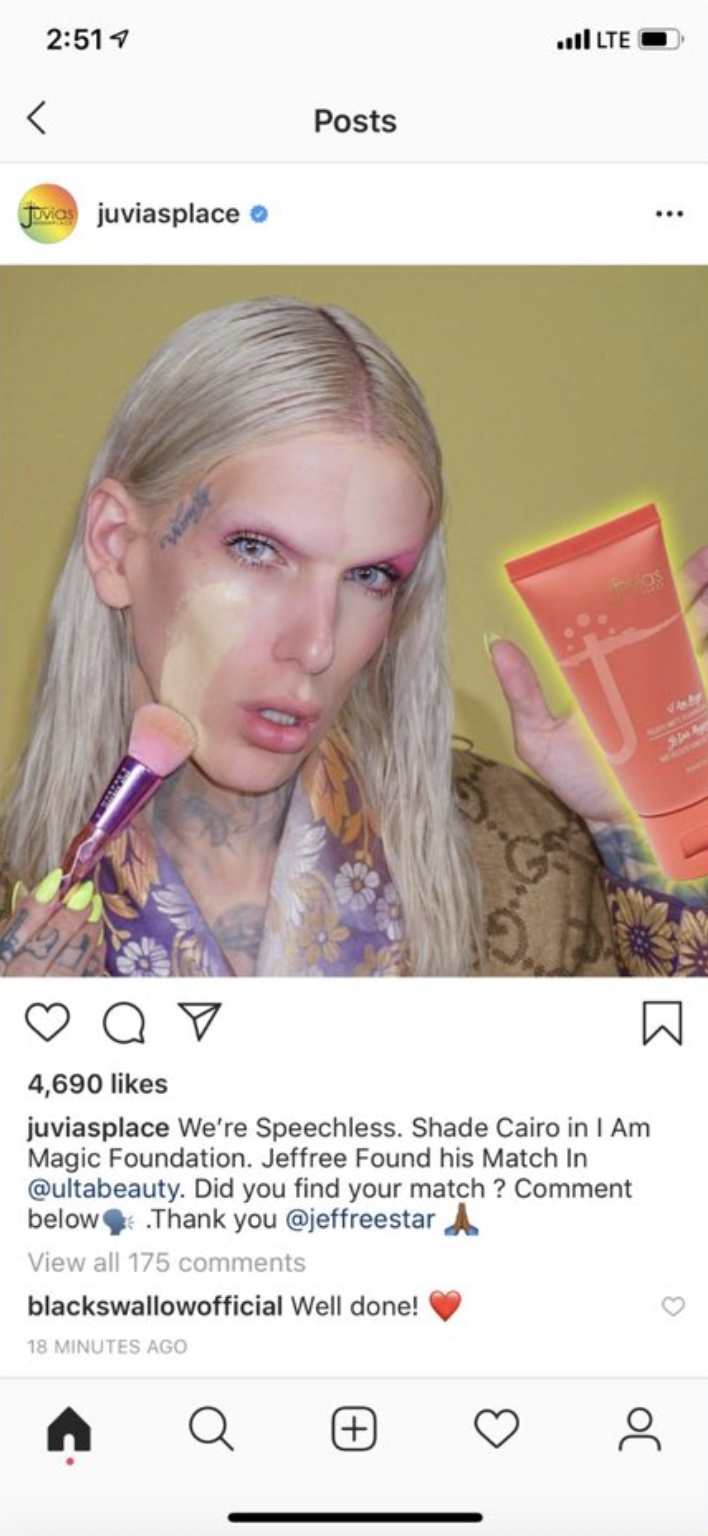 People, especially Black consumers, had questions about the loyalty of the Black-owned brand to its own community when they publicly supported such a polarizing figure:
Others wondered why a brand would sacrifice its core consumer to "stay in Star's good graces":
While people thought Juvia's Place had sent Star products for the review, clips from the video showed him purchasing the foundation from Ulta. However, YouTubers like Jackie Aina and Alissa Ashley still vowed not to support a brand that "didn't give not one single fuck about having a relationship with any of [them]":
Aina noted that she can't work with brands that "use pro-black imagery to lure black $$, only to step over them on the way to the top," and THIS is a message for everyone:
Others disagreed and said that we should be "happy a black-owned business got a HUGE shoutout and they will be more successful now":
What I do know is that Black influencers and consumers can't be an afterthought or pushed to the back for a brand's success...and then turned to for damage control 💅🏽 What do y'all think?