Peter Krause's Journey From "Sports Night" To ShondaLand
The actor looks back on his 26 years in television that led him to the new Shonda Rhimes–produced series The Catch. Peter Krause has walked an unconventionally straightforward path as an actor. After earning an undergraduate degree in his home state of Minnesota and then a master's from New York University's Tisch School of the Arts in 1990, he immediately scored his first job as a regular on Carol Burnett's sketch comedy series, Carol & Company. Ever since, he has been working almost exclusively in television, for the past 26 years.
Krause has appeared on beloved '90s sitcoms, like Seinfeld and Ellen; groundbreaking series, like Aaron Sorkin's first series Sports Night and the dark HBO drama Six Feet Under; and beloved family dramas, like NBC's Parenthood, on which he worked with his now-girlfriend, Gilmore Girls star Lauren Graham. The two were initially introduced on the CBS Radford lot two decades ago: "That's where I met Lauren for the first time: on the set of Caroline in the City in 1996," he told BuzzFeed News with his signature half-smile, sitting in a hotel bar near Central Park on a recent March afternoon.
Despite having starred in multiple series that have lasted longer than two seasons, Krause has never experienced the itch to leave the small screen world for what was, in the '90s, a more prestigious movie industry. "I wasn't finding that much out in there in the film world that really excited me as much as television," he said. "I also grew to love the longform, which I think really started with Sports Night because Sports Night wasn't just standalone episodes. Aaron wrote long arcs for those characters. ... I like inhabiting a longer story. They're harder, I think, because you don't know. It's always changing."
The latest long story Krause hopes to inhabit is The Catch, the new addition to Shonda Rhimes' Thursday night ABC lineup. He's playing a con man with a soft spot for one woman (Mireille Enos), and Krause realizes life in ShondaLand comes with exposure unlike anything he's experienced before.
"I've enjoyed working in television. I don't feel like I've missed out on anything. It's been great. I have the ability to move around without being recognized all the time. I mean, you want to be famous, but not too famous," he said. "There's that Bill Murray quote, 'If you're thinking about being rich and famous, just trying being rich first.' Which pairs nicely with Bob Saget's, 'When you're famous, you're always famous.' You can't shake it. You don't get to trade it in — 'I don't want this anymore.' It doesn't work that way. I've enjoyed my comfort zone and this is certainly a little out of it in that regard."
Over the course of an hour-long conversation, Krause talked about the roles that have led him to The Catch. He discussed why Sports Night was canceled too soon and whether or not the cast will reunite; why Six Feet Under ended at precisely the right time; the challenging sets of Dirty Sexy Money and Cybill; why Parenthood almost didn't get that final sixth season; and much more.
Carol & Company (1990–1991) After getting his master's at Tisch, Krause booked a gig on Burnett's sketch comedy anthology series, which ran for a year on NBC. It gave him the opportunity to work with comedy legends, like Burnett and Betty White.
"I've always enjoyed doing comedy. Certainly, at school, people would say that I enjoyed doing funny voices and funny walks and being a ham," he said. "I was fresh out of NYU and I was auditioning for a number of things. I was basically working on three jobs at once and Carol & Company was the most logical choice because it paid and my parents knew who Carol Burnett was. It was a great first experience. She was wonderful to work with and for. We'd do one live show at 5 p.m. and another one at 8 p.m. on Friday and then they would just edit them together for what aired on television. It was terrific."
Cybill (1996–1997) After guest spots on Seinfeld, Ellen, Caroline in the City, and Beverly Hills, 90210 in the early and mid-'90s, Krause booked a regular gig on the CBS sitcom If Not for You, co-starring Hank Azaria and Elizabeth McGovern. When it was canceled after only four episodes aired, he immediately headed to Cybill, Cybill Shepherd's 1995 comedy already in its second season. Though Chuck Lorre — who went on to create Two and Half Men and The Big Bang Theory — hired Krause to play Cybill's son-in-law Kevin, things changed once he got to set.
"Chuck Lorre hired me, and then Cybill fired him. It was really weird. I was cast in it and then he was gone, so Jay Daniel took over; [he] had been with Cybill on Moonlighting. Cybill was very talented, Christine Baranski was wonderful, Dedee Pfeiffer was great to work with," he said. "I met my girlfriend Alicia Witt on the show.

"Dedee [who played Kevin's wife and Cybill's daughter, Rachel] was very happy to have a partner to act with and that particular character struck me. [Kevin] was uptight, but funny. I got to do some fun things on that show. I haven't seen the episodes in years, but I remember looking back and there were some fun sitcom-y but inventive things. Dedee wanted to get out of that contract and get another show and, when she did, they had very little use for me.
"It was, at times, a difficult set. There were some ego concerns that got in the way of certain things on the show, but it was a fun show. It really was. At times troubled, but it was fun. Making a television show is a difficult, collaborative, creative endeavor and it really requires everybody to band together and all work together every day. And different problems may come up, but I had a good time."
Sports Night (1998–2000) Pfeiffer's exit from Cybill also led Krause to look for a new gig elsewhere. Jamie Tarses, the then-president of ABC Entertainment, had been an executive at NBC where Krause had done a 1992 pilot called Boys and Girls, which he described as "Friends-esque, except we worked at a magazine called Significant Other." With Tarses on his side, he made a deal with ABC and soon found himself working on one of the most rewarding experiences of his career: playing sportscaster Casey McCall on Aaron Sorkin's foray into TV writing, Sports Night.
"When I got the Sports Night script, I thought, Who's not going to love this?" Krause wondered aloud. "The best shows I've done, the writers, actors, and directors have been pretty much left alone — maybe given a little guidance to make it a little more this or more that. But the heavier the hand on the show, I find the more troubled the show is. Aaron Sorkin and [Sports Night executive producer and director] Tommy Schlamme were really a team.
"In many ways, Sports Night was a groundbreaking show. It was different, so I think people weren't quite sure what it was. It was like eating a new dish for the first time, but it's really good. There had been clever banter before on television, but I think Aaron's musicality was something very specific. Words were so carefully chosen and the rhythm was so spot-on. When we started that show, there was a studio audience and a laugh track, and Aaron and Tommy — really the two of them with a little outside support — were able to first get rid of the studio audience and then the laugh track.
"It was a very emotionally charged show for a comedy. It was a tremendous cast, just a wonderful group. Part of the reason that show didn't last — really, a big reason — is that [Walt Disney Company CEO] Michael Eisner had discovered a huge hit in Who Wants to Be a Millionaire. So rather than have it be on once a week, he put it on five nights a week. Suddenly, there were no longer four hours of primetime programming. We started getting shuffled around the schedule, and this was before the days of DVR. So, Sports Night was tough to find and the ratings suffered.
"Aaron, in the second season, after he started to get some flak from the network, he used what was happening and included it in the show. I mean, it wasn't exactly what was happening, but he used that as storytelling fodder.
"Also in that second season, he was writing the first year of The West Wing. He was incredibly busy, going back and forth between Disney and Warner Bros. There was one night I saw him coming back from Warner Bros., it was probably 2:30 in the morning, and he said, 'I'm pretty sure there are only two television series filming right now in all of Hollywood. And they're both mine.' We had a good laugh and then we went inside to keep working.
"The show was canceled in May or June and there was talk of trying to sell it to another carrier; HBO was mentioned and FX maybe. I think that had it not been such a clear, simple business move to put Who Wants to Be a Millionaire on five nights a week, that show would've lasted a long time. But then, I wouldn't have gotten to do Six Feet Under."
Six Feet Under (2001–2005)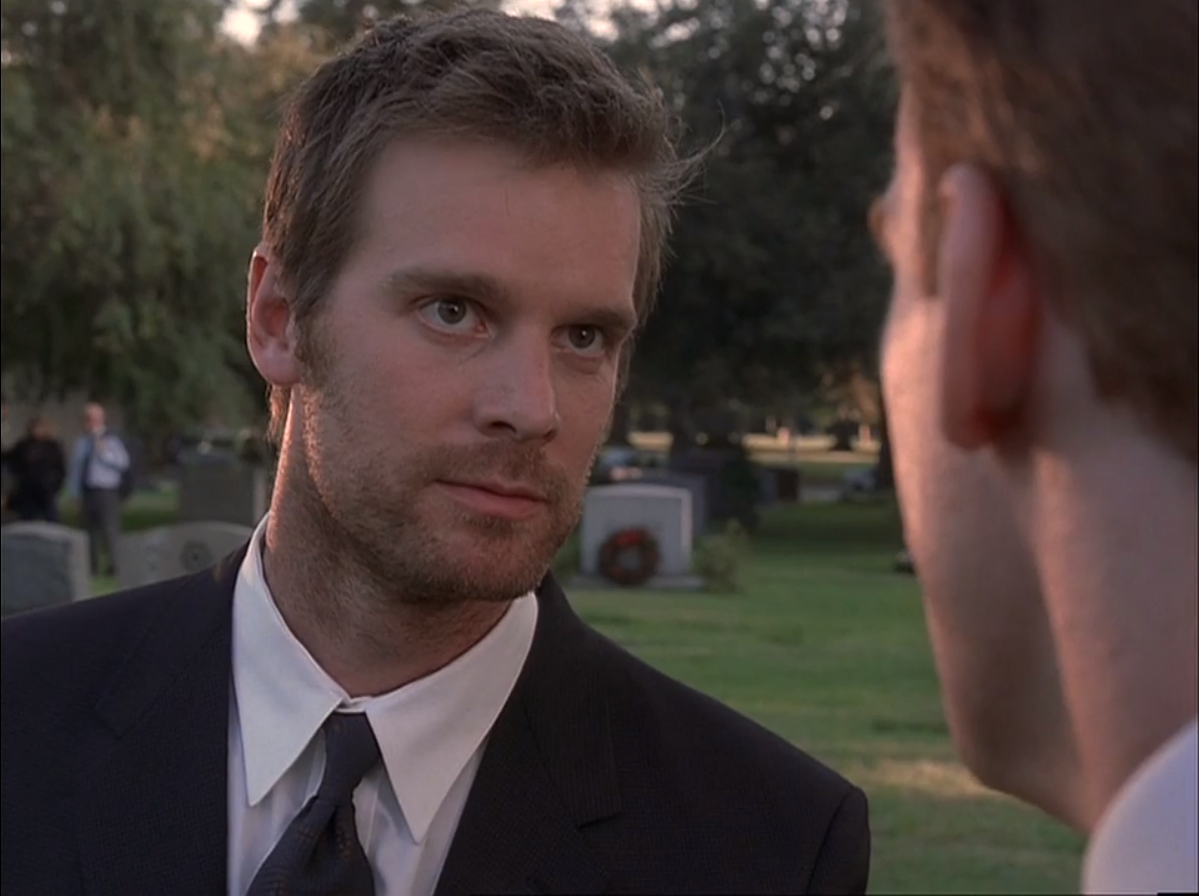 Alan Ball, who had been a producer and writer on Cybill, contacted Krause about a series he was working on. While mourning the end of Sports Night, the actor found something in Ball's series he'd never seen before...and the central character of Nate Fisher, who'd moved away from his family's funeral home business, almost passed him by.
"I was bummed out that Sports Night had been canceled and then this script came out and I read it and I thought, This is incredible.
"I auditioned for David, but Alan also wanted me to come in for Nate. So I thought, Oh this is one of those situations where I'm going to fall through these two roles and I'm not going to get either one. Fortunately, they found Michael Hall and thought, That's our David.
"I was drawn to Nate's desire to be an authentic person and to make authentic choices in life. Then, as we do, we find that the relationships we have sometimes compromise us and we can't make the decision that we want. One of my favorite films is It's a Wonderful Life, and Nate Fisher's journey is dramatically different from George Bailey's but still similar. He wanted something else but got sucked into taking care of his family in the wake of his father's death.
"I loved working with everybody on that show. When we first met, it felt like we were going on a long journey together. It wasn't like, Let's hope this pilot makes it. It felt like, We're gonna make this and we're gonna make a lot more. And it got tiring. I mean, we all were exhausted at the end of that. We all had to do different things that were particularly demanding on that show, but it was all worth it and we all rose to the occasion.
"It was a big surprise when Alan called us all before the fifth season saying, 'This is it.' HBO wanted to do two more seasons; we all wanted to keep going. There was still gas left in the tank, it could've gone longer, but Alan ending it when he did elevated the entire series into a work of art rather than just a TV series. Because the theme of the show was everything must come to its end, to push it as long as you could didn't make artistic sense."
Dirty Sexy Money (2007–2009) When Six Feet Under ended, Krause decided to re-evaluate his professional choices, especially since his son was born during the show's second season and "that became an even greater priority in my life," he said. "I did want to take a step back. I thought I only wanted to do closed-end projects at that point in time." He moved out of Los Angeles and in 2006 worked on the indie film Civic Duty and The Lost Room, a miniseries for what was then called the Sci-Fi Channel. But when Craig Wright, a writer on Six Feet Under, approached him about a new ABC series he was working on, Krause found himself drawn to the character of Nick George, an attorney who gets sucked into taking his father's place as the personal lawyer for the billionaire Darling family of New York.
"At the time, it was called The Darlings," Krause said of Wright's pitch. "I'd pitched to him that my wife should be a loudmouthed, diminutive woman from India that I met in the Peace Corps who would just mouth off to the Darlings. But it didn't go that way.
"It was Craig who kept telling me that ABC wanted a cable show for network. But it became not the show I signed up to do. At one point, I took a meeting with Steve McPherson, who was running ABC at the time. I said, 'Creatively, we're trying to do this, we want it to be that. How do we iron this out?'
"It was a creative wrestling match over there for sure. Both sides got the better of the other at different times and I don't think the show necessarily suffered. It was an interesting, weird show, but not in a bad way. I loved that show. It was a show that was ahead of its time. And I think it was Donald Sutherland who said, 'It's very difficult to make a show about billionaires with mere millions.'
"I thought, I will never work for ABC again. I did, I really did. I thought, I just don't think this is the right place for me to be working. At one point, Craig Wright painted 'Let it in' on his office door. I was like, 'Craig, c'mon. I think that's sending the wrong message to the troops.'
"Then, the writers strike happened and the recession hit and the numbers the second season dipped a bit. I think things would've been radically different if not for the writers strike.
"I got to known Rich Eisen from my Sports Night days and he came up to me at a party once and said, 'You'll never guess who is bummed out that Dirty Sexy Money was canceled: Deion Sanders. It's Deion Sanders' favorite show on TV. He couldn't believe they canceled Dirty Sexy Money.'"
Parenthood (2010–2015) That experience didn't sour Krause on network television dramas; he was, however, looking for something that had the longevity he experienced from Six Feet Under. And he found it in Parenthood, an NBC family drama from Friday Night Lights creator Jason Katims loosely based on the 1989 movie of the same name. Again, he would be playing the eldest son in a large family — like Nate Fisher, but the Bravermans were very different.
"I was looking for something that felt a little bit more solid storytelling-wise that I could be assured, in my mind, would run for a while," Krause said. "There were two people who were very instrumental in me playing Adam Braverman: Tommy Schlamme, obviously from Sports Night, and then my late friend Nora O'Brien, who died on the set of Parenthood, who I had met during The Lost Room. She was a network exec at NBC at the time and she and Tommy both were really quite adamant about me taking it. 'Read it, look at it, watch Friday Night Lights, meet Jason.'
"Tommy [who directed the Parenthood pilot and executive produced the series] and Jason flew up to the Bay Area to meet me, and they wanted to film it in Philadelphia. I said, 'The only way I'll do this is if it films in San Francisco or L.A. That's it.' And we filmed the pilot in San Francisco and wound up filming the series in L.A.
"Parenthood dealt with everything so honestly. We dealt with things on that show in a way I don't think any other family drama has. It was pretty original. I loved that Jason wanted to push what we could do. We got lucky, too. [The current chair of NBC Entertainment] Bob Greenblatt, who was a friend of mine, fortunately was a fan of the show and stood by it. Really, if not for Bob, I don't know that we would have gone six seasons. It's great to be a good business and put Who Wants to Be a Millionaire on five nights a week, but also what's great about running a network is you can decide, 'This is something of great value to the viewing public and they should have it. They should be able to reflect on their own lives.'

"I'm apparently attracted to things that are on the edge of what America really wants to watch: Six Feet Under, Sports Night, Dirty Sexy Money, and Parenthood were always struggling in the ratings. It was kind of heartbreaking not knowing if we get to come back every season. After we got through three, we kind of started to feel better and then that last season, they wanted us to come back and they wanted us each to take fewer episodes. That was a whole battle. I don't know what they were saving money for — Jennifer Lopez in Shades of Blue? I don't know what the deal is. But whatever they were saving, it couldn't have been that much.
"But really, I can't say enough about Jason Katims and how completely he loved all those characters and wrote about all of them and their struggles and their successes and how, underneath it all, important it is for everybody to value their relationships and for families to stick together and support each other. It was really a hopeful, loving show, but it wasn't overly sentimental. "

The Catch (2016)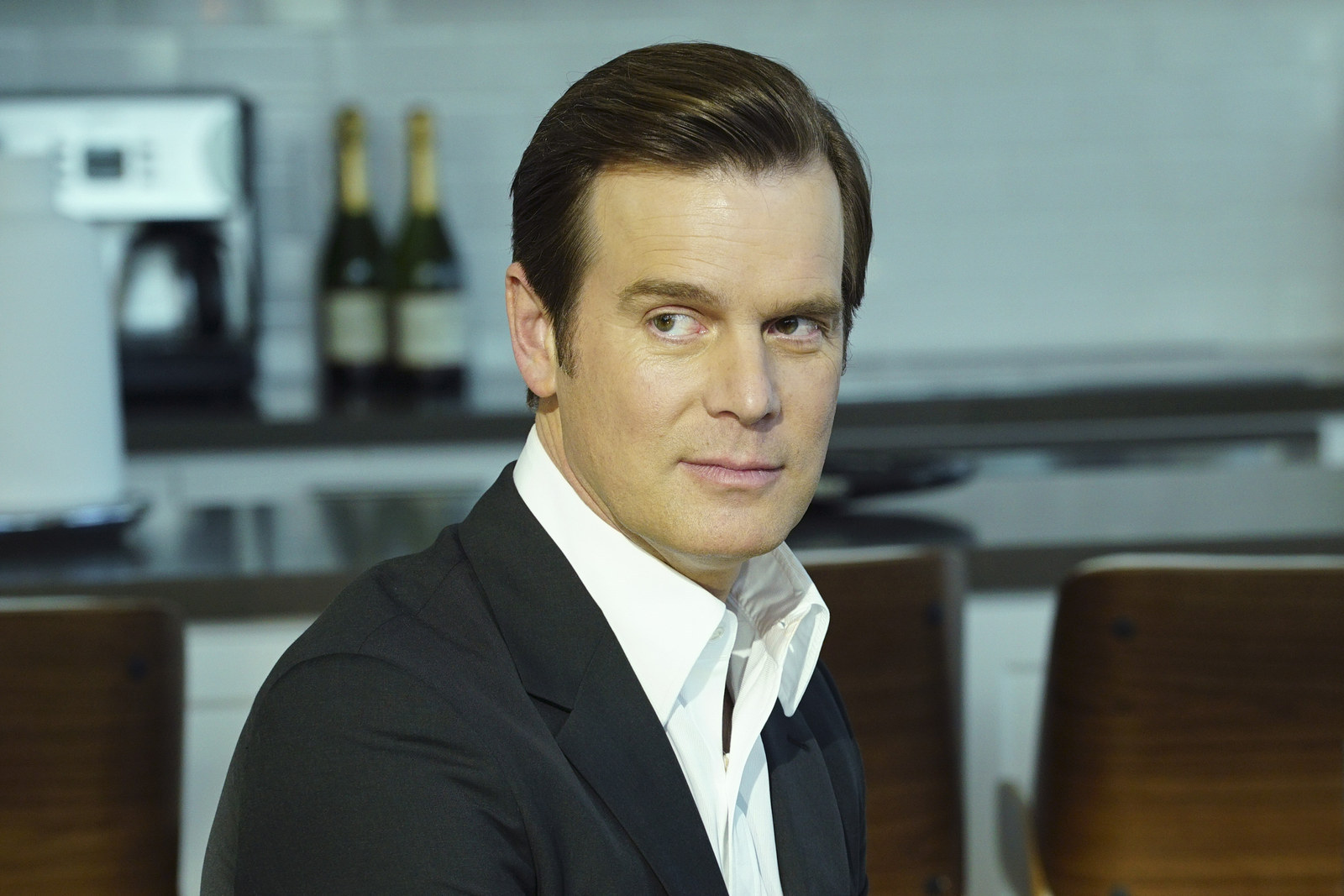 When Parenthood ended, Krause almost revisited one of his favorite projects. "[Creator] Ron Howard came to me and asked if I'd ever thought of maybe doing a Sports Night reunion. And then Aaron and I spoke briefly about it and it just didn't seem like something we could possibly wrangle, but people keep asking about it," Krause said. "Even though I kind of shied away from the idea initially because we're older and I don't know what it would be now, I could imagine a situation where those characters could be found coming together again. I think there's a world in which it could happen. I mean, Gilmore Girls is making four Netflix movies."
After contemplating the possibility of more Sports Night and fresh off six seasons with the very grounded Bravermans, Krause decided try something new: He joined the heightened reality of a Shonda Rhimes–produced series. The Catch, about a private investigator (Mireille Enos) who is conned by her own fiancé (Krause), joins the ShondaLand lineup on March 24. Christopher Hall (or Benjamin Jones, or whatever Krause's character's name actually is) is nothing like anyone the actor has embodied before.
"For me, this was something radically different," Krause said of The Catch, which is currently in production on Episode 8. "Every time you do something that's successful, suddenly everything that's like it comes to you as an actor. So I thought, I want to find something different. And I did feel like, When am I going to have this opportunity again? To play this kind of character on the moral fence, a kind of a playboy, if you will?
"As a piece of television, this is pure entertainment. I shouldn't say that because there's more going on than I thought there was, now that I'm deeper into it. But it's definitely a more fun world. There's cons and it's a big romance. At this point, it's a sexier, more pure, 'I love you one million thousand percent' romance — and less of a troubled one, like between Nate and Brenda on Six Feet Under. And it's not the comfort of 'I love you, honey' like Parenthood. It is a deeply passionate and complex relationship. It's Romeo and Juliet, except that Romeo's fucked Juliet over. Instead of feuding family, it's like, 'You're on that side of the law, I'm on this side of the law.'
"But he's struck by Cupid's arrow. Who he used to be, you just get glimmers of because now he's going to be forever changed. In a way, like Nate Fisher is forever changed by his father's death, he's forever changed by meeting a woman.
"There's that aspect of it, and then there's the con artistry for me. And it will evolve. The show that it is today is not the show it will be in Season 2. It's going to keep shifting and changing. There are perhaps worse-behaving con artists within this world than Ben. It gets interesting."
The Catch premieres Thursday, March 24 at 10 p.m. ET/9 CT.
CORRECTION
Michael Eisner was the CEO of the Walt Disney Company. A previous version of this story misstated his title.