Fans were thrilled to hear author John Green would make an on-screen appearance when his hugely popular novel The Fault in Our Stars got the feature film treatment. And they were equally bummed to find out his scene had been cut from the final version of the film after he self-deprecatingly told Vulture, "It was totally unnecessary to the movie, slash I was terrible."
But there's good news again: BuzzFeed can exclusively reveal that Green's scene will be part of "The Night Before Our Stars," an opportunity for fans to see that scene and the film the night before it opens on June 6. There's a simulcast available to those who purchase tickets for the June 5 event (at 8:30 p.m. ET/5:30 p.m. PT) that will feature stars Shailene Woodley, Ansel Elgort, and Nat Wolff, as well as Green. And that's when his big scene will be revealed.
Here's an exclusive sneak peek of Green in his acting debut: The scene, for those who know and love the book, is an adapted version of the moment when Hazel (Woodley) is approached by a child who asks about her nasal cannula. Her mom pulls her away and says, "I'm so sorry." For the film, the scene was tweaked to take place at the airport with Green as the dad uttering the three-word apology.
"My first couple attempts at the scene came off pretty poorly," Green recalled to BuzzFeed. "At some point, the girl playing my daughter [Sophie Guest] said, 'Would you like some acting advice?' I said that I would indeed. 'Three rules,' she said. 'Know your lines, be on time, and don't be nervous.' I couldn't ever quite get the hang of the not being nervous part, but I will long remember that girl's sage and empathetic advice, which applies to more than just acting."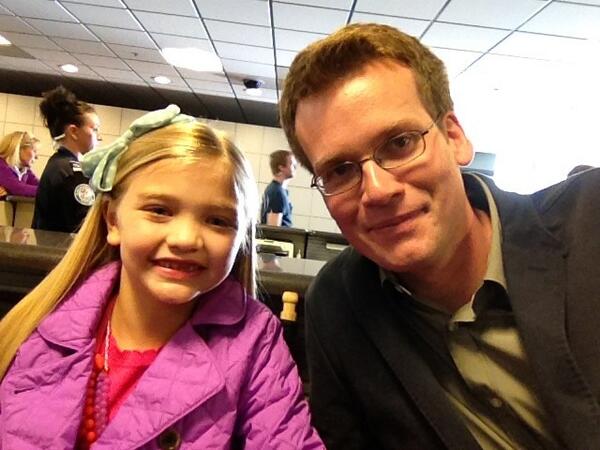 The Fault in Our Stars opens in theaters on June 6. For information about "The Night Before Our Stars," click here.