Drake Rocked His Yarmulke And Vest Again For His Re-Re-Bar Mitzvah On "SNL"
Unfortunately, he did not reenact his signature moves.
In his opening monologue on SNL, first-time host Drake talked about being Canadian, his Degrassi: The Next Generation past, and, of course, being Jewish.
"Having a Jewish mother and a black father made for a very interesting bar mitzvah," he said before re-enacting his bar mitzvah.
He even wore the infamous vest from the bar mitzvah flashback clips in his re-bar mitzvah "HYFR" video.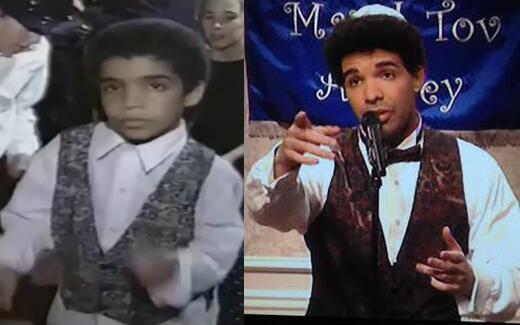 In honor of becoming a Jewish man, young Aubrey announced he'd henceforth be known as Drake. And 13-year-old Drake was ready to show off his skills.

He started things off to the tune of the traditional "Hava Nagila."

And then he launched into a full-fledged rap that included choice lyrics like...


And he stopped for a mid-rap prayer with his Uncle Larry about Yeezus and Kim Kardashian.

There's only one thing left to say.