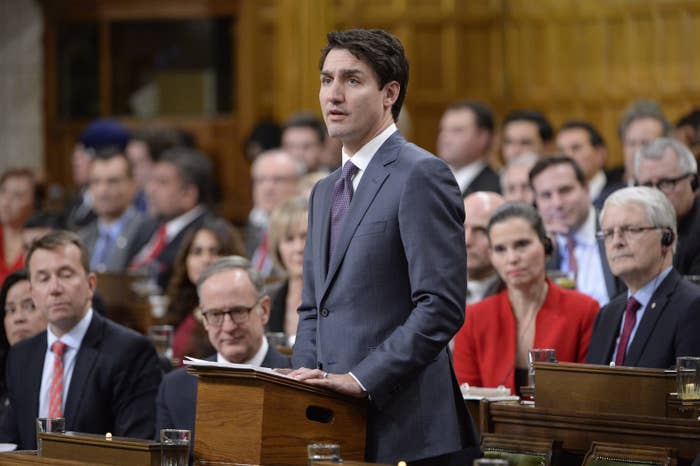 Prime Minister Justin Trudeau delivered a long-awaited apology in Parliament to LGBT people who were purged from government jobs during the Cold War.
From the 1950s until the early 1990s, thousands of federal workers were investigated, punished, and fired from the military, the civil service, and other federal bodies for their sexuality. The government justified the purge on national security grounds, with homosexuality viewed as a "character weakness" that left people open to blackmail by foreign governments.
"This is the devastating story of people who were branded criminals by the government. People who lost their livelihoods, and in some cases, their lives," Trudeau said.
"These aren't distant practices of governments long forgotten. This happened systematically, in Canada, with a timeline more recent than any of us would like to admit."
One of the most infamous chapters in this decades-long campaign of discrimination was the "Fruit Machine" — a device designed to detect homosexual desire by measuring pupil dilation, heart rate, and other biological factors in response to being shown erotic images of men and women. The device did not work and the whole project was abandoned in 1967, but the hunt for queer people within the federal government would continue for decades.

The purge officially ended in 1992 after the Canadian military dropped its ban on gay and lesbian service members in the face of a lawsuit by Michelle Douglas, who had been fired after she came out as a lesbian.
The federal government has set aside $100 million to compensate victims of that discrimination as part of the settlement of a class-action lawsuit. The government has also introduced a bill — C-66 — that will allow people convicted of same-sex offences like buggery and gross indecency to have their criminal records cleared.
The LGBT rights group Egale Canada, whose 2016 Just Society Report advocated for Tuesday's apology, has also called for a much broader legal response to correct for this historical discrimination against LGBT people, including the repeal of laws still on the books today. Those include the ban on anal intercourse and the so-called bawdy-house laws which have been used by law enforcement to target gay bathhouses. The group is also calling for an end to restrictions on blood donations by men who have sex with men, as well as trans people.
"Today was a step forward in the healing process for many in the LGBTQI2S community in Canada, and especially for those public service workers who were victimized during the government purge," Helen Kennedy, Executive Director of Egale Canada, said in a statement.
"This is not a the final chapter by far in achieving equal rights for LGBTQI2S people in Canada, but hopefully it will mark the beginning of a more positive dialogue with governments to make sure the the wrongs that have been committed in the past continue to be acknowledged and real changes are implemented through actions like policy reform, education and a commitment to do better."