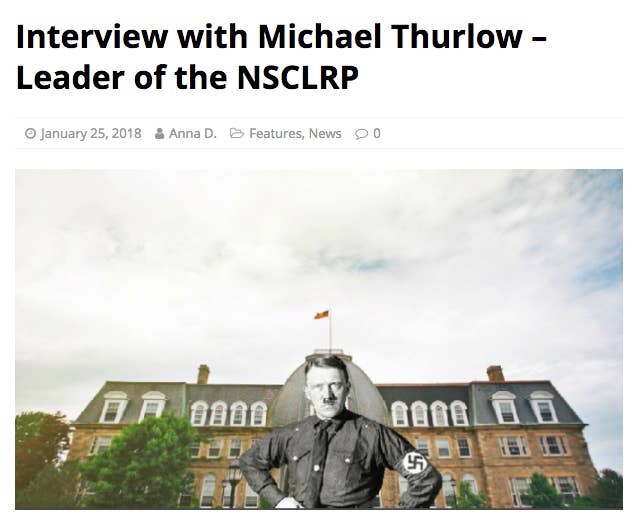 A student newspaper in New Brunswick published a largely uncritical interview with a Nazi sympathizer in which he praised Adolf Hitler's book Mein Kampf, downplayed the horrors of residential schools, and claimed white supremacy was a myth invented by Jews. The paper also published a separate opinion piece by him in which he spread a slew of anti-Indigenous and anti-Semitic tropes.

Michael Thurlow describes himself as the president of the National Socialist Canadian Labour Revival Party (NSCLRP), a group that took credit this month for racist posters on the University of New Brunswick campus in Fredericton. The Baron, which is published at the University of New Brunswick's sister campus in Saint John, interviewed Thurlow about his beliefs and published a "complete, unedited, uncensored" transcript, which included numerous false and ahistorical claims about Indigenous peoples and residential schools.
Thurlow's opinion piece, which he submitted as a letter to the editor, was also published "unedited [and] uncensored," according to an editor's note. In the piece, Thurlow praises residential schools — where generations of children were systematically stripped of their language and culture as well as physically, emotionally, and sexually abused — as an attempt to "civilize" Indigenous people. He also espoused the anti-Semitic idea that Jews are a conniving and treacherous people who secretly control the world.
Thurlow also denied in the article that his national socialist group is racist, saying, "Facts cannot be racist."
National socialism is more commonly known as Nazism, the official ideology of the Third Reich.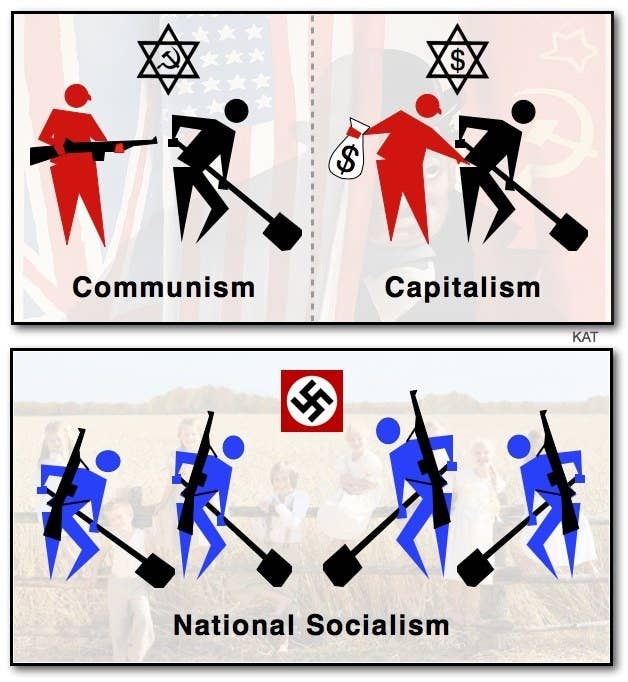 The NSCLRP's website has been deleted, but cached versions available online show the group espouses standard Nazi views. According to a 30-point manifesto, the group wants Canadian citizenship restricted to people of "European descent," with "special laws" governing all others in the country.
Just days before Thurlow's opinion piece ran in the Baron, an account appearing to be his posted on the website WrongThink railing against Jews, referring to them as "hooknosed kikes."

The Baron's editor, Anna Slatz, defended publication of the two articles on the grounds that no views, no matter how reprehensible, ought to be censored.
"In this age of extreme polarization, I saw gaining captainship of this publication as an opportunity to provide a diverse collection of contributors the ability speak their truth — Whatever that truth may be," Slatz wrote in an editor's note published online Sunday. "I promised myself that I would never censor, never correct or challenge."
Slatz told BuzzFeed Canada she stands by the decision to publish the Thurlow interview and op-ed, and that she will not issue a retraction or apology. (Slatz was until recently listed on The Baron website as Anna de Luca, a name she says she no longer uses.)

"Journalistic neutrality is rare nowadays, and very few platforms cater to a diversity of opinions," Slatz said in an email. "Neutrality is our promise to our writers and readers that we will never censor their perspective because of some arbitrary reason — Like trying to demonstrate a misguided sense of activism."

Several contributors and former staffers have distanced themselves from The Baron. People have also fiercely criticized the paper's editorial judgment on social media, with many accusing the editors of giving a platform for hate.
Emma McPhee, the editor of the Brunswickan, the student newspaper published at the UNB's sister campus in Fredericton, said the NSCLRP had also asked them to publish an op-ed, but they declined.

"We believe there is difference between reporting on racists and giving them a public platform to spread their racism," McPhee told BuzzFeed Canada.

CORRECTION
The Brunswickan was misspelled in an earlier version of this post.
UPDATE
This article was updated to include comment from The Baron's editor Anna Slatz, previously identified as Anne de Luca.
UPDATE
The Baron's board of directors apologized for the two articles on Wednesday, saying it had "taken corrective measures." The articles are no longer available online and the paper's business manager has stepped in as interim editor.