Employees at Shopify have quietly urged the company to cut ties with Breitbart News and stop hosting the right-wing media outlet's online store, but those concerns have largely fallen on deaf ears at the Canadian startup, BuzzFeed News has learned.
For months, employees have been asking for an updated policy on what types of clients Shopify will work with. The ubiquitous e-commerce platform powers more than 325,000 online stores, including those for the Democratic Party and Donald Trump. Breitbart launched its own official swag shop in October, and multiple sources say the site's worldview clashes with the tolerant and inclusive workplace Shopify says it wants to foster.
Breitbart's early embrace of Trump's presidential candidacy and relentless promotion of his policies have made it one of the most influential conservative media outlets in in the US. Its former chairman, Steve Bannon, is currently serving as chief strategist to President Trump. He has described Breitbart as "the platform for the alt-right," the online movement of white nationalists who loudly oppose feminism, multiculturalism, and political correctness.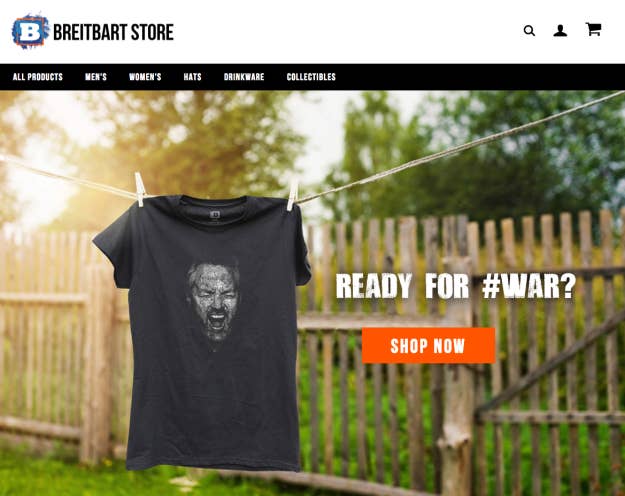 Many inside Shopify "were not pleased that we were working with this company," said one employee who asked not to be named for fear of losing their job.
BuzzFeed News spoke with two other employees who also requested anonymity to speak freely on internal matters.
What followed was a flurry of emails, Slack chats, and meetings about hosting Breitbart's store. Many walked away feeling their views were not taken seriously by executives, with female, Muslim, and LGBT employees feeling particularly uncomfortable about the association with Breitbart, sources said. A group of employees even wrote a letter to CEO Tobi Lütke outlining their concerns, but Lütke is said to have been "dismissive" of the effort.

"We need something more explicit around hate speech," said another employee.

Some of Breitbart's more incendiary headlines include "Hoist It High And Proud: The Confederate Flag Proclaims A Glorious Heritage"; "'Would You Rather Your Child Had Feminism or Cancer?'"; and "Gay Rights Have Made Us Dumber, It's Time to Get Back in the Closet."
Merchandise available on the Breitbart store includes a shirt celebrating the construction of a border wall and another one that includes a map of the US with the words "Get in line."
Public petitions calling on Shopify to drop Breitbart have also not gone anywhere, including one signed by more than 20,000 people demanding the Ottawa-based startup "stop endorsing hate."
"Shopify was founded and operates as a platform that embraces freedom of speech," the company said in a statement to BuzzFeed News. "If we begin to arbitrarily remove products and merchants from our platform, we compromise this core value and threaten its sanctity as a driving force that shapes both our own company and that of society at large."

The company reaffirmed its longstanding policy "that if a merchant's business and the products it sells are legal in the jurisdiction where it is operating, that merchant is able to use Shopify."

While Shopify has adhered to a policy of neutrality, its CEO has been more vocal. After Trump's executive order that, among other things, barred people from seven Muslim-majority countries from entering the US, Lütke tweeted about the value of multiculturalism to him and Shopify.
"Diversity is our strength," he said.
Several Shopify executives, including Lütke, also signed a letter urging Canadian Prime Minister Justin Trudeau to approve visas for those affected by Trump's travel order.
"As a community, we stand together in opposition to the marginalization of people based on their birthplace, race, or religion," the letter, signed by more than 200 members of Canada's tech industry, states.
The eagerness with which Shopify execs spoke out against Trump while the company continues to do business with entities closely aligned with the president has struck some people as hypocritical.
"It's so convenient for tech leaders to say, 'I stand for this and you should come work for me,'" said Huda Idrees, who is launching her own healthcare startup after working at several tech firms, including Wealthsimple and Wattpad. "But you turn around and you realize their values don't stand when it comes to the hard stuff. That's the dichotomy I don't understand."
Since Trump's election, many tech leaders have been under pressure to distance themselves from the new administration and sever any ties that could be seen as an endorsement of its policies.
Uber CEO Travis Kalanick resigned from Trump's economic advisory council after a viral #DeleteUber campaign sparked by what critics say was an attempt by the transportation company to capitalize on a taxi strike at New York's JFK Airport following the travel ban.
Other tech titans, such as Facebook's Sheryl Sandberg and Tesla founder Elon Musk, have resisted calls to oppose the president and insist they can do more good by working with the administration.
At Shopify, several execs, including Lütke, have spoken proudly of their immigrant roots. The company is genuinely committed to creating an open, tolerant workplace, one of the employees said. Since starting with five people in Ottawa in 2006, the company has grown to over 1,750 employees spread out across five offices in Canada and the US, and the employee chalked up some of the internal turmoil to "growing pains."
Idrees, however, says it's not an issue that is likely to go away, and many people she knows within the company are still frustrated.
"They're receiving a lot of pressure," she said of the executive team.
Idrees, who advocates for women in tech, said she declined two recent speaking engagements at Shopify's Toronto headquarters over the Breitbart issue.

"I'm Muslim, I'm a person of colour, I'm a female in tech," she said. "This is all personal for me."

UPDATE
This article has been updated to include comment from Shopify.