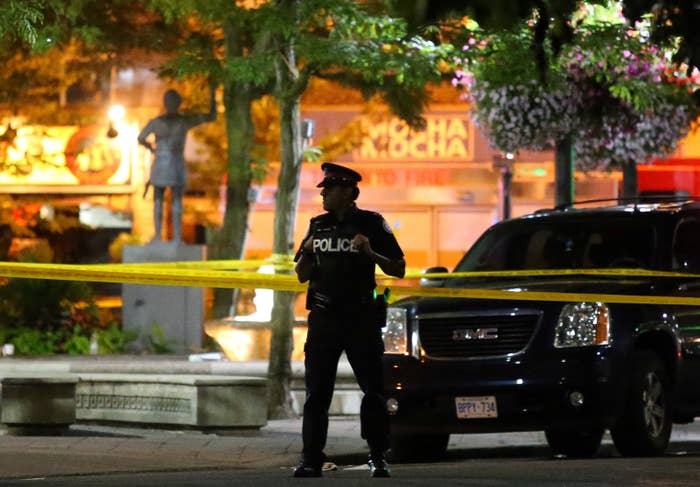 Rumors and speculation are spreading online after a mass shooting in Toronto on Sunday. Two people were killed and 13 others injured by a man who opened fire on the Danforth, the main drag in the city's Greektown neighborhood. The shooter, identified as 29-year-old Faisal Hussain, also died at the scene. This post provides a look at the factual status of claims circulating about the shooting. It will be updated with new information as it emerges.
How to read this post:

UNVERIFIED: Claims that have not been confirmed by police or other official agencies or entities involved in the investigation. Treat this kind of information with extreme skepticism. In some cases, it's unclear where it originated and could simply be a rumor with no evidence to back it up.
TRUE: Official sources such as police, law enforcement agencies, or an entity involved in the investigation confirmed this information.
FALSE: Official sources such as police or law enforcement have debunked this information.
BuzzFeed News will continue to monitor the claims below and will update their status as new information emerges.

UNVERIFIED: The shooting was an "Islamic terrorist attack."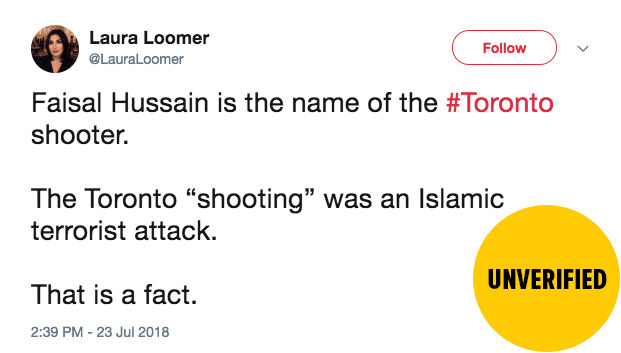 So far, very little is known about Hussain, and it's unclear what his motive may have been for Sunday's deadly rampage.
Rumors about the shooter's alleged religious motivation spread within hours of the attack and ramped up once he was identified by the Special Investigations Unit, Ontario's police watchdog agency.
Far-right figures like Laura Loomer and anti-Muslim websites framed the shooting as an "Islamic terrorist attack" or made similar claims, apparently based largely on Hussain's name. Despite the speculation, authorities have not confirmed any religious motivation for the attack.
Police have not confirmed that Sunday's carnage was an act of terrorism, nor have they ruled it out. Toronto Police Chief Mark Saunders said on Monday that investigators are looking at "absolutely every single possible motive."

Hussain's family released a statement on Monday that said he had "severe mental health challenges, struggling with psychosis and depression his entire life." However, even this does not necessarily constitute a motive, since people living with mental illness are not any more likely to be violent than others.
FALSE: The attack was connected to ISIS.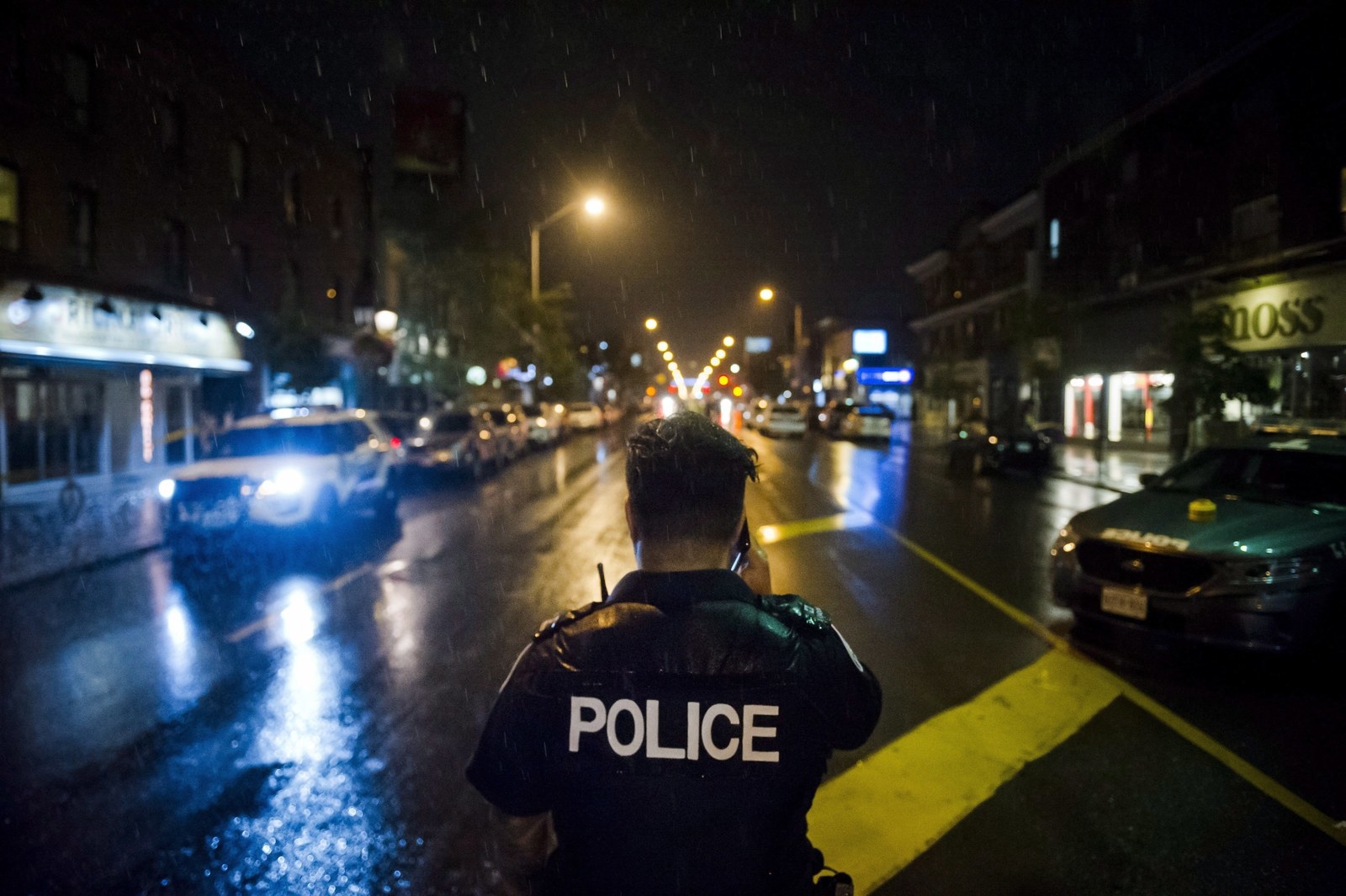 Toronto police said Wednesday that investigators have found no links between Hussain and ISIS.

Reuters reported earlier in the week that ISIS had claimed responsibility for the attack through their official news agency AMAQ. The report noted that ISIS did not provide any evidence.
"At this stage, we have no evidence to support these claims," Toronto Police Chief Mark Saunders said in a statement on Wednesday, according to CTV News.
ISIS has a history of claiming responsibility for violent acts it did not direct, including the Mandalay Bay shooting in Las Vegas in 2017.
Saunders said police will continue to examine all leads, including examining Hussain's "online activity" and mental health history.
Quoting anonymous police sources, CBS News reported that investigators believe Hussain may have visited websites associated with ISIS and expressed support for the terrorist group.
FALSE: These images on Facebook show Faisal Hussain.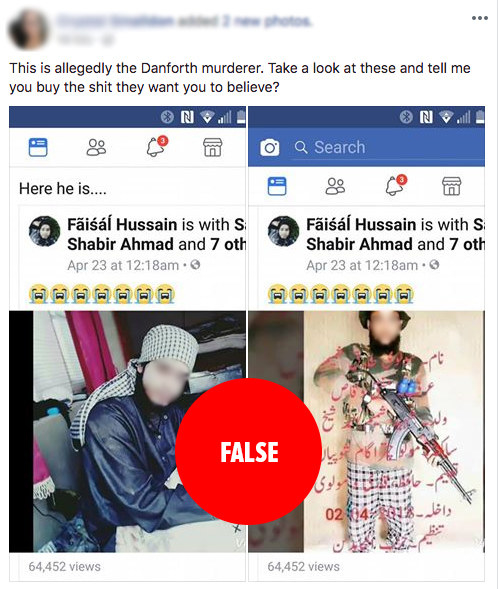 Images circulating on social media claim to show the shooter, Faisal Hussain, brandishing weapons on his Facebook profile. However, the photos come from the account of a different person with a similar name.
A source close to the Hussain family, who asked not to be named, told BuzzFeed News the photos are "100%" of a different person unconnected to the Toronto shooting. The family subsequently released a photo of Hussain that confirmed the images on Facebook were of someone else.
Screenshots of this other person's profile have been shared thousands of times on Facebook as evidence of the Toronto shooter's identity or his alleged history of violence.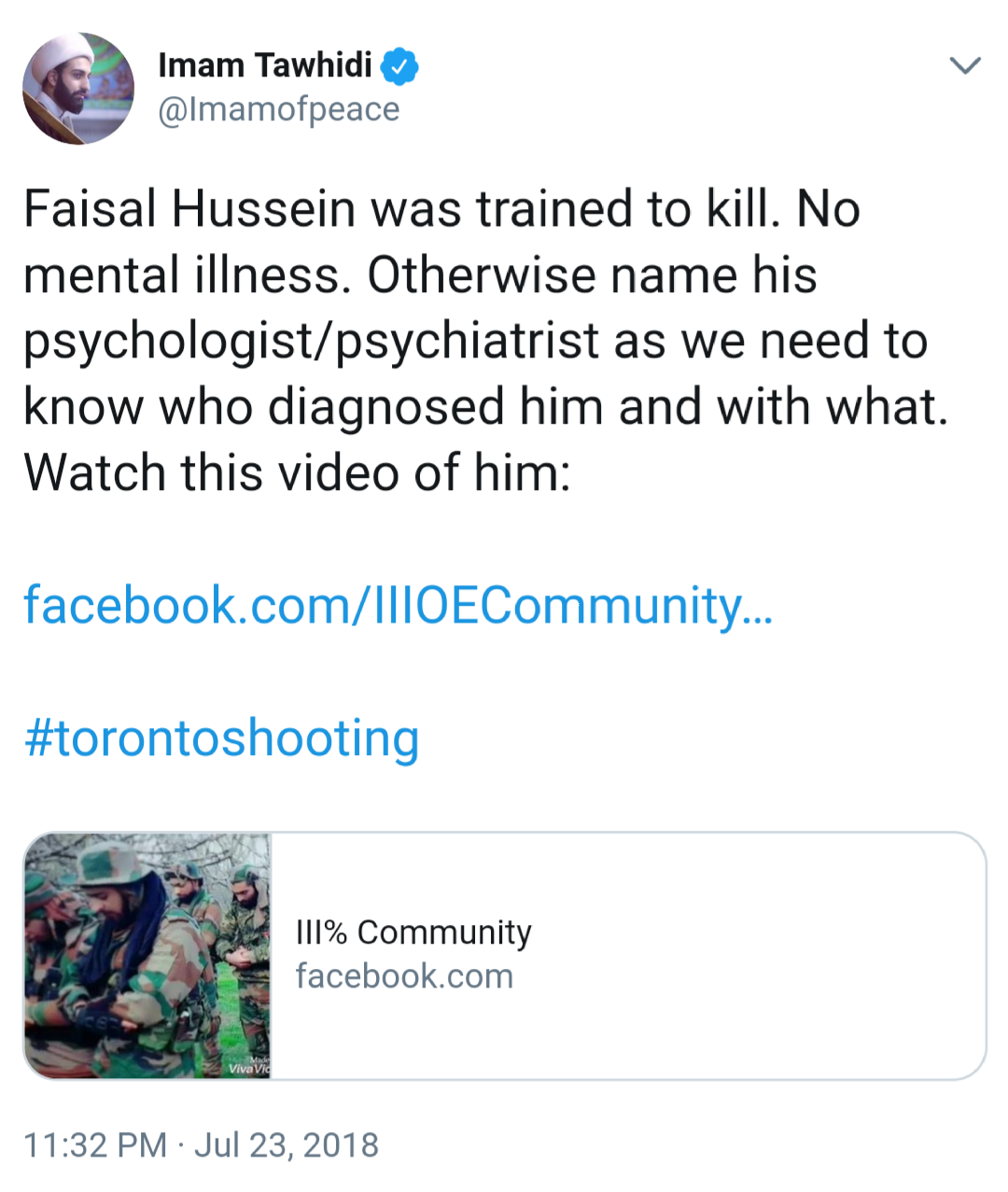 A video of the same person has also been shared by a Facebook page linked to the anti-Muslim militia movement known as III%, or the Three Percent. The video is a photo slideshow set to music, and features images of men holding weapons.
The video was given further visibility after Mohammad Tawhidi, an Australian religious commentator who calls himself the "Imam of Peace," shared a link to the III% page to his more than 200,000 followers on Twitter, claiming it showed that Hussain was "trained to kill." (He later deleted the tweet.)
FALSE: Faisal Hussain was "a fan" of Canadian Prime Minister Justin Trudeau.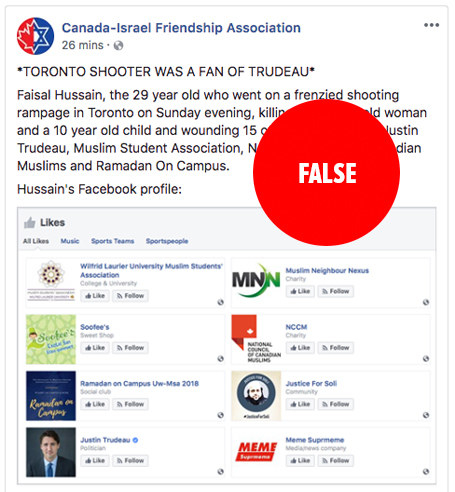 The Facebook page of the Canada–Israel Friendship Association, which has almost 20,000 followers, falsely claimed on Monday that the Toronto shooter "was a fan of Trudeau" based on the Facebook likes of an account belonging to a Faisal Hussain.
The image was widely shared on Facebook and Twitter before it was deleted, but it was yet another case of mistaken identity. The account belonged to a different person named Faisal Hussain. This person issued a statement confirming that he was "not the Faisal Hussain that committed the heinous and disgusting shooting" and asked to be left alone.
UNVERIFIED: The shooter was "known to police."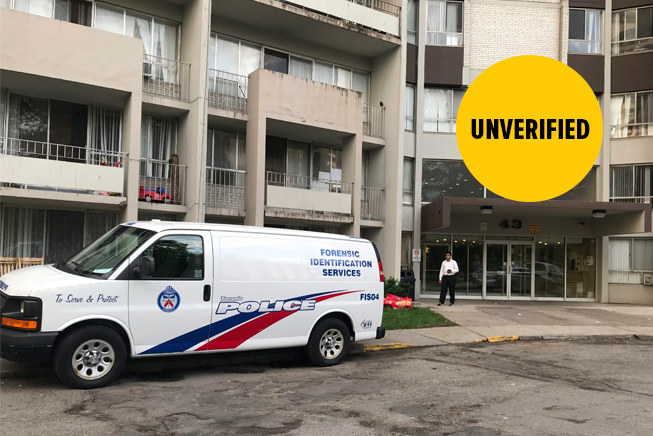 Some news outlets have reported that Hussain was "known to police" for various reasons.
According to Global News, Hussain was known to police "for having a history of mental health concerns" going back almost a decade. The Toronto Sun reported that Hussain had been spoken to by police "about his online activities." Both reports relied on anonymous sources, however, and the police have not officially confirmed whether Hussain had any interactions with them prior to Sunday's shooting spree.
"Notwithstanding issues of privacy that still apply to a deceased person, we have no public safety reason to disclose any past interactions Mr. Hussain may or may not have had with the Toronto Police Service," a police spokesperson told BuzzFeed News.

Ralph Goodale, Canada's public safety minister, told reporters on Tuesday that Hussain was not on the radar of federal law enforcement.
"At this stage of the investigation, on the basis of everything that is known at the moment, there is no national security connection between this individual and any other national security issue," Goodale said, according to the Toronto Star.