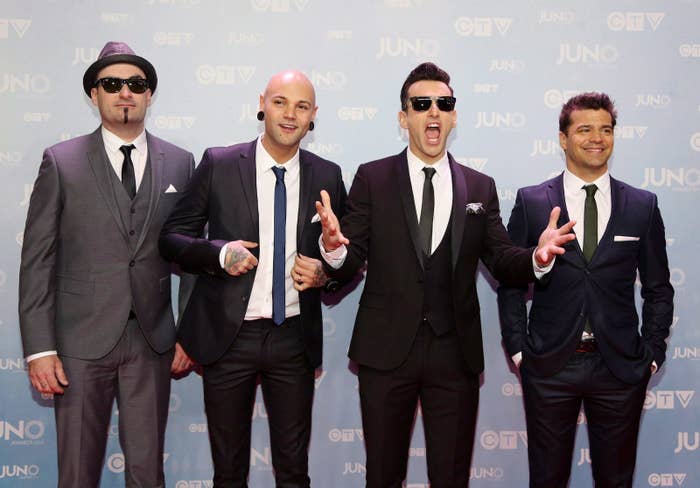 SiriusXM is no longer playing Hedley songs on any of its Canadian satellite radio stations, adding to a growing radio boycott of the Vancouver-based band.

"In light of the recent serious allegations against Hedley, SiriusXM has temporarily removed the band from all rotation and will be monitoring the situation closely," the company confirmed to BuzzFeed Canada in a statement on Wednesday.
Last week, the country's largest terrestrial radio networks — Corus, Bell, Rogers, and CBC — all announced similar suspensions in the wake of allegations that band members have preyed on young female fans, some as young as 14. The stories, shared mostly anonymously on Twitter, include allegations of lewd behaviour, sexual harassment, and sexual assault.
In a statement on the band's Facebook page, Hedley called the allegations "unsubstantiated" and said band members' behaviour was indicative of "a lifestyle that incorporated certain rock and roll clichés."
The band released a subsequent statement this week, through a Toronto PR firm, that had a more chastened tone.
"[W]e intend to take responsibility, and talk about how we have let some people down, and what we intend to do about it," said the band, vowing to finish its cross-country tour.
"We want to ensure that everyone understands our collective commitment to change, and to do better, is real. Saying a rock'n'roll lifestyle was to blame — or saying certain things happened because we were younger — isn't good enough."

The statement did not directly address the allegations of sexual misconduct.

Hedley is the most prominent Canadian musical act to be implicated in the wave of #MeToo stories sweeping the entertainment industry. The band, fronted by former Canadian Idol contestant Jacob Hoggard, has been nominated for dozens of Juno awards since 2006 and led the 2013 Grey Cup halftime show, among other honours.
Hedley was dropped from performing at this year's Junos, set to take place on March 25, and the band pulled out of consideration for three awards.
Others have also distanced themselves from the band.
Both of Hedley's openers — Neon Dreams and Shawn Hook — dropped out of the tour as a result of the sexual misconduct allegations. The band was also dumped by its management agency for the same reason.
WE Charity, formerly known as Free the Children, told the Globe and Mail it has "no plans to work with Hedley in the future" after years of working closely with the band, including naming them ambassadors for the charity and inviting them to perform at its popular WE Day events. The Canadian Cancer Society, which had also once named Hedley youth ambassadors, told the newspaper it no longer has any relationship with the band.
Air Miles had been running a contest to win VIP concert tickets, but it cancelled the promotion last week.

Hedley's record label, Universal Music Canada, has so far stood by the quartet but declined to answer questions about the band's alleged behaviour. In response to inquiries from BuzzFeed Canada, the label referred all inquiries to Navigator Ltd., the high-profile crisis management firm.
Navigator, however, told BuzzFeed Canada it is "not working for Hedley." The firm declined to say whether Hedley was previously a client.