Albertans are mocking this hilarious Facebook conversation, which shows a small band of patriots plotting a coup d'état — nay, a kudatah — against the provincial NDP government.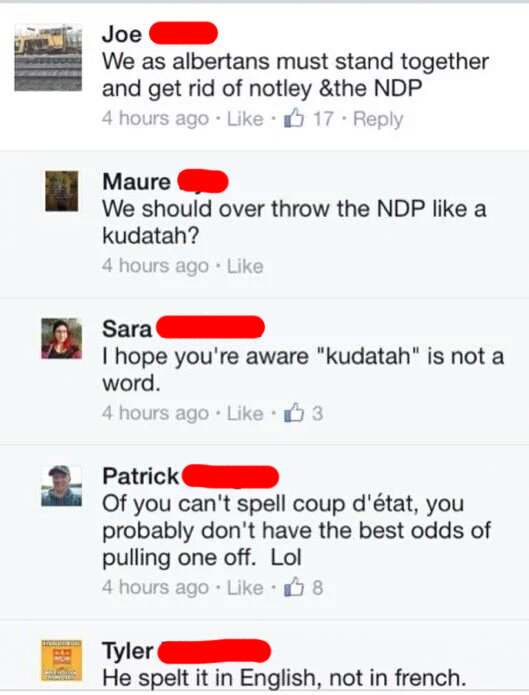 The comments were in relation to Bill 6, the government's controversial farm safety bill that sparked weeks of angry protests against the NDP, as well as death threats against Premier Rachel Notley.
The comments were left on the Global Edmonton Facebook page back in November, but the screenshot just started making the rounds on Reddit and Twitter.
The misspelling left a lot of people confused.
Hmm, it did sound kind of familiar.
It wouldn't take a rocket appliance to figure this thing out, really.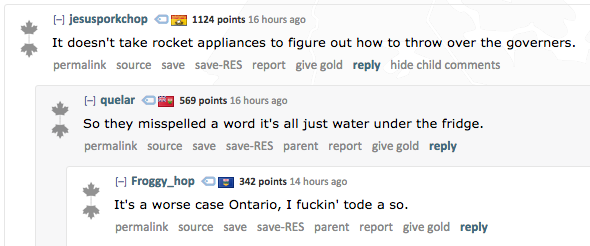 What would the kudatah even look like?
And who was behind the whole scheme?
People vowed to resist.
Just remember: Don't underestimate Albertans.
Ishmael N. Daro is a reporter for BuzzFeed News and is based in Toronto. PGP fingerprint: 5A1D 9099 3497 DA4B
Contact Ishmael N. Daro at ishmael.daro@buzzfeed.com.
Got a confidential tip? Submit it here.