Una imagen viral que parece mostrar una versión de Los Simpsons de Donald Trump dentro un ataúd en su funeral es falsa.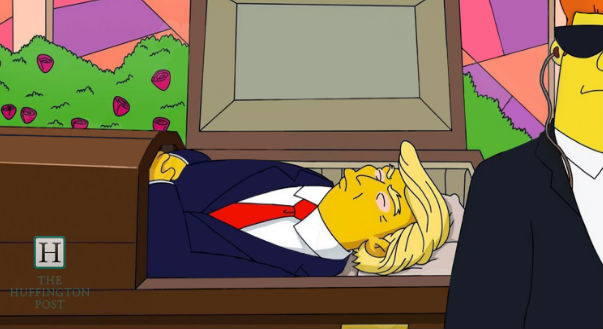 La imagen falsa ha llevado a muchas personas a pensar que The Simpsons en realidad mostraron la muerte de Trump en un episodio.
El engaño también ha ganado popularidad por las (sospechosas) afirmaciones de que la serie predijo muchas otras cosas que se volvieron realidad.
Este video conspiracional dice que la aparente muerte de Trump en la serie es la predicción "más tenebrosa" hasta la fecha.
Este post fue traducido del inglés.
Ishmael N. Daro is a reporter for BuzzFeed News and is based in Toronto. PGP fingerprint: 5A1D 9099 3497 DA4B
Contact Ishmael N. Daro at ishmael.daro@buzzfeed.com.
Got a confidential tip? Submit it here.
Looks like there are no comments yet.
Be the first to comment!