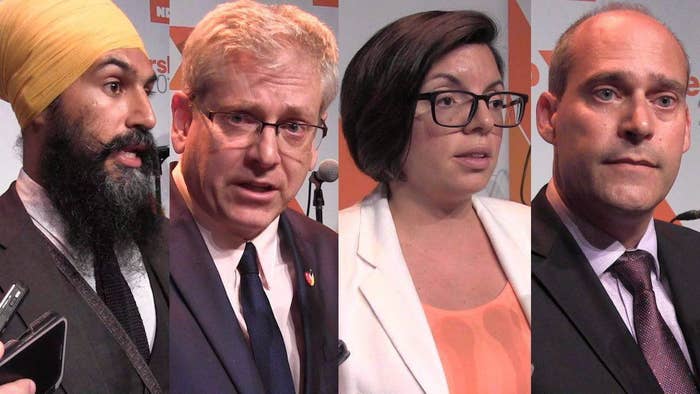 The NDP is about to choose a new leader to take the party into the next election in 2019, but in some ways this leadership race is just as much about 2015. In the spring of that year, some polls suggested the party could form government for the first time at the federal level. Jack Layton had led the party to its best-ever result in 2011, forming the Official Opposition for the first time, and just four years later Tom Mulcair looked ready to best it by becoming the first NDP prime minister.
It was not to be. On election night, the NDP was lucky to walk away with 44 seats in the House of Commons, returning it to its traditional third-place role in Parliament.

The echoes of that election are still heard today. The one thing all four NDP leadership candidates agree on is that 2015 was a missed opportunity, with the party "out-lefted" by a Liberal Party that offered a bolder progressive vision to Canadian voters. The four candidates, however, have laid out different visions for how to move the party forward.
BuzzFeed Canada spoke with all four NDP leadership candidates. You can read the interviews below:
Jagmeet Singh is the only candidate from outside the Ottawa caucus. The Ontario MPP has been a rising star in the party for years, and since entering the race he has raised more money and signed up more members than all his rivals. He says the NDP can win if it stays authentic to its core ideals. Read the full interview.

Ontario MP Charlie Angus, who is well known as an advocate for Indigenous peoples, is pitching himself as a no-bullshit politician fighting for the little guy. He says the NDP has turned its back on class, and that the "new working class" deserves a champion. Read the full interview.
Manitoba MP Niki Ashton has cited the enthusiasm for Bernie Sanders and Jeremy Corbyn as reason for an unapologetically leftist NDP. She plans to raise $40 billion in new revenue to spend on free tuition, national pharmacare, universal dental care, and other programs to reduce inequality. Read the full interview.
Guy Caron, the lone Quebec MP in the race, has urged the rest of the party not to take his home province for granted. He has also proposed a basic income to lift all Canadians above the poverty line — a plan the former economist says he has the credibility to sell to the larger public. Read the full interview.