This Group Wants To Carry Fake Severed Heads And Coffins At Toronto's Pride Parade
The ICHR, the group JDL members planned to march with, denies inviting them.
Members of the far-right Jewish Defence League of Canada are planning to march in Toronto's Pride Parade carrying fake severed heads, coffins, and anti-Islam signs.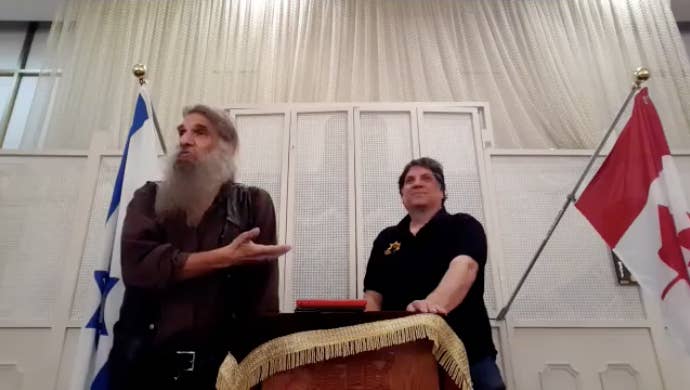 JDL Canada is not a registered participant in the Pride parade, but members plan to join another group during the parade to stage what one organizer called a "death march" to protest against radical Islam. But they don't seem to have actually been invited.
JDL Canada has become a familiar presence at anti-Muslim events in Toronto and elsewhere, often billed as free speech rallies. A JDL member allegedly assaulted a journalist at a Toronto rally in March. In April, another member was charged with a hate crime after beating an elderly Palestinian-American man at a protest in Washington, DC.
JDL Canada's leadership detailed their plans in a livestreamed meeting posted to the Facebook page of Meir Weinstein, national director of the group. It was first reported by Torontoist.
"We've got severed heads, we've got coffins," said Doc von Lichtenberg, owner of a Toronto leather shop and president of LGBTory, an organization that lobbies conservative politicians on LGBT issues.
"Lefties are gonna lose their shit," he said.
Lichtenberg said JDL members had been invited by the International Centre for Human Rights, or ICHR, which he described as a group of "Iranian dissidents." The ICHR is one of the listed participants on Pride Toronto's website and describes itself online as a rights group focused on Iran and neighbouring countries.
ICHR, however, vehemently denies extending an invitation to the controversial group.
"ICHR never invited JDL to join the parade and we will not have any member of JDL at the event with us," ICHR director Ardeshir Zarezadeh told BuzzFeed Canada.
"ICHR is not an anti-Muslim group, nor promotes anti-religion beliefs. Everyone has [the] right to practice their own religion."
He said he had never been in contact with anyone affiliated with JDL. His best guess was that the group latched onto a Facebook post calling for "human rights defenders" to join ICHR during the parade, but even so all participants would still be vetted, Zarezadeh said.
That appears to contradict the JDL's understanding of events. During the livestreamed meeting, which has since been removed from Facebook, Lichtenberg asked for "40 to 50" JDL members to join ICHR for Pride. For more skittish JDL members, Lichtenberg even offered a measure of privacy.
"I've got 40 masks for those of you that are feeling funny about being in a Pride parade," he said.
Lichtenberg also listed a number of protest signs being prepared for Pride, including many that are critical of Muslims, Islam, and Muslim-majority countries like Saudi Arabia.
The original (and now defunct) Jewish Defence League was founded in 1968 by the ultranationalist Israeli-American rabbi Meir Kahane as a group for Jewish self defence. The JDL carried out a number of bombings in the 1970s and '80s, and in a 2001 report on domestic terrorism, the FBI deemed it "a right-wing terrorist group." There is no evidence that the Canadian chapter has been involved in terrorism.
BuzzFeed Canada reached out to JDL Canada, LGBTory, and Pride Toronto for comment.
UPDATE
Updated with comment from ICHR.